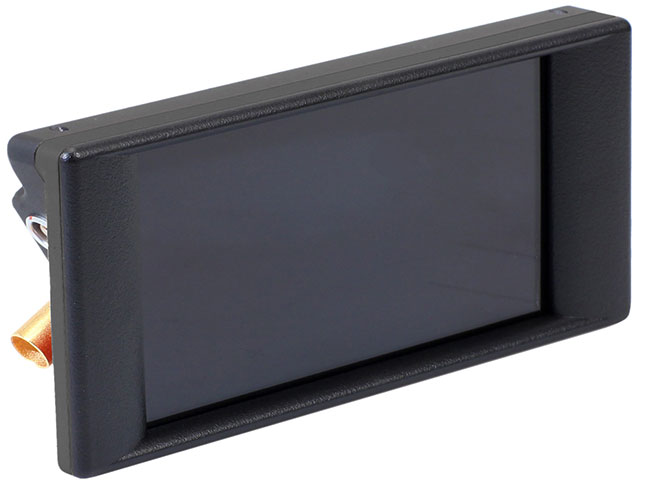 Touch-screen control of ALEXA Mini and AMIRA cameras via new Transvideo StarliteHD5-ARRI monitor
Posted on Apr 11, 2015 by Alex Fice
Transvideo and ARRI are collaborating on a specially adapted version of Transvideo's StarliteHD 5" OLED monitor. The resulting StarliteHD5-ARRI will be able to control the new ARRI ALEXA Mini and also the ARRI AMIRA.
Constructed from aviation-grade aluminum, the StarliteHD5-ARRI monitor is the size of a smartphone and weighs less than 200g. Its compact form factor makes it ideal for weight and size-critical shooting situations, much like the ALEXA Mini. Now ARRI and Transvideo are developing a touch-screen interface for the StarliteHD5-ARRI that will allow it to control key ARRI camera functions.
The StarliteHD5-ARRI will also be compatible with other cameras because it retains all of the monitor's original functionality, including waveform, vectorscope and histogram displays, as well as a built-in recorder for H.264 rushes on SD cards. However, Transvideo's regular version of the StarliteHD does not feature the additional ARRI bus interface and therefore cannot be used to control ARRI cameras.
Stephan Schenk, ARRI Managing Director, says: "Transvideo is one of the most renowned monitor manufacturers in the industry. The high standards of engineering and build quality at Transvideo will ensure that the StarliteHD5-ARRI is as robust and reliable as any other product carrying the ARRI brand."
Jacques Delacoux, President of Transvideo, says: "We are extremely satisfied by this co-development with ARRI, which merges the creativity and know-how of our companies in their respective areas of excellence. At Transvideo we are all proud to see our name associated with ARRI cameras."
The StarliteHD5-ARRI will be sold exclusively through ARRI sales channels, while the standard StarliteHD 5" monitor will continue to be sold through Transvideo and its distribution network.