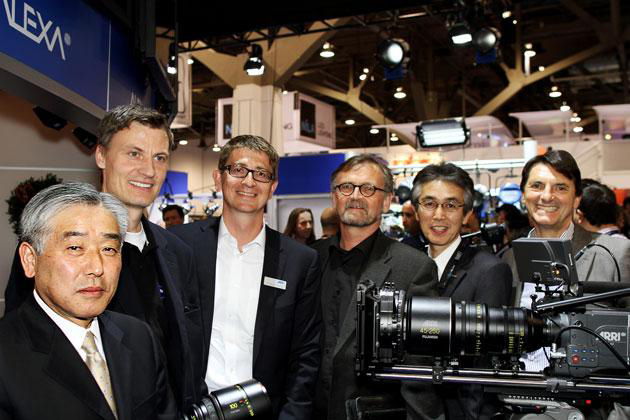 Three Major Lens Manufacturers Announce Partnership
Posted on Apr 19, 2010 by Alex Fice
In photo from left to right: 1. Hidetoshi Kimura, President, Fujinon Europe 2. Christian Bannert, Product Development Manager, Carl Zeiss 3. Dr. Martin Prillmann, Executive Board, ARRI 4. Dr. Winfried Scherle, General Manager, Carl Zeiss 5. Shigekazu Matsuki, President, Fujinon Corp. 6. Franz Kraus, Executive Board, ARRI At NAB 2010 manufacturers ARRI, FUJINON and ZEISS announced a strategic partnership designed to utilise the unique strengths of each company in order to create innovative new products for the entertainment imaging community. The agreement consists of an open exchange of ideas, standards and technologies, as well as close cooperation in the development of new products.
Carl Zeiss is globally renowned for its high quality prime lenses, Fujinon is a market leader when it comes to zooms and ARRI is the largest manufacturer of professional motion picture cameras in the world. Together, they represent an enviable concentration of expertise and excellence.
By examining, incorporating and improving upon current systems, as well as encouraging third parties to participate in an open discussion, the triumvirate of industry leaders aims to deliver higher customer value than existing solutions can offer. Already, the group offers the existing, unrivaled range of prime lenses that are the result of the decade long partnership between ZEISS and ARRI. Now, the new ARRI/Fujinon Alura zooms are introduced. This is a great benefit for customers who can now shoot with modern primes and zooms that are perfectly matched according to tight specifications.
Beyond the benefits of idealised mechanical and optical synergies, solutions are needed that respond to the needs of today's industry and also combine affordability with enhanced electronic data transfer, thereby simplifying postproduction workflows – especially those that incorporate visual effects elements.