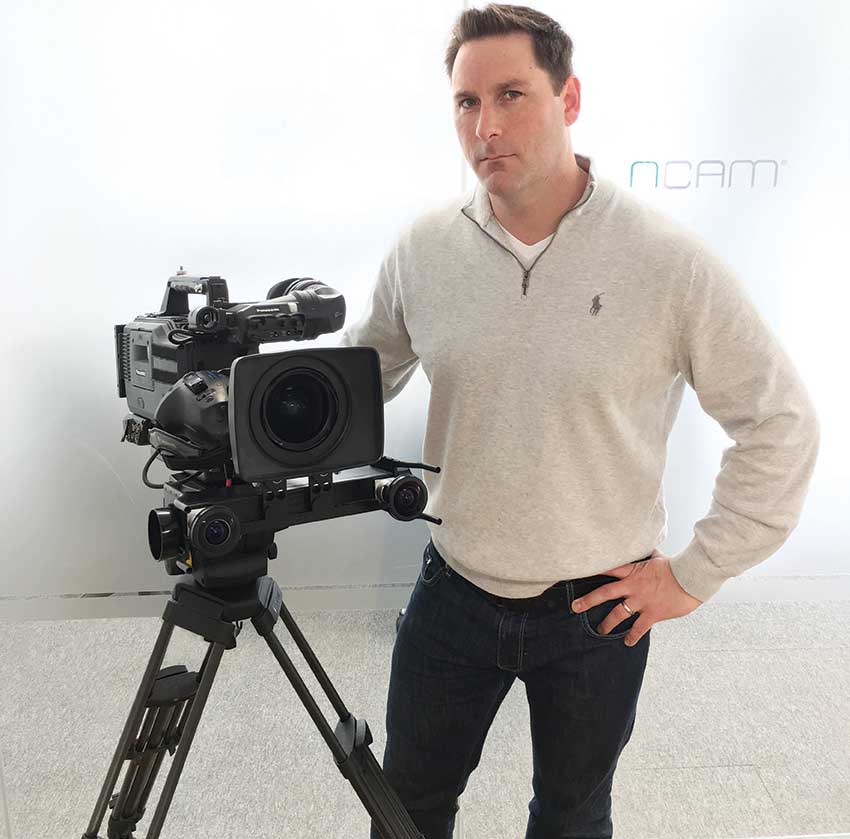 The New A&R Man
Posted on Jun 13, 2016 by Julian Mitchell
Nic Hatch's unique pre-vis technology got its first break on the movie Hugo, now Nic's personal contacts might include Super Bowl broadcasters as well as video game entrepreneurs. But what's really ground breaking is the Augmented Reality future.
Head of virtual production company Ncam and also head visionary is Nic Hatch. He's been a film maker too but really found his technical niche back in 2003 when he set up a company to achieve on-set pre-visualisation. One of the first projects he was involved in, with his technology, was the movie Hugo. The movie went on to win the VES (Visual Effects Society) Award for Virtual Production and the rest is history.
Back up to date and the company is having a significant year and we're only half way through. They have just won the Queen's Award for Enterprise in the Innovation category for their work in technology for film and television. Their NAB presence was much bigger than normal (usuallythey are tacked on the FilmLight stand at shows – FilmLight are a shareholder).
"It's been a very exciting year for us especially this NAB just gone and the new technologies that we have been showing also with the relationship with Epic Games."
The Ncam booth featured a live demonstration of the photorealistic augmented reality solution based around the Unreal Engine by Epic Games.
A separate demonstration area showed the work that Ncam is doing on matching natural lighting. Ncam's Relight measures and models the light in a scene, allowing virtual elements to cast shadows on actual objects and to respond to lighting changes based on the surrounding environment in real time.
A third presentation showed the latest addition to the data output of the Ncam camera tracking system: depth data. Armed with this, broadcast augmented reality graphics such as sports analysis will be able to allow presenters to walk around and through virtual graphics.
This third presentation shows a major way forward for the company, broadcast augmented reality. It was back in 2013 that Nic was initially approached by a broadcast company for a specific project – the Super Bowl!
"We understood that there were various other markets and that if we got it right we would have interest. We were actually contacted by Fox Sports and they asked us back in 2013 would it be possible to use it for broadcast. At that point we hadn't developed it for broadcast but by 2014 they put it on to the Super Bowl. So really it's been available for broadcast since then.
"Fox Sports use it everyday now in their studios in LA. They wanted to use it for studio based graphics, augmented reality and also wanted to take it out in to the field for remote broadcasting. That's the flexibility of the core technology, that's what we had to develop. It's one thing being on a film shoot on location on whatever but it's another going live to air. You want to make sure you're super robust and mission critical.
"Anything VFX heavy is perfect for Ncam, that's what it's all about. Film makers and studios are starting to get really interested in this,"
Think of the biggest VFX movies coming up and Ncam will probably be on them – they can't talk about some of the projects they're working but they're the biggest VFX based movies out there. "These movies are very much getting on-board in terms of Virtual Production as we term it."