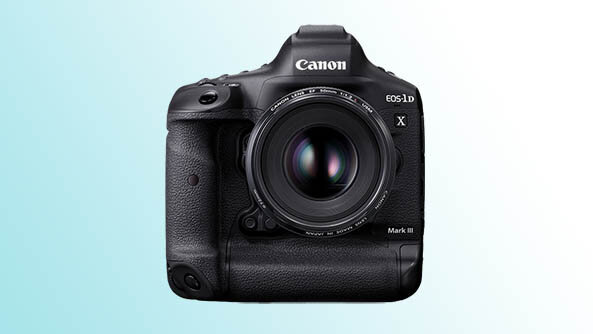 The Canon EOS-1D X Mark III has arrived!
Posted on Jan 7, 2020
Today Canon launched the ultimate sports and wildlife camera, the EOS-1D X Mark III
---
Containing a much improved AF tracking performance, image quality and communication capabilities, the camera represents the very best of the Canon EOS-1 series. Canon's new flagship camera features shooting speeds of up to 20fps with AF tracking, along with improved high ISO performance the camera achieves 'the shot', every time.
Autofocus
Programmed via deep learning, the camera's AF system can identify human subjects in a range of sporting situations, bringing them into focus. With this capability, the camera will lock on to a subject's head or face – the primary place of focus for the human eye when looking at images – even in situations when the subject's eyes are covered by the likes of helmets and goggles. A new Auto AF case setting has also been incorporated in the camera to tune the AF settings to match the subject – ideal for professionals photographing subjects which occasionally maybe blocked.
Creative opportunities
Thanks to its new Canon developed DIGIC X processor, 20.1 Megapixel sensor, mirror system and shutter, the EOS-1D X Mark III gives a competitive edge – achieving industry leading speeds of 16fps. Essential for world-class sporting events and animals in the wild, the optical viewfinder provides photographers better connection to the subject, with clear and bright lag-free viewing.
High-quality video
Due to its new sensor and processor, this is now Canon's most advanced video product with interchangeable lenses outside of the Cinema EOS series. Using the EOS-1D X Mark III, Dual Pixel CMOS AF is supported in 4K and RAW mode, when coupled with Movie Digital IS, professionals can have confidence their movie image footage will have pin-sharp focus and be steady – perfect for impromptu video opportunities.
Content Delivery
Keeping pace with shortening deadlines and addressing professionals' needs for seamless and speedy content delivery, the EOS-1D X Mark III is the first EOS-1 series camera to feature built in  Wi-Fi and Bluetooth – ideal for long shoot days. By opening Canon Camera Connect, the EOS-1D X Mark III automatically connects to compatible devices, allowing image review, sharing, and remote Live View shooting with a single tap.
With inbuilt GPS, professionals can capture location data to images – particularly useful for travelling sports photographers and exploring wildlife photographers.
The EOS-1D X Mark III will be on sale in February 2020 for £6,499.99.
Click here to find out more information.
Click here to visit the Canon website.