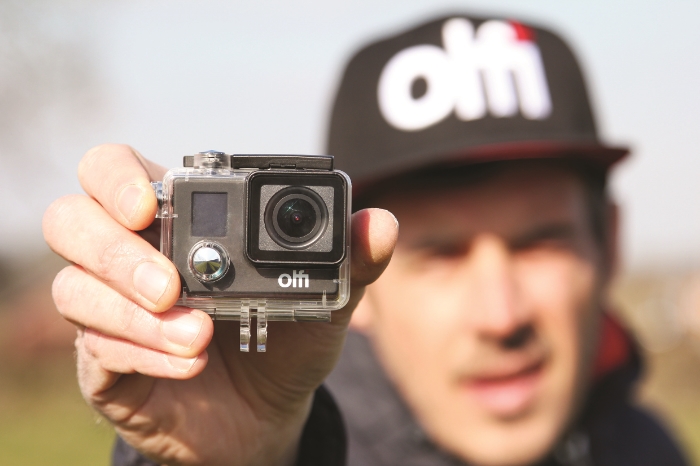 The British Company Taking On GoPro
Posted on Apr 11, 2016 by Alex Fice
OLFI MD Carl Long would rather let OLFI take the limelight.
Carl Long and his HEDCAMz brand are taking on the International camera success story of the decade, GoPro, with their own version called OLFI. 4K for less with the camera only costing £150. Is this the alternative the action heroes need? 
The GoPro brand is unstoppable. Their best marketing tool is their customer and those guys don't ever stop making action video. But recently there has been disquiet from the money markets and a big trimming of their product range (There are only three cameras in the range now). Has this opened the door for imitators? OLFI is one of those and MD Carl Long has some tricks up his sleeve that might see his little camera upset the big US brand. How about 4K at under £150! Throw in a gyro stabilised shooting mode, HDR and manual ISO. "The main features are 4K at 24fps, Gyro stabiliser, ability to change ISO, HDR (high dynamic range) and high capacity battery which will give around two hours of run time…not to forget the amazing price!
OLFI is a new Action Camera brand by HEDCAMz who are established within the industry having traded for in excess of five years. Carl is sure there is still plenty of life in the action market but doesn't want to limit OLFI to just action, "I can't think of a single person that couldn't put the OLFI Camera to good use. It's not just an Action Camera, it's a lifestyle camera too. We will also have a range of mounts which are also compatible with GoPro."
Filming UK Fire Service Creating Backdraughts from Mabel Media on Vimeo.
OLFI will have a selection of mounts and harnesses at launch which is in early April and there also a limited pre-order price of only £119.99. The 4K entry point for GoPros is £329.99! There is a 12 months manufacturers warranty and after sales support will be provided in the UK. The very good news for the local economy is that Carl hopes to bring production to the UK soon as production at the moment is in China.