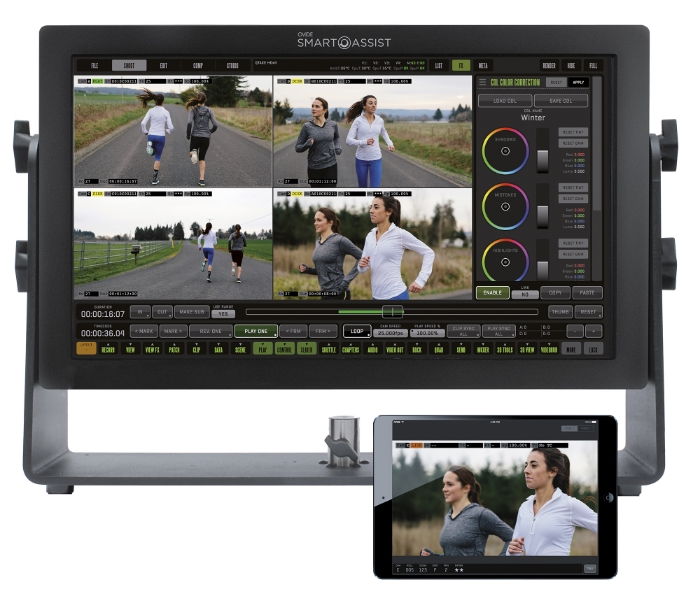 The 4K all-in-one video assist has just arrived
Posted on Sep 9, 2015 by Alex Fice
The all in one solution for video assist, Ovide Smart Assist, has just renewed itself and now allows to record, playback and do all the VFX with one camera in 4K or with 4 HD (or 2K) cameras switching the working mode:
4 CAMERAS MODE
2K or HD resolution
4x Inputs
12x SDI 2K/HD routed video
1x Composite
1 CAMERA MODE
4K resolution
1x Input (4K)
3x SDI 4k routed video
1x Composite
· Touchscreen: The Smart Assist combines a 22" (1920×1080) capacitive touchscreen with 4K video recording and edit-ready VFX. The new display is brighter and can incorporate matte finish to avoid reflections.
· Wifi & Bluetooth: You can choose whatever wifi antennas you need at each shooting location because new smart assist incorporates SMA connectors, but it has also a built-in Bluetooth antenna to improve its use.
· Connect with iDevices: Stream live video or independent playback to iPhones and iPads (upto 16 devices) or turn your iPad or iPhone in your video village remote control to route all the video as desired from a convenient wireless mobile device.
· Super single shots: New Smart assist incorporates a lot more connectors, now you can record with upto 4 HD (or 2K) cameras simultaneously but for single take shots you can link upto 128 cameras (linking 8 Smart Assist and Quad Splits)!
· More connectors: The new Smart Assist has 12 routed SDI outputs so you can choose 12 independent video feeds including multi viewers and to ease the cabling there are small OLED displays to quickly tell you what is every output.
· Mains or batteries: Smart Assist can still be powered with mains, block batteries or regular camera batteries and it has also hot swap. What's new? Now it has an internal UPS system that will warn you when all power sources are disconnected and will let you run the system for 2 minutes without any power source.