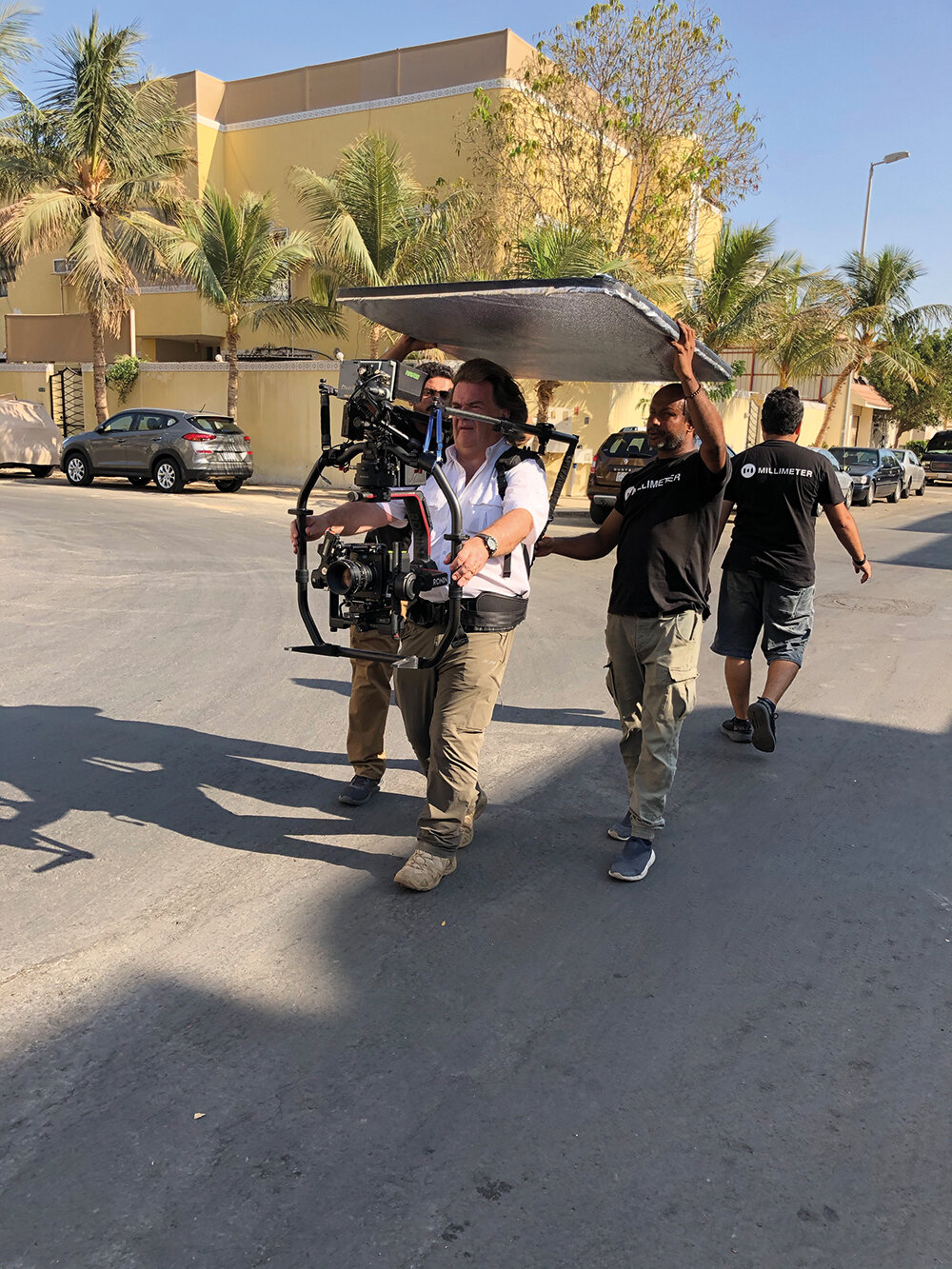 Speed, reliability and robustness with Samsung Portable SSD X5
Posted on Nov 28, 2019
DOP Andrew Boulter needed a solution to a high-data transfer in Saudi Arabia or risk missing a connecting flight. He found it with the Samsung Portable SSD X5
---
Advertisement feature
Andrew Boulter is an experienced director of photography and is used to turning around last-minute briefs. A recent job saw him fly to Saudi Arabia, and he made sure he packed his latest device: a Samsung Portable SSD X5.
Boulter explains: "In this business, you get used to fast jobs. This one was in Jeddah, Saudi Arabia, and was no exception. I was contacted by an advertising agency to film a piece of social media for a big-name sports brand, and it featured a footballer who plays for one of the Saudi clubs. My basic brief was to make a short piece of about 45 seconds illustrating that this footballer had arrived back home."
The Samsung Portable SSD X5 comes with housing and an internal protection guard made from durable magnesium. © Andrew Boulter
He had taken the Samsung Portable SSD X5 with him to prepare for a quick turnaround. The Samsung portable drive uses technologies such as NVMe and Thunderbolt 3, and its exceptional speed offers read/write speeds of up to 2800/2300MB/s. Its read/write speeds are up to 5.2x/4.5x faster than Samsung's SSD (SATA) and up to 25.5x/20.9x faster than a standard HDD.
High-end gear
As Boulter was going to film on residential streets, he had peace of mind that the portable drive came with housing and an internal protection guard made from a durable yet light magnesium should there be any accidental mishaps, as the Samsung Portable SSD X5 can withstand drops of up to two metres. Also, with Samsung's portable SSD software, the drive securely protects your data by providing optional password protection through AES 256-bit hardware encryption.
© Andrew Boulter
Boulter explains how the shoot proceeded: "Essentially, it was to be planned, recce'd, shot and edited in about a week, involving a DOP, me, from London, a production company in Jeddah, an agency and an editor in Beirut.
"We were filming on some residential streets in Jeddah and inside a local football ground in 35˚C. I had immense trust in my filming gear and, having just returned from India where I was filming in 39˚C heat in Delhi, I knew the camera wouldn't have an issue, but data needs to be backed up and hard drives have never been the most reliable devices," Boulter says.
The main event, however, is its blistering speed. The real-world tests tell you all
He continues: "I decided to go with the Samsung Portable SSD X5 drive. I calculated I needed around a terabyte of data, but we ended up using 750GB and the drive had to make a flight – with a person, obviously – in the evening to Beirut. One of the drawbacks of shooting digital (and anyone who has done this has experienced it) is the wait for the data to be backed up.
© Andrew Boulter
"When shooting 3.2K on a camera, you know you're going to be dealing with quite a few GBs, and that process can take over an hour or two unless the data pipeline is managed. On these shoots, managing the data is way down the list – I just needed a reliable, fast and portable hard drive."
Critical timing
Transferring the footage always happens at the end of the day and, most of the time, takes longer than planned. This was the case with Boulter's shoot, where he had the added problem of needing to catch a vital flight out to Beirut.
He recalls: "My DIT, Chadi, was using a laptop as a transfer device, backing up as we went, but because of the speed we had to shoot at, I was losing the star footballer at 4pm to training, so constant changing of CFast cards and backing them up wasn't an option. I really couldn't afford to lose a crew member. We ended up with three 256GB cards pretty much full. We managed to download one, but the remaining two could only be done at the end."
He admits: "Frankly, I thought we'd miss the flight, which was at 6pm, but the speed of the download with the Samsung Portable SSD X5 was astonishing. Chadi was surprised, I was surprised. It felt like the transfer was almost a GB a second. I know it wasn't, but we ended up backing up the cards in about 15 minutes – about 45 minutes quicker than it normally takes. Thanks to the Samsung portable drive, we made the flight."
Boulter continues: "I use a lot of different types of hard drives, and there is a simple criteria: speed, reliability and robustness. The Samsung Portable SSD X5 flies through, it's super small – yes, it really does fit in your pocket – it's robust… I dropped it on this trip at least once and the rubberised coating takes accidents in its stride. The main event, however, is its blistering speed. I've never been a great believer in specs – it's the real-world tests that tell you all. Samsung works as it claims."
He concludes by reflecting on his future projects: "I'm off to Dubai on the next job, 35˚C in the shade, filming cars in the desert. I'll have my Samsung Portable SSD X5 with me. In fact, it's already in my bag. Now I just need to get another one!