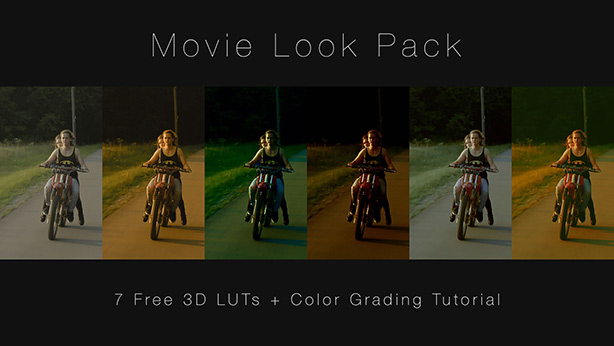 SmallHD Get Generous With Their LUTs
Posted on Aug 20, 2015 by Alex Fice
SmallHD, known for their compact, on-camera monitors are giving away a free set of colour grades that look to recreate the look of seven different iconic films, and are also publishing video tutorials explaining how to get the most out of these looks during both production and post production — all free of charge.
"Colour grading will soon be critical to every shooter's workflow," says Wes Phillips, CEO.  "We're giving away this free pack of looks and colour grading educational material to provide a fun entry point into the world of working with 3D LUTs."
Provided in a small downloadable .zip file, the colour grades come in the form of 3D LUT files (3D "lookup tables") originally designed in DaVinci Resolve. Visually iconic films such as Apocalypse Now, Saving Private Ryan, The Matrix, and Moonrise Kingdom are among the seven free colour grades.
Designed to help teach filmmakers who are not yet versed in the use of colour grades, the tutorial video outlines the capabilities and advantages of applying LUTs or "looks" to footage during actual shoots. The tutorial is tailored for developing new looks on the popular free DaVinci Resolve colour grading software. The video tutorials and 3D LUTs download are both available on the Community section of SmallHD's website http://www.smallhd.com/community/movie-looks-download
Free Movie Looks (3D LUT) Download + DaVinci Resolve Tutorial from SmallHD on Vimeo.
Filmmakers have long known that recording flat or LOG video, with its low contrast image, offers great advantages to the post-production process by preserving as much data as possible. However, viewing this flat video can make it tricky to gauge colour and exposure, and can make critical focus difficult. Further, looking at raw images can also be disconcerting for an on-site client, where the filmmakers have to constantly explain what the imagery "will look like in post."
The solution is applying 3D LUTs to the video shown in the on-set monitor, without altering the footage recorded from the camera itself. 3D LUTs are pre-defined profiles applied to the monitoring of a camera to give a representation of a corrected image or an image with a specific gamma curve. Creating a custom LUT is a step further. It can be an on-set tool providing a representation of the final desired image.
SmallHD offers seven different 3D LUTs, each emulating the look of a popular motion picture. As a starting point, a shooter or DIT readying for a specific location can apply one of these looks to test footage from the location using the DaVinci colour grading software. That look can then be modified so the test footage has just the look desired when it is out of post-production. SmallHD explains the process, step by step.