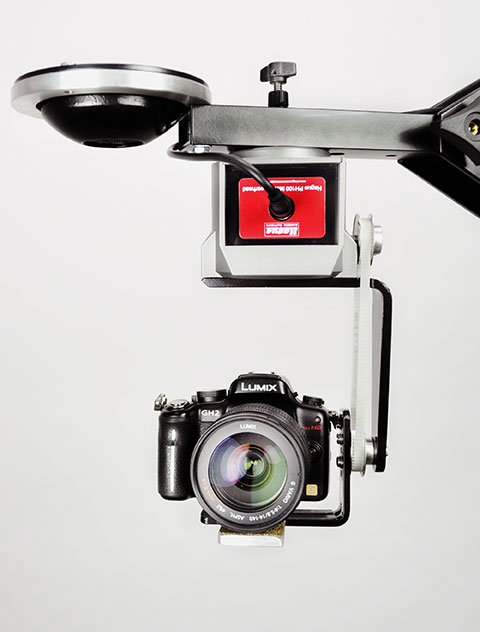 Hague PH100 Mini Remote Pan & Tilt Powerhead
Posted on Aug 20, 2015 by Alex Fice
Hague Camera Supports have announced the release of a new motorised pan and tilt powerhead designed for small handheld camcorders, compact cameras, lightweight DSLRs, miniature cameras and action cameras such as the GoPro. The Powerhead can be mounted to a tripod, jib or wall bracket either vertically or underslung and it supports up to 1kg. It is supplied with a control box which allows the user to adjust the speed and direction of the head with the capability to pan & tilt through 360°.
The Hague PH100 Powerhead will pan and tilt through 360 degrees, this enables the camera to point directly up or down as required. It is powered by two geared motors, with the camera's tilt being belt driven, and this ensures the head provides a smooth movement with minimum backlash.
The camera plate on the tilt drive has three mounting positions for the different sizes of camera which enables the camera to be correctly balanced. With all DSLR cameras it is essential that they are correctly balanced, and this can be more difficult depending upon the lens used, so Hague recommend their BCP Balance Correction Plate.
The speed of movement is variable, from the slowest crawl up to 24 degrees per second (0 to 4RPM). The drive motors are reasonably quiet, but will be heard if the camera's onboard microphone is used in quiet locations (similar to most powerheads on the market). The Head can be mounted to a tripod, jib or wall bracket and it has a standard ¼" threaded hole in its base.  A ¼" stud with locking wing nut is also supplied to enable the head to be mounted to a beam or Jib.
PH100 Control Box
The Hague Control Box has two variable speed control knobs which give the head a precision pan and tilt movement in either direction, from a slow crawl up to the required speed. You can also pan and tilt simultaneously. The head is powered by a rechargeable internal battery, which enables the power head to be used anywhere without the need of a power supply.
On the back of the control box there are switches to change the direction of the control knobs and a socket for the control cable. On the side of the control box is an on/off switch and a battery charging socket. A LED light on top of the box indicates when the unit is switched on.
On the bottom of the control box are 4 non-slip feet to prevent it moving when it is used on a table and there is also a ¼" threaded hole in the base to allow it to be mounted to a tripod or any other mount that has a standard ¼" mounting screw.
Price : £450.00 ex VAT.