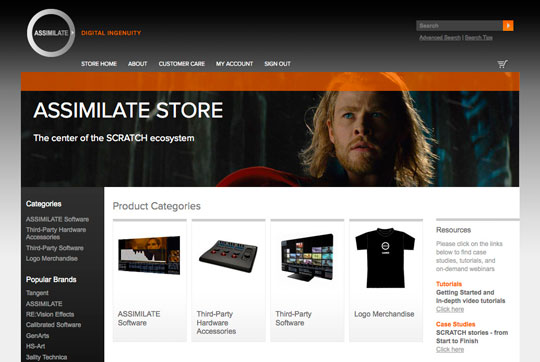 Scratch Adds Support For Latest Cameras
Posted on Jan 31, 2013 by Alex Fice
You can download a trial version of Scratch and Scratch lab from Assimilate's online store.
ASSIMILATE who make the SCRATCH and SCRATCH Lab software for post and on-set use has upgraded its software for some new cameras announced late last year and other digital cinema formats. They had released their v7 software last November, this release doesn't seem to have a designation but is quite major.
The New Release Adds support for the following camera and other file formats:
Sony F5/F55 and the new F65 format via the new Sony SDK, including 6k and 8k support
SONY Mpeg-2 .mp4, .mov and XAVC HD/4K .mxf
New custom ARRI Debayer – built for speed while still preserving colour accuracy
RED monochrome footage, DRX control on RED Rocket cards and additional metadata items (such as scene and take)
Canon C500 .rmf
Blackmagic Design Cinema DNG. No mention of Ikonoskop's DNG format
Upgraded Jpeg2000 implementation that generates DCI compliant output
Update to the benchmark/profile function of SCRATCH and Lab for measuring IO performance.
Ability to load multi-view EXR images as under/over images
The price for SCRATCH and SCRATCH Lab remain unchanged at $20,995 and $5,990, respectively. A Site License Subscription is also available for SCRATCH and SCRATCH Lab, and is priced at $33,000 USD, annually (including maintenance and support for the period).
For a free trial of SCRATCH or SCRATCH Lab, visit http://www.assimilateinc.com/trial.