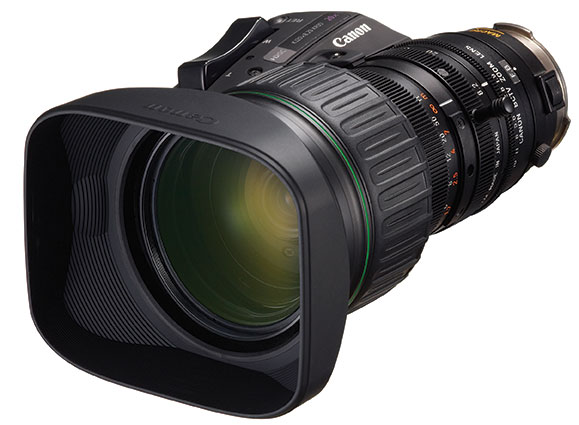 Canon Launch New Tech Into 2/3in Lens Design
Posted on Jan 28, 2013 by Alex Fice
The new lens features Increased Contrast Through Reduction Of Flare And Floating Optical System To Control Chromatic Aberrations.
CANON has launched their new KJ20x8.2B KRSD – a multipurpose 2/3inch HD zoom lens. The new lens has been designed for camera operators who want superior quality in applications such as wedding and corporate videos, education films and documentaries.
The KJ20x8.2B KRSD has a compact design with a 20x zoom lens and offers a one second maximum speed over its entire zoom range, alongside a Minimum Object Distance of 0.9M (10mm with Macro).
Focal lengths range from an extra-wide angle 8.2mm (60.7 degrees angular field of view horizontal in 16:9 aspect ratio) to 164mm, combining with a f/1.9 maximum reflective aperture all in a package weighing just 1.25 kg.
Canon claim that the contrast is maximised thanks to substantial reduction of flare, veiling glare and internal reflections. The lens offers tight control of the geometric distortion at wide-angle settings, while spectral transmittance characteristic is to HDTV colourimetric standards.
The lenses  optical performance can be attributed to a range of Canon technical innovations. A new optical design includes the precision optical element and multilayer coatings, as well as Canon's Internal Focus – a floating optical system that improves control of chromatic aberrations. The lens also incorporates Shuttle Shot, an advanced digital drive system that allows operators to precisely zoom between pre-programmed focal lengths, instantly and on-demand.
Also included are features such as compact drive unit mounted to the lens at an ergonomically designed 12.5 degree angle, to improve comfort and balance during operation.