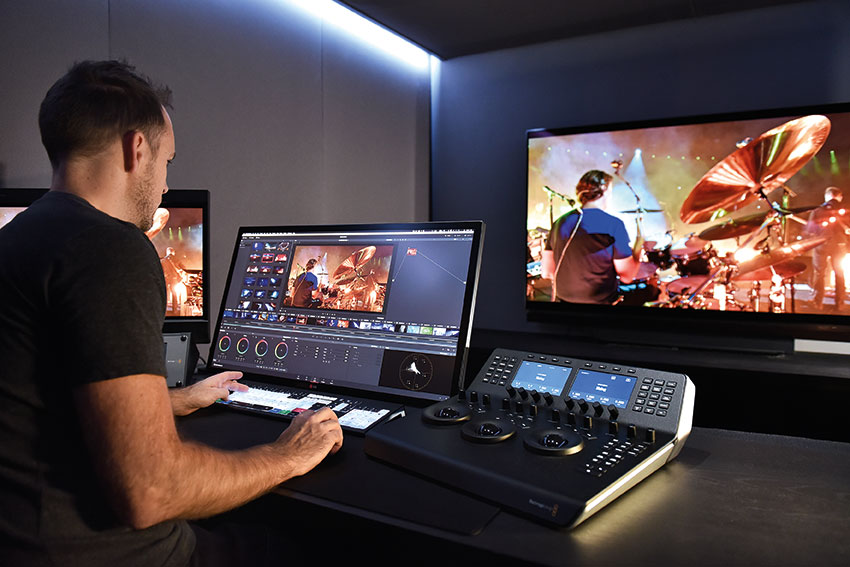 Rock The Ruins
Posted on Feb 15, 2018 by Julian Mitchell
Pompeii had long been planned as the venue for the 4K film. © David Gilmour
Live At Pompeii saw Pink Floyd's David Gilmour return for two dynamic concerts, all shot in glorious 4K
The Roman Amphitheatre at Pompeii hasn't seen much action since the first century. Pink Floyd recorded there 45 years ago and now David Gilmour has revisited to rock out there one more time. The concert film has been released in numerous formats including a Europe-wide cinema release. Pompeii became a character itself within the show with the dark Vesuvius ever present behind.
James Tonkin's Hangman Studio specialises in the creative design, the shooting and the post production for concerts; you can see by their website the many famous bands and artists that they have worked for. However, for the David Gilmour event James came late to the party. "I arrived when everything was built and went in and did my thing really." When James is included early on in plans shooting can be done as sole cameras recording locally, then a long editing process begins. This one was different. "This one had been planned for a while in terms of a concert film. My role was originally just to shoot documentary around it but once I was there the director Gavin Elder wanted me to shoot on stage as well, so camera number 18 or 19, part of the set-up. I was also going to help in terms of the post work as we had previously done for a big Duran Duran concert called A Diamond in the Mind. This concert was on another scale altogether. I've no idea what the shooting budget for it was; they had all the A players on it in terms of crew and it was beautifully set up. They had the intention all along of shooting it in 4K and making something really special and lasting.
"I know Gavin had been working on this tour for a couple of years with dates in North America and Europe already before Pompeii.
"He'd seen the show many times so was very well versed to be directing it and getting the best out of where to put the cameras. I know he spent a lot of time working with Marc Brickman the lighting designer, there were a lot of discussions about the look and lighting it for camera – not just from a performance and theatrical point of view but to really get the best of it from the camera side. So all that of that from my point of view had been done before we got there and then it was a case of recording it over the two nights."
© David Gilmour
4K Shoot
Camera wise for this project, it was a 19-camera concert set-up with predominantly Sony F55 RAW/XAVC, Sony 4300, Sony A7R2, Sony F5, RED DRAGON in 6K, Blackmagic Cinema camera and Blackmagic URSA Mini in 4K and a DJI Drone in 4K H.264 and RAW DNG. James was a rogue element on the RED camera, "Most of the camera crew were on Sony F55s recording hero angles in Raw. There were also plans for two or three Sony 4300s all on long box lenses just because of the nature of trying to get those shots from the back. Everything else was my responsibility which included the RED DRAGON I was shooting with on stage. There were also a couple of SONY A7Rs; one was on the keyboards and I think we did one of the drums for the first night which we switched to an SONY F5 for the second. There was also a Blackmagic Design URSA Mini. I usually turn up with as many cameras as I can carry and then we talk about where we can put them for extra angles. We're shooting on stage and manning some of the static cameras as well making sure they are all exposed and running for the whole gig.
"We had assigned roles and mine included the documentary and also making some time-lapse at the back and then running backwards and forwards making sure these other cameras were primed and ready for the show. Then making sure I was back on stage in time to do my stage shots. The A7Rs were particularly great on the keyboard rig, it was pretty much a set-and-forget camera. It has a big sensor on it and recording on Slog2 it graded up really well. It even mixed well with the F55s shooting Raw, with the size of it on stage you never even notice it. Things like that are really a benefit, I'm really keen to bring cameras like that on-board provided they have the log look so it can be a benefit to us in post.
"Having said that, it was the trickiest thing I've ever had to grade in terms of matching everything, in spite of setting everything in Slog2 or Slog3 to start with and 90% of the sensor being Sony. Creatively Gavin the director wanted to keep a naturalistic look to the show, he didn't want to overly stylize it or get too far away from the original lit look. Actually as soon as you shot in a Raw or log format we brought the two nights' worth of footage in to my Resolve set-up which could read all these different formats. Sony F55 raw, XAVC, Redcode, DJI DNG, H,264. Resolve is my go-to tool as it will read everything to start with so it meant we could organise everything and then use the Media Management to proxy everything down to 2K and
HD proxies.
"At that point I flattened everything as well in terms of looks to Slog2, so basically we had a starting point with that flat look. That's what I gave to Gavin to use for the offline edit. When it came back to me we could re-link everything via XML straight in to Resolve; of course that was five months later. We did a quick couple of grades after the relief of finding that everything links back but didn't do the bulk of the grading for another four months. The whole project has taken about a year from the initial shooting through to the first screening."
© David Gilmour
Grade hard
Grading the concert had to match all the different cameras and lenses and deal with the enormous contrast of the footage. "The Sony 4300 and box lenses just inherently have a different look even with the kind of compressed nature of the box lens," says James, "and shooting from that kind of distance, I find the more compressed XAVC codecs harder to work with, in Raw you've got so much more you can play with in the highlights. The XAVC has to be right, has to be on it. If you over expose or someone loses it by a couple of stops, it's much harder to pull things back.
"But really the Gamut of different cameras wasn't the complexity in the grade, it was more the extremes of the concert itself and the lighting cues. It has some real extremes of lighting. The song Run like Hell for example, visually it's quite an assault on the senses, very intense; the band literally wear sunglasses all the way through otherwise nobody would be able to see properly as there is so much strobe. All throughout the show there is a lot of strobe and plenty of smoke. The whole thing is very theatrical in the way it has been lit, with a lot of very hard contrast ratios on the stage between different musicians and David under a spotlight.
James Tonkin of Hangman Studios shot for the concert and also graded it.
"All of those things contributed in making a naturalistic look across the grade that was much more complex. I did a grade quite a few years ago with Duran Duran, with that one we just went for a predetermined look with some black and white, a bit of film grain, some damage: there was no real rule book other than to make the band look cool. For this one we're trying to give it a considered aesthetic and nothing was to be crushed too far or oversaturated or too far away from what it really looked like.
"This was a very difficult show to shoot, there is a lot of musicality on stage that needs covering but you've also got these extremes of contrast ratios and lighting so I think it was superbly handled in terms of what they actually got me for the grade. If that consideration hadn't been thought about upfront, then it would have been a lot harder."
Editing while grading
This was Gavin Elder's second concert for David Gilmour and James was sure he was the right person to both direct and edit it. "He knows David's aesthetic really well, it's a very respectful approach but also his approach to direction was to try and hold shots longer, to let cameras do nice little creeps in and moves and not to over cut it. It was one of those when the offline was never locked, we would always tweak things and because Resolve is basically a fully-fledged editor now we would right up to delivery still be slipping shots, moving things about or even in some cases looking for different angles just in case. Multicam edits tend to unravel as soon as you change one angle, then you realise you have to change another and another. Before you know it you have recut half the song. There was certainly a lot of editing in the grade in that sense because Resolve did leave that option open to us. Sometimes as a colourist that's the last thing you want to be doing but ultimately for the sake of the project you still need those options open. For a director this is great creatively."
The show was done much more like a traditional OB, it was a multicam, it was vision mixed, someone was script supervising and counting bar cues and Gavin was directing from the gallery. James was the only rogue camera with some of the statics. "I was on cans and he trusted me to get the shots he knew he wanted. It's a much bigger risk if you can't see what people are shooting.
"Some of the best camera operators around were on this, these guys get the shots and they get them very musically as well. For instance, the Furio camera which is at the front and one of the main tracking cameras, you get these great tracking and parallax shots along the stage while panning and tilting with focusing at the same time to keep pin-sharp focus and fantastic exposure with all these crazy lighting cues going on. The director will make sure the operators will have the right things to pick on that are in their focal range. The beauty of the photography ultimately describes a very musical band."