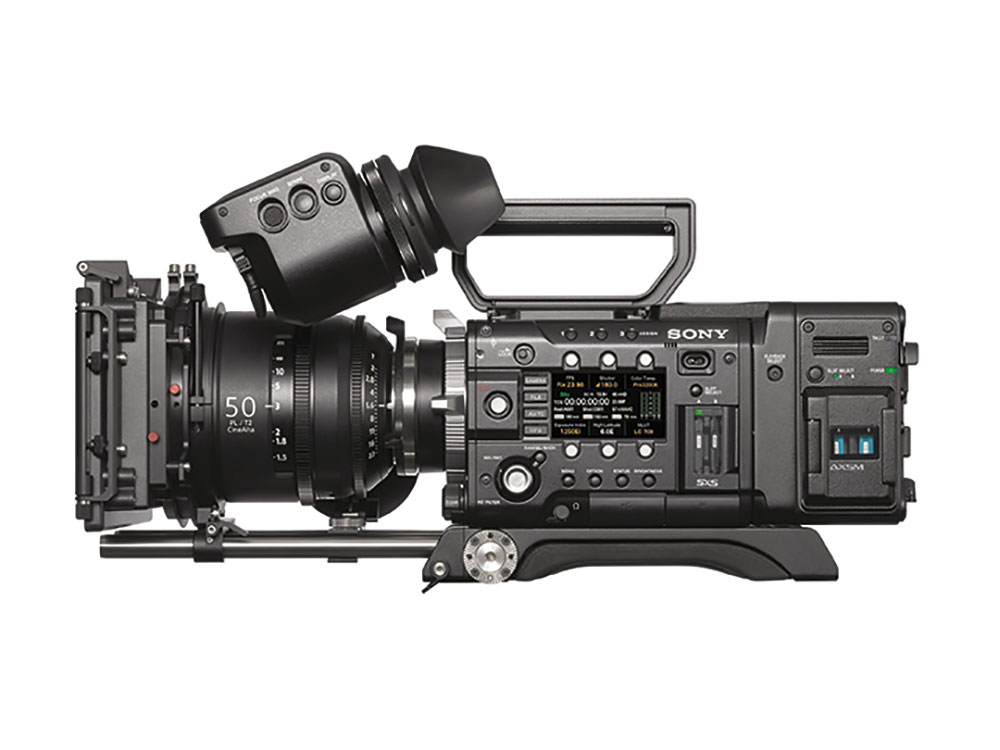 Raw but not as we know it
Posted on Feb 14, 2018 by Julian Mitchell
Sony's F5 camera fitted with the AXS-R7 recorder, which offers the new X-OCN format.
Sony's new X-OCN format promises Raw image capture performance but at lower data rates. Mark Moreve starts his journey to find out the truth
Raw – or maybe that should be Roar, because it's big and scary to some, although shooting Raw when treated and graded properly makes the most wonderful images. Sony's 16-bit Raw has over 65,000 tonal shades between colours. It also allows the user to rectify most issues with colour or exposure in post, you really can push and pull the image in grading without 'breaking' the image. BUT, and I write that deliberately in capitals, it also comes with some hefty logistical issues. The main ones being file size, cost and time.
Now don't get me wrong. I'm not against working in Raw, I love it and if your project is effects heavy it may well be the best way to go, but the huge files sizes and the extra time spent downloading the footage or transferring it to a codec you can work with can really add up and can also add a lot of money to your project.
Comparing Sony's codecs with Apple's ProRes
I think with the advent of Sony's X-OCN codec a lot of these issues may change. X-OCN (eXtended tonal range Original Camera Negative) uses the 16-bit precision you get from shooting with a Sony AXS-R7 recorder on your Sony F5 or F55 in Raw mode, but it moderates the bit rates. This in turn means you get much smaller file sizes than typical camera Raw, giving you fantastic tonal expression, longer record times, faster file transfers and hopefully saving you money in post-production. 1TB of 4k X-OCN at 24fps can record up to 168 minutes compared with 130 minutes for 1TB of Sony Raw.
Two flavours
There are two flavours of X-OCN, the first being standard (ST) and the second light (LT). X-OCN ST has 40% longer recording time and approximately 30% shorter file transfer time than Sony Raw. The advantages for X-OCN LT are greater still with 136% longer recording time and roughly 59% shorter file transfer. That's amazing, but is it the same as Sony Raw?
I've been testing this new codec against Sony Raw and from what I can see in my office I really can't tell them apart, but there's no way I'll be able to until I get to a proper grading suite with a true calibrated 4k monitor. Which we'll show in the next issue. So more to come on that, but my first thoughts are that X-OCN may well be the answer to a lot of issues of just shooting straight Raw.
Like Raw, X-OCN doesn't bake in your exposure index, colour space, LUTs, gamma etc. It captures these parameters as monitoring settings and is totally non-destructive, meaning you have amazing control and much better flexibility in post-production.
So now you have this fantastic codec – how do we use it? With Sony's new AXS-R7 recorder. This new recorder is slightly larger than its predecessor the R5 and weighs about half as much again. The media has completely changed too. The R7 recorder uses new AXSM media that is about the same size as regular SxS media but fatter in depth. Whereas the R5 only had one card slot at the top of the recorder, the R7 has two at the side, allowing for hot-swapping of media without having to stop recording. It also has two soft touch buttons to allow the user to slot select between cards A and B and also in playback to select which card you want to play back from.
Although the R7 has lost the auxiliary BNC output the R5 has, the R7 has its four-pin power in XLR pointing backwards rather than at a right angle to the camera! Likewise, the four-pin Hirose power output is slanting backwards so hopefully both of these leads aren't so easily knocked.
High speed
The main benefit though I feel with the AXS-R7 is with the Sony F55 as you can now shoot up to 120fps in full 4k Raw or X-OCN. Whereas the R5 only allowed you to shoot up to 60fps. I've tested this and it just looks amazing. On the right project with the right budget you'll want to use 120fps 4k Raw or X-OCN.
With the AXS-R7 costing about £6000 and 1TB of AXSM media at £4000, Raw is still probably going to only appeal to the very top end budgets, but I'm sure you'll be able to hire them too.
Sony has been teasing its new camera online recently, not saying much, but what we do know is that it will be full-frame and that anamorphic will be in there somewhere too. The AXS-R7 is also going to play a part in this new camera so who knows what we may see in the future? Maybe even 240fps 4k Raw and X-OCN.