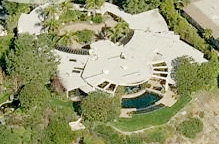 RED's $20 Million Guest House In Beverly Hills
Posted on May 12, 2010 by Alex Fice
As reported by the Wall Street Journal, Jim Jannard has bought a huge mansion in Beverly Hills seemingly for the guests of his RED camera division, WSJ says:
A limited-liability company linked to James Jannard, founder of sunglasses and apparel maker Oakley, has bought property in Beverly Hills for $19.9 million.
The home is a roughly 7,500-square-foot home on two acres that was worked on in the 1980s by the late architect Harold Levitt. A spokesperson for Mr. Jannard said the home is for guests of Mr. Jannard's Red Digital Cinema, a Lake Forest, Calif., maker of digital movie cameras, and not for Mr. Jannard's personal use.
Mr. Jannard makes a cameo in Andre Agassi's autobiography, "Open," for sending the tennis star a red Dodge Viper in 1992 after he appeared on the cover of a magazine sporting a pair of Oakleys. Ben Bacal of Keller Williams Realty was on both sides of the deal; the home was never on the market. The seller was business entrepreneur William Hubner, who couldn't be reached for comment.