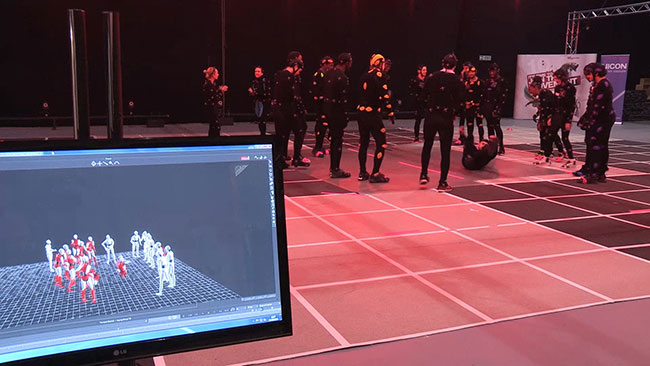 World Record Set For The Most People Motion-Captured in Real-Time
Posted on May 18, 2015 by Alex Fice
The world record for most people motion-captured in real-time.
Motion capture technology specialist Vicon together with Audiomotion Studios, have set a new world record for the most people motion-captured in real-time – 19 people. The attempt, which featured two UK based hip hop dance crews, took place in Oxford on 9 March 2015 and was adjudicated by Gary Marshall, motion capture supervisor at Framestore and Rebecca-Louise Leybourne, @ThatMocapGirl.
The types of motion to be used in the record attempt was decided through a fan vote on social media; a dance group was picked as the best format for the attempt from other choices including a cheerleader pyramid, or a rugby scrum.
Andy Ray, sales director at Vicon said: "We're often asked as a business how many people a Vicon system will capture in real-time, and up to this point we haven't had a definitive proven answer. So we decided to go for a fully validated method of seeing what could be done!
"Dancing, and indeed B-Boy dancing, with a group of people who have never done mocap before was incredibly challenging. All of the dancers required a crash course in 'mocap 101' on the day and the complexity of the motions carried out provided tough conditions for the Vicon and Audiomotion team. Especially as it became apparent that some of the signature break-dance moves were damaging the markers!"
The record was achieved on Audiomotion's main stage using: 36 F40 Vicon cameras and Blade software, piping to solved skeletons in Autodesk's MotionBuilder.