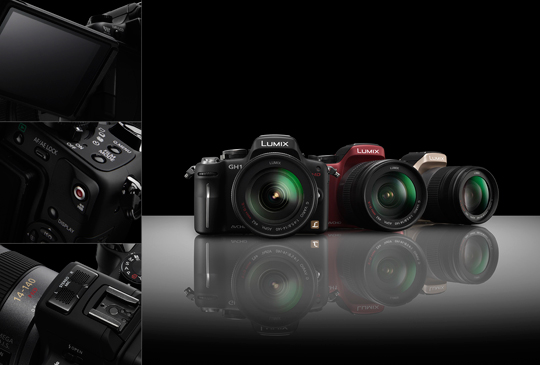 Panasonic's GH1 DSLR Gets A 50Mb/s Hack
Posted on Jun 11, 2010 by Alex Fice
The GH1, a great camera but people complained about the data rate of only 17mb/s. How about 50mb/s with a hack!Like Easter Eggs hidden inside DVD film releases, consumer DSLRs that shoot video are presenting hackers with golden opportunities to uncover previously unknown delights. There was Trammel Hudson who with his Magic Lantern firmware for the Canon 5D MkII provided shooters with usable audio, live waveform displays and some focusing help. His firmware runs in parallel with Canon's and doesn't write over it and he claims after several thousand downloads he hasn't heard of one occasion that had 'killed' a 5D.
All he did initially was to 'Firmware dump' from his own Canon 5D MkII and then re-write what he wanted to. Without a hint of arrogance he says "Within some limitations, we can fix many of the Canon firmware problems and plan to write widgets to address the requirements of the film users of this amazing camera." In this world of App development this sounds like we should all be trying this and should be demanding SDKs from all Camera manufacturers.
50Mbit MJPEG 1080p footage from the Panasonic GH1 with custom firmware by Tester13 and settings by EOSHD.
Another Hacker is 'Tester 13' who has managed to circumvent the data rate of the AVCHD compression on-board the retail ready Panasonic GH1 Micro Four Thirds DSLR. When the GH1 was first launched we all groaned at the 17Mb/s data rate as consumer camcorders could do better. We were met with Japanese 'we've got a roadmap' type resistance. Tester 13 has increased it to 32 Mb/s in his first hack attempt.
Well since then the data rate and even the compression scheme has changed to MJPEG and 50Mb/s. Blimey O'Reilly that's a lot! Read about it here.
But we've just had a thought. When Panasonic release their AG-100 'professionalised' GH1 with it's 24 Mbit/s data rate this December where will the hackers be by then. Around £4,000 for the AG100 without lens and around £1000 GH1 with lens and hack. The choice is yours.
An updated introduction to the Magic Lantern firmware for the Canon 5D Mark II. Production by http://5dfilmmaking.com
7D support is in progress: http://vimeo.com/7851909