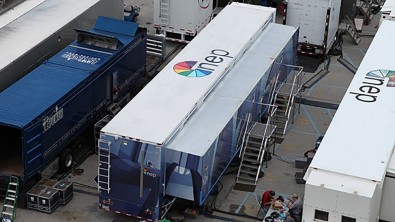 One year on
Posted on Jan 28, 2020
We look at how CVP turned pro video retail on its head in 2019 by opening a five-storey showroom dedicated to first-rate customer service
---
Above John Fry, sales director, CVP
Words Chelsea Fearnley
Before Christmas last year, we joined CVP at its showroom on Newman Street, London, to celebrate the facility's first birthday. Boasting five floors of production equipment from Sony, Canon, Arri, Red, Zeiss, Panasonic and Blackmagic, the Fitzrovia town house positions itself as a playground for filmmakers wanting to see, handle and test every single bit of kit required to bring their project to life. After the party (and once the champagne had worn off), we sat down with Jon Fry, sales director, to dissect the showroom's triumphs one year on.
First of all, how did the Newman Street facility come to be?
We had a building on Gresse Street, just a stone's throw away from Newman Street. It was a great space; it had an open plan, new loft sort of feel. But, because of its layout, it was never going to be what we wanted it to be: a multifunctional space. We found it difficult to sell in there, because there was less freedom to speak. If we had a seminar in there, it was no longer a showroom and it got complicated for the sales guys. If we were doing a demo, we had to rely on all the kit being there. There was no consistency and, consequently, it didn't work.
We wanted to have a space in London that facilitated the demand for all of those things. And when we consider what Newman Street has become, it isn't necessarily visionary, it was about identifying a location that had the ability to be partitioned, with many floors and many rooms. We then identified, because of this, that we could put many different things in there. What we then decided to populate those rooms with was largely driven by customer demand.
in addition to this, we recognised there was a need from the industry, as well as from suppliers, to give customers the ability to see and learn about kit. This facility allows for that, albeit on a smaller scale than people are used to. One of the things we think has worked well for us, and one of the things we will continue to push forward with, is doing more educational sessions. But rather than running an event and measuring the success on how many people attend, we will do smaller sessions. This way, we get to drill down a specific want or need of an individual, rather than a collective where, if you have 100 people, 90 of them don't talk to you.
If you think about what CVP is, while we're a stockist and a reseller, our value is probably none of that. Our value is about the people. CVP is a company of 140 people who have a vast amount of knowledge and experience, and Newman Street has allowed them to demonstrate that.
While giving customers an education, what did CVP learn?
We learned that there is a need for people to share their experiences and get together. You know, our industry is all about relationships, it's always been about relationships. It's about creative people working with other creative people. Consequently, if you get a lot of creative people in one space, and they get talking to each other, they share ideas and work together. And what we're trying to create is a little community that sits around that at Newman Street.
We also looked at the industry as a whole and worked out where gaps are. There's a vast amount of content that's being created today and the requirement for all that content raises what we see as three headline issues: there's a shortage of studio space, kit and crew. We can't help with supplying studio space, because we don't have a large amount of real estate, but we can help with supplying kit and we'd like to think we're in a position to help with supplying crew. We've done a lot of training throughout 2019, albeit slightly reactionary. There's nothing wrong with this, but there's an opportunity for us to develop this in 2020 and refocus how we develop people and what we can do to not only train them, but give them an accreditation that enables them to have something they can pitch to their next job.
Finally, we learned that there is a real need for this facility. We started this five years ago in Gresse Street and believed that there was a need for it, but never really got the opportunity to demonstrate and prove it in that facility.
Customers come through the door of our Newman Street showroom and always have the same reaction of 'wow, I didn't know this existed' and walk away knowing a lot more or having peace of mind about what they're purchasing or might be using. For us, it's reinforcement that what we're doing is necessary and wasn't something that was just a bit egotistical.
Click here to visit the CVP website.