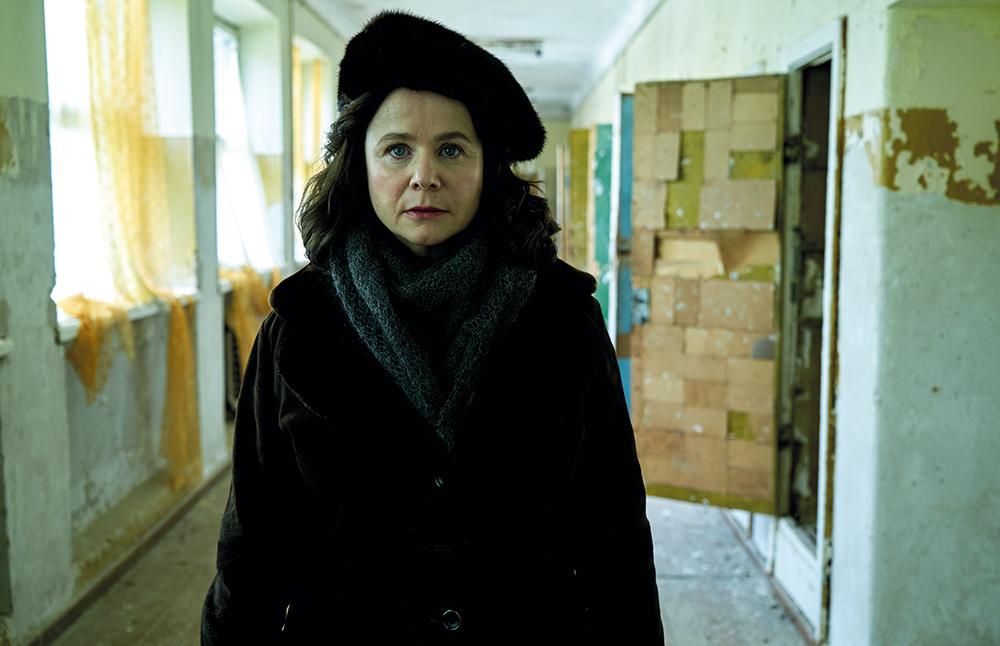 Nuclear fusion
Technicolor's highly experienced colourist Jean-Clément Soret put the eighties aesthetic on Sky's new Chernobyl drama, while keeping it real
The aesthetic was steeped in the eighties and the horror of the nuclear accident
Words / Matt Pluck – images / Sky
Sky's new Chernobyl drama is the first to appear on our screen from the content deal it struck recently with HBO, showing on Sky Atlantic. The suggestions are that a $250 million amount has been put aside for programming and this drama recreation of the famous nuclear accident in 1986 kicks the whole thing off.
As a statement of intent, the five-episode series isn't bad, with an Arri Alexa UHD Raw capture and Technicolor's Jean-Clément Soret taking up the grading duties. Our first question to Soret was to find out if there was any more budget to play with due to Sky's new drama partners.
"It was actually quite comfortable. Usually I get around two days to complete 60 minutes of drama, which is a bit crazy. With Chernobyl, we got a week for each episode and there are five of them," says Soret. "The brief was to be respectful of the aesthetic of the era and also the Soviet Union eighties. We had the archives to work from, but wanted to improve on that colour palette. At the same time, it had to be high-end, so we were treading a fine line between the temptation of desaturation, for instance, but then it wouldn't look as nice, so you'd have to make it not too beautiful. This was particularly true of sunny exterior scenes, where we were careful not to make them too warm. We kept them quite cold to enhance the effect."
He adds: "Obviously with the subject matter, it had to be a bit scary so you avoided warm tones, that kind of thing. There are lots of scenes lit with sodium lighting and neon. Generally, we didn't want to make it flattering. It would have been very easy to put a wash of green or yellow on all the scenes, but we resisted that to keep it inside a certain realism."
Actress Jessie Buckley as Lyudmilla Ignatenko in Sky's Chernobyl
Convergence of grading
All the content that goes through Technicolor, whether it is features, TV dramas or commercials, needs to look the best it possibly can and everyone who works on the content wants more time for colour grading. High-end TV wants the attention to detail and the same quality as feature films, according to Soret. "It's done by the same people, writers, DOPs, colourists and editors, and because there are much bigger budgets than previously, we can reproduce high-end content for all the genres."
Chernobyl is no different as the need for attention to detail challenged the costume department to find, for example, the polyester suits that were so prevalent in the Soviet Union in the eighties. They found some that were still in good condition – that's how much painful research went in to making the production as authentic as possible. "You can really tell in the production design, as well the amount of care going in to it," says Soret.
Even with the extra budget, Soret didn't get to bring his talents into pre-production. "It's a question of time really, I'm busy on other projects. I had meetings with the DOP about the treatment, but that was about it. Also, TV series don't always use the same director or DOP throughout a series. It would have to be the same for colourists if you wanted to give attention to pre-production and you'd have to miss other shows. Nobody wants to do that really."
The costume department even found some Russian polyester suits from the era
Not really a week
While Soret was given a week to grade each episode, the real amount was around three days. "You really only get three days to go through the episode and then you get a couple of days to review the effects if it's heavy with those assets and have a look at other things if you want to. So three days for the main grade and two in the bank for coming back when the effects are ready. Also, there could be some comments from HBO or things like that."
Soret adds: "When I started on episode one there were no effects available. There was only pre-vis and then sometimes nothing at all, just background plates. I've just finished episode five and I still had modifications on episode one. This is normal as the level of expectation is so high now that, while you think you're looking at the final review, somebody will suggest something else. These can be really small details, but now that people can watch big images on their TVs and can pause the programme, people are frightened of 'geeks' looking for mistakes."
Emily Watson as Ulana Khomyuk in Sky's Chernobyl
Five episodes of Arriraw footage with plenty of effects and mattes means a vast amount of data for Soret to deal with: "Sometimes we struggle to playback the footage in real time especially when you add items like background replacement, location improvements and digital ways of making it look like Chernobyl – it was shot in Lithuania. You need to get rid of buildings that were constructed more recently, as well as vehicles not of that period."
If it's quick and easy, Soret can do these effects inside the Baselight, but it all comes down to time. "If it takes five minutes to do a little comping steady shot or easy tracking, then you do it."
Chernobyl is currently showing on Sky Atlantic in the UK