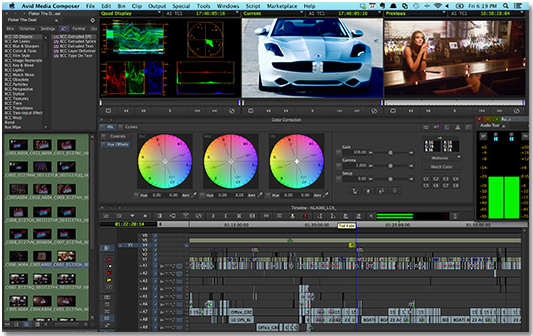 New Version of AVID Media Composer Lands With 64 Audio Tracks And HDR Support
Posted on Feb 3, 2016 by Alex Fice
Avid has announced a new version of their Media Composer with some significant news that might keep some editors loyal to the brand.  The new version offers 64 audio tracks – previous versions were limited to 24. Famed video and audio editor Walter Murch said at IBC that it was this 24 track limitation which drove him to Adobe's Premiere Pro editor.
Other headline new features are the compatibility with Windows 10 and Mac OS "El Capitan"; support for High Dynamic Range (HDR); the Audio Mixer is now customisable to optimise screen real-estate and group clips using audio waveform analysis.
AVID's feature sheet is:
Edit faster with better-organised tools – Users can access key tools and features faster thanks to several updates to menus and drop downs that make accessing tools more intuitive, productive, and fun. This delivers even greater efficiency, enabling editors to focus more time on their creative storytelling.
Work with up to 64 audio tracks – Users can create bigger, richer soundtracks with 250% more audio tracks than previously available.
Take on dynamic HDR projects – Media Composer now supports high dynamic range (HDR) workflows, enabling users to edit and grade projects using new colour specs that display a greater dynamic range than standard video.
Get better visual feedback when editing – Users can edit with greater precision—and confidence—with new high-visibility feedback displayed as they edit in the timeline.
Straighten images quickly with FrameFlex rotation – Users can now quickly rotate images a little or a lot by rotating the framing box in FrameFlex.
Experience better performance – All played frames—and all effects applied to those clips—are now cached in RAM. This allows for a smoother, stutter-free performance when scrubbing or playing back a complex sequence multiple times.