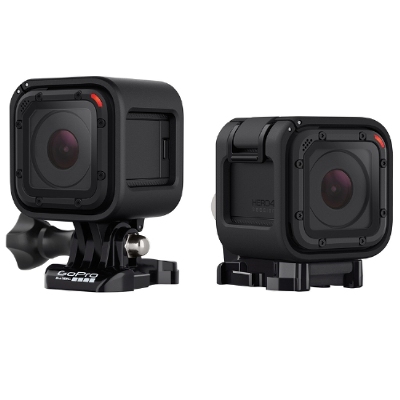 Is GoPro In Decline?
Posted on Feb 4, 2016 by Julian Mitchell
The smallest and cheapest GoPro is the HERO4 Session which was reduced in price when expected sales didn't materialise.
GoPro released their fourth quarter and full year 2015 results yesterday and it wasn't good reading for investors or fans of the famed action camera company. The headline figures saw a 31% percent drop in sales for the last quarter – the all important Xmas holiday season – from the 2014 figure with a revenue of $436.6 million opposed to the 2014 figure of $633.9.
Although overall revenue for the year is up 16% to £1.6 billion with sales of 6.6 million cameras but the company still fell 9% on the NASDAQ on yesterday's news.
From the company's point of view there were reasons for the difference in revenue like the trimming of the product range and the tooling charges involved with that. They also have excess inventory of the models that they have dispensed with. Also the price reduction of the HERO4 Session (pic above) to $199 due we think to its poor resolution compared to other cameras not that more expensive. Founder and CEO Nick Woodman had other ideas while keeping the message as bullish as possible.
"In 2015, we recorded 16% year-over-year revenue growth and the fourth quarter represented the second highest revenue quarter in the company's history. However, growth slowed in the second half of the year and we recognise the need to develop software solutions that make it easier for our customers to offload, access and edit their GoPro content."
Ironically this maybe a home grown story as in Europe GoPro still rules as sales went up another 12%. China also seems to love GoPro even with their cheap copy culture and the brand remains in the top ten most popular camcorders.
2016 will be a big year for the company with the expected drone product Karma due in the first part of the year, also their standalone VR camera. GoPro are also launching numerous content channels with the incentive for content owners to earn from licensing deals. Amazon, PlayStation, SkyQ will all have channels this year.
GoPro as far as we're concerned need to treat their existing customers a little better with kinder and more comprehensive after sales and not just leave their forums to throw up answers. For Pros the GoPro is still popular for that 'reality' scene or crash cam element and GoPro 5 due sometime this year – but with what standout feature, we already have 4K.
What is maybe at the heart of this seemingly consistent downwards curve is the rise of the Smartphone and by implication the shrinking of the standalone camcorder market for action shots.