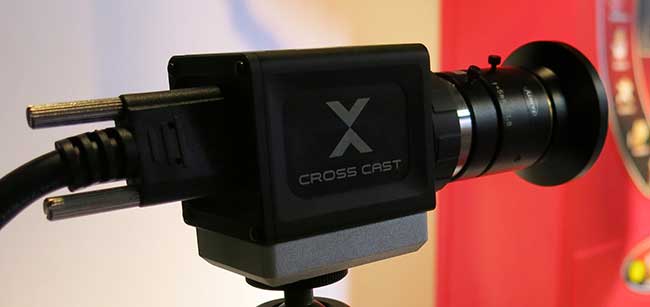 New Super Slow Motion Camera with 50/60p output
Posted on Oct 3, 2014 by Alex Fice
The same 350fps as below but with recording and live output controls.
There have been a number of cameras which have promised a normal running model with synch sound but with the feature of slow motion when you need it. Most new cameras can offer that now up to a point but you have to look at the more specialist market to get higher than 200 fps that cameras like the Arri Amira have.
A new German company offers such a camera as CEO Jens Wolf explains: "We have three different kind of cameras here. The first one is a normal speed camera but a very small scale so you can use it for a goal cam or on-board shots in racing that kind of thing. That provides standard HD images with up to 50/60p output. You can also get the interlaced format. We also have a camera with the same camera head as the first one and is roughly the same size but has a slightly bigger CCU which allows recording of up to 350 frames per second. We think it's the smallest high speed camera in the world for live broadcast. So we don't just record it we get live output and we also have a controller that can shuttle backwards and forwards in this 350fps stream.
A 350fps high speed camera, new from Germany's CrossCast.
"The third camera is the same as the second one but is rigged with all the things you need on a broadcast camera. We don't just have C mount lenses but also B4 mount for this camera. It is a normal broadcast camera that can give you 50i and 60i or 50p and 60p out but also recording super slow motion upto 350 fps in the background on a buffer. So as soon as you press the stop button as an operator the last ten seconds gets stored in super slow motion, so if you are following F1 cars for example and there is a crash you hit the stop button you still get your live image but you also get this 350fps and can input that in to your live shows.