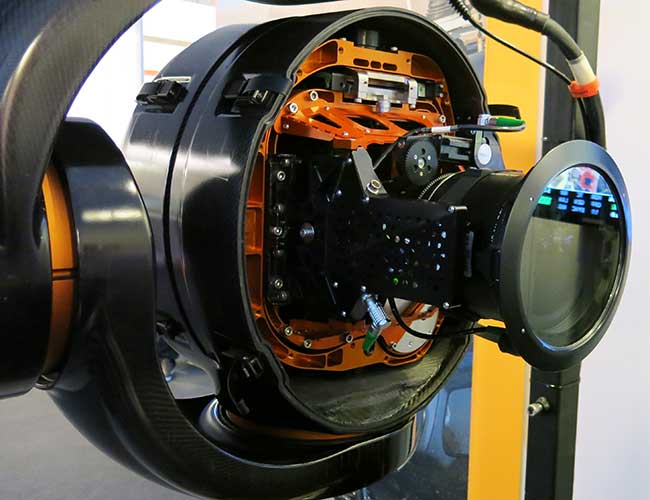 Gimbal On… How the Stabilised Aerial Cinematography Industry is re-writing the rules on camera use
Posted on Oct 3, 2014 by Alex Fice
The new Shotover Gimbal allows you to use your own cameras as long as it's on their approved list.
Remember when watching the BBC TV programme 'Planet Earth' blew your mind. All those animal behaviour shots from the sky were down to an aerial system called Cineflex. Now the brains of that company has moved to a new company called Shotover. Cineflex make gimbals systems for film and television and have captured some of the most iconic scenes in both. The system is highly sophisticated and uses its own camera system which is integral to the whole system philosophy.
Shotover has taken this idea a step further and now don't insist you use their integral camera. In fact they insist that you don't. You can now put your own camera in place which is great for matching shots when you're shooting principal photography with the same camera. Shotover's 6-axis gyro stabilisation accommodates only a few cameras at the moment like the Phantom Flex 4k, Canon C500, Sony F55 and F65, Arri Alexa M and RED Epic  (Blackmagic Design cameras are in development for fitting) along with a broad range of lenses. The system can also accommodate the Canon 42X lens which is the bread and butter work for some aerial systems including the Cineflex v14 mainly because you can get so close to the action without the helicopter being heard (great for wildlife shooting).
The system is so 'hands-off' now as far as the camera is concerned that if you tell them what camera/lens combination that you want they will work out what mounting mechanics you need and send them to you so you can fit the camera in to their gimbal. But the really clever bit must still be isolating the vibrations from the camera and with Shotover's system you have two points of contact so it becomes doubly hard. There are patents pending on how they do it and they're not letting on but the results are stunning and take the whole art of aerial photography on a huge step.
To incorporate a new camera in to the casing takes around one hour and a half. You receive a system of adapters, counter-weights, space fillers and clips and extensive intructions for you to self-install your camera and lens. The payload system is designed to be modular so you could buy a second payload tray and  have a have another system set-up to swap out say a wide-angle one for a long lens one. That swap-out is a 25 minute event. All the lens mapping for the iris, focus and zoom is all saved in the system so you can go into the gimbal menu and change it there and then in the helicopter and away you go. So you don't have to re-map the lens everytime.
Shotover was originally formed with John Coyle and Peter Thompson in Queenstown, New Zealand. John was the original brains behind Cineflex. A potted history of Cineflex saw the company being sold to Axsy, an American sensor company who themselves were bought by General Dynamics, the fourth largest defence contractor in the world, only about a year later.  So this small specialist company Cineflex was being run by this huge corporation and it seemed that they just lost touch with the market and the user base although they did release a new product, the ULTRA, at NAB this year. Their first camera that can accommodate a non-integral camera choice.
The imaging side of General Dynamics introduced the Cineflex ULTRA, a compact gyro-stabilised camera system weighing in at less than 100 pounds without camera.  Their new GEO+ option helps simplify the post-production process by layering location specific metadata onto the video.
This idea allows the production team to use the GEO+ synchronous metadata to integrate CGI with the Cineflex video.
Now the Shotover gimbals are made in Queenstown.
K1 was their first  gimbal a few years ago, a monster size designed for 3D shooting. Then the smaller F1 was released six months ago and was meant to compete with the V14. Cinelfex have now bought out a camera system that can use a RED Epic, so they are catching up.
Other contenders are  GSS (this system can also accept other cameras), the new Mini-eclipse from PV labs in Canada, Wescam and a small startup in Australia. The systems are all priced around $400k, so the competition is fierce.