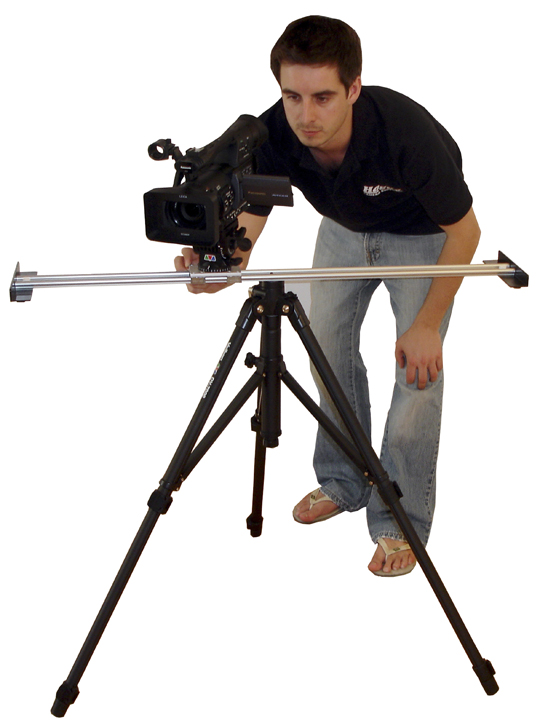 New Product: Hague Cam-Slide
Posted on Jul 2, 2010 by Alex Fice
The new Cam-Slide from HagueHague Camera Supports have built a reputation for quality tracking systems, with the D5T Tripod Tracking Dolly one of the most popular products they manufacture, and the new Hague Cam-Slide continues the trend. The Cam-Slide is designed to be a versatile system which can be used in a variety of situations from tripod mounted to directly on the floor to create short, smooth tracking shots.
The £225 Cam-Slide carriage is supplied with a Ball Levelling Head to mount the camera on, or if preferred you can use your own head from your tripod. Both 1/4" and 3/8" threaded heads can be attached to the carriage, or you can mount the camera directly onto the carriage.
The track is 1 metre long and can be supported in various ways, there are 3/8" threaded mounting holes in each end, and one in the centre of the track to mount it directly to a tripod or across two tripods. Two 1/4″ to 3/8″ stepping bushes are supplied should the tripod have a 1/4″ stud.
Two track supports are also supplied for each end of the track, these support the Cam-Slide when it is used on a table or the floor and also prevent the carriage from coming off the end of the track.
Suitable for all camcorders and cameras up to 2.5kg the double rail track is made from hard anodized aluminium and the carriage has low wear, low friction bearings that do not require lubrication.
Available now at www.cameragrip.co.uk.