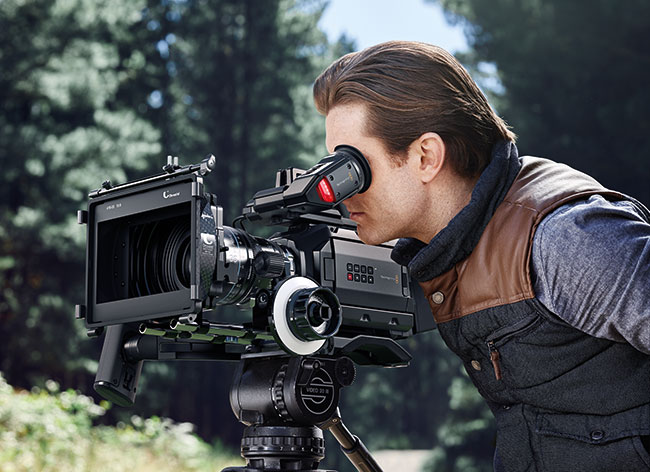 NAB Feedback, Blackmagic Design and Panasonic
Posted on May 1, 2015 by Alex Fice
Could BMD's URSA Mini with the new 4.6K sensor be their best camera yet?
More NAB 2015 reaction, this time from Chris Daniels, MD of Holdan.
How significant for Blackmagic is the new URSA Mini with the new 4.6k sensor? Best camera yet from them?
"The first pictures we have seen from the new sensor are fabulous. We're expecting the dynamic range and low light performance to be class-leading when the camera ships. The form factor and build quality are the other stand-out features: it's very ergonomic and very robust. We think that this has the potential to win over converts from some of the more established camera brands and to find its way onto some big productions. Is it the Blackmagic best camera ever? I think it will be perceived by many as such. However, it's got a big job on its hands to top the Pocket Cinema Camera for pure versatility and its incredible price-performance ratio. And the original 2.5K Cinema Camera with its superb dynamic range still stands out as a major achievement."
Panasonic's new 4K AG-DVX200 – unexpected?
What other cameras caught the eye?
"Panasonic's DVX200 has created a huge stir, partly because it took the market by surprise. Professionals we've shown it to have immediately identified how important it could be, but for all sorts of varied reasons. Film makers are talking about pairing it with VariCam because of its V-log curve and 4:2:2 4K output. Broadcasters are looking at it as a next-generation all-round news tool. Documentary makers love the prospect of its fast focusing and low light ability. And corporates are excited because it will deliver shallow depth of field and sharp images without the need to invest in expensive glass and change lenses for every shot."
Are the new updates for the VariCam making it more appealing for drama/features?
"Yes, the new updates certainly give VariCam film makers and drama producers more flexibility and enhanced workflows, and that's great. However, VariCam aficionados keep coming back to the camera's dual native 800 and 5000 iso performance. This keeps the signal to noise ratio the same at both settings and allows DOPs to shoot remarkably clean images in low light conditions. We don't think any other camera can do that."
Any other promising products?
"The Panasonic's AK-UC3000 4K studio camera didn't get the press attention it deserved. Its 1 inch sensor breaks the pattern of the other manufacturers and we think that this will give the Panasonic a big advantage in down-converted HD output. This will help broadcasters and studios make the gradual transition to UltraHD more affordable, without sacrificing any HD quality."
Could the new BMD Micro cameras bite in to the GoPro market?
What markets will invest in the new micro cameras from BMD? 
"We feel that Blackmagic has shown the way forward with its new range of miniature cameras. Their Micro Cinema Camera will be seized upon by drone users, in-car systems installers and fixed rig specialists because of its interchangeable lens system, extended battery life and broadcast inputs and outputs. Things like PWM and S.Bus inputs make a real difference in professional environments while Blackmagic's understanding of professional codecs, formats and image management will also be hugely appealing to the more serious user."