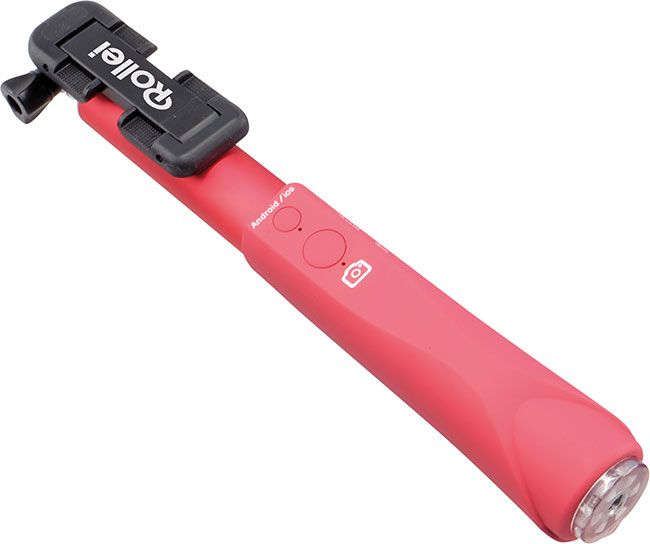 Room For A Bluetooth Shuttered Selfie Stick?
Posted on May 1, 2015 by Alex Fice
The new type of Selfie Sticks now have Bluetooth enabled shutters.
Selfie Sticks are not usually featured on this site but we liked the idea of one with a Bluetooth shutter in-built in to the stick or as a remote. They are around £30 so cheap enough to throw in to the camera bag if the need ever arises.
The entry level Rollei Selfie Stick 4Fun doesn't have BlueTooth but extends up to 90 cm. The Rollei Selfie Stick 4Style is extendable to 50 cm but can be folded down to only 12 cm. The product includes a Bluetooth remote control for smartphones with IOS 6.0 or Android 4.2.2 and above.
The Rollei Selfie Stick 4Smile is the longest product in the range, expandable to over 104 cm. It has a built-in bluetooth shutter with a 10 meter range, suitable for smartphones running iOS 6.0 and above, as well as many recent Android devices. The device charges fully within 30 minutes and can hold smartphones as large as 8.5 cm.
The Rollei Self Stick 4Life is extendable to 90 cm and closes to just 22 cm. The stick has a Bluetooth shutter built into the handle, which holds up to 100 hours of charge. It is able to hold smartphones up to a height of 7cm that weigh up to 0.5kg.
The products begin from £14.99 for the 4Fun and £29.99 for the 4Life. The 4Style and 4Smile are both £24.99.