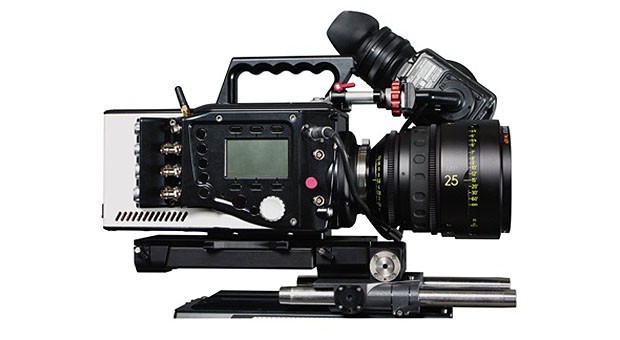 NAB 2013: Vision Research's FLEX 4k High Speed And Slow Motion Camera
Posted on Apr 9, 2013 by Alex Fice
With all the attention being lavished on the Blackmagic announcements yesterday you would be forgiven for missing another 4k landmark, this time from slow motion experts Vision Research. They claim to re-define what's possible when it comes to high-speed imaging and with the new Phantom Flex4K they maybe right. What strikes you immediately is how small the form factor is, 11.5 x 5.5 x 5.5in. It's only 12Ibs (5.5Kg). But it's what under the hood which is truly different.
At its full acquisition resolution of 4096 x 2304 this camera is capable of recording from 24 to over 900 frames-per-second (fps), and up to 1,000 fps at 4096 x 2160 resolution. It has 12 + stops of useable latitude and very low noise performance. It has windowing options right down to HD at a super 16mm size window. But this isn't just for high-speed with its 24fps performance.
It'll be ready at the back end of the year and is just getting an outing at this show. Toni Lucatorto, Cinema Product Manager at Vision Research.  "We are previewing the Phantom Flex4K in its current form here at NAB, however, there are still features to turn on and work to be done.  We plan to use the summer to roll out those features and really run the camera through its paces before it officially hits the market."
That will include details on the RAW options and the codec(s) to be recorded. Flex4K will support three distinct in-camera workflows to address different production styles. Phantom's uncompressed raw format, alternatively, record compressed files for a simplified workflow directly out of the camera. 2x 3G-SDI video outputs are also available and compatible with the industry's latest field recorders.
Capture the full 4K super 35mm sensor and then save those files at full resolution, or choose to save them at 2K resolution for a rich, over-sampled image.  Sync-sound frame rates and time code is fully supported.  For high-speed capture, it's possible to record up to 1,000 fps at 4K resolution of 4096 x 2160, up to 2,000 fps when windowed down to 1920 x 1080, and over 3,000 fps at 1280 x 720.
Another notable feature of the camera system is the new on-camera control interface, still in development.  All capture, playback and save parameters will be set from the built in menu on the right side of the camera body, no separate software connection is necessary.  Shortcuts are available for popular functions and multiple user presets exist to allow for a quick setup.  Monitoring, playback and save controls will be available from both sides of the camera.
But we're not talking about Blackmagic camera kind of prices for this kind of 4K. It's $140,000 but could be the only camera you ever need and not just an event product – meaning hire the Flex for the slomo.
Additional high‑performance features include:
Phantom CineMagIV support.
Up to 64GB of internal memory.
2x 3G-SDI outputs which can be configured as independent 4:4:4 1080p signals or used together to monitor the full 4K image.
Component viewfinder output.
Several 12V and 24V accessory outputs.
Integrated battery mount.
Sync connector to simplify 3D capture.
Gb Ethernet port for software operation .
Built-in Bluetooth enables wireless control up to 100 meters with Phantom RCU .
Lens mount interchangeable between PL, Canon EF and Nikon F/G standards.