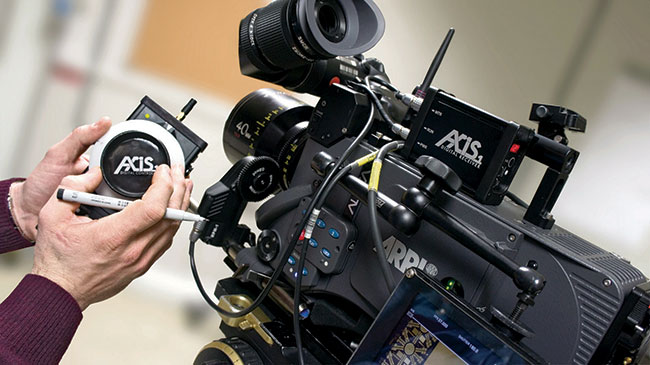 NAB 2013: New Axis1 Wireless Remote Focus For Cine Lenses
Posted on Mar 21, 2013 by Alex Fice
The new Hocus Products Axis1 fitted and working on an Arri Alexa Studio camera mounted wth a Panavision Series G Anamorpic lens.
UK based Hocus Products will launch at NAB in Las Vegas a totally new advanced Wireless Remote Follow Focus system for cine lenses, the Axis1.  Production has already started and the first units will ship towards the end of April.
Company MD and system designer Peter Hoare commented "The Axis1 is the most advanced single channel remote focus system out there, at any price. Our motor control and drive electronics surpass all the competition. This new product is designed specifically for the top movie production market where good design, reliability and ease of use are paramount. The system is built to be simple, straightforward, robust and easy to use– there are no silly features and nothing that you need to get the manual out for – rental companies have tried it and already love it!"
"I have this philosophy which I call OBOF – One Button One Function – no multiple button pushes or complicated menus to call up a function – that's just not practical in a high pressure shooting situation."
Although aimed at Hollywood and other higher end movie production markets it crosses also to Steadicam owner ops and Focus Pullers who want to own their own remote focus device.
Peter added "The new digital drive motor is the cornerstone of the Axis1. It is compatible with many other existing follow focus devices, supports auto end stops and auto torque calibration with our receiver so that there is always just sufficient power to rotate the lens without the risk of damage. The motor uses a unique drive train which leaves it with only two moving parts, resulting in almost silent, and very reliable operation"
The Axis1 has user updatable firmware via USB and is FCC certified for use in the USA.
An earlier product – the Hocus Focus was a low cost solution for DSLR, SLR and broadcast lenses, and continues to sell world-wide. While it handles these types of lenses it was not intended for large, heavy cine lenses used by most professional film makers, hence the creation of the new Axis1.
Europe www.hocusproducts.com