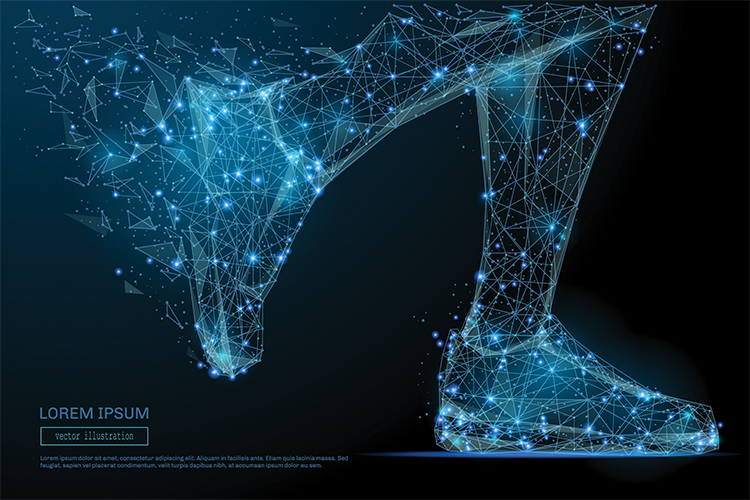 Moving Through Virtual Space
Mo-Sys and HP team up to take virtual reality from the stationary to full movement.
Words: Julian Mitchell / Pictures: HP/Mo-Sys
The world of virtual reality is so open-ended that in years to come we won't believe that at this point in time we couldn't actually physically move in this space. But a new partnership is changing this.
We're not just talking about virtually moving in VR either, but actually walking or cycling while also moving virtually.
HP, using its new mobile computing hardware, and London-based Mo-Sys, using the power of Unreal Engine 4 (UE4) and its new VR tracking technology, is empowering location-based entertainment, gaming, engineering, training and architecture visualisation.
New Possibilities
The enterprise-level system from Mo-Sys is called StarTracker VR, an inside-out tracking solution like no other. Inside-out tracking is when the sensor moves outside-in when it is stationary. StarTracker VR is perfect for team or collaborative events as, thanks to the patented optical tracking method, it is not susceptible to occlusion (when another user is blocking your VR headset) or drift.
Using reflective stickers stuck to the ceiling, an upwards-looking sensor known as StarTracker is mounted on to the headset, calculating its position in real time using the stickers as a reference. The camera sensor uses infrared to shine up at the stickers and they reflect back into that sensor. The data is processed using the Unreal engine, which gives you the real time rendering and the great quality.
This new method is resilient to changes in light and enables wall-to-wall, multi-level tracking across the largest of environments, even when objects are partially obstructing the StarTracker sensor.
Using the HP backpacks gives the system much more quality and the way that one system isn't affected by another nearby points towards multi-player systems.
Mo-Sys founder and owner, Michael Geissler, commented: "The strength, precision and reliability of our tracking really shines through when you can even cycle in VR. StarTracker VR truly delivers unlimited freedom of movement with the power to interact with moving objects or navigate around static obstacles."
The StarTracker VR is resilient to light and enables wall-to-wall, multi-level tracking.
Biking in VR
Most recently, the British Motorcycle giant, Triumph, chose StarTracker VR to showcase a top-secret prototype bike that's coming out next year to its most privileged dealers. Mo-Sys claims that no other system could provide robust tracking and prevent occlusion issues when multiple users stand close together within the same scene. With around 1200 visitors attending the event, 14 StarTracker VR systems allowed Triumph to process up to 200 visitors every hour, meaning everyone could see their top-secret concept.
For the presentation, each visitor was given a headset and a backpack, and could get close to the bike and see the details. Security was tight so it wasn't possible to leak a picture of the new model as it lived in the virtual world only.
To achieve this, Mo-Sys mounted StarTracker sensors to HP's Windows Mixed Reality headsets, enabling users to get lost in ultra-sharp visuals with 1440×1440 pixels resolution per eye. In addition, HP Z VR Backpack PCs, with their 32GB dual-channel DDR4 system memory, were crucial to the project. Their ability to work steadily under heavy VR data loads provided seamless frame-to-frame transitions.
A mock-up of how VR can be used in the automotive world and below at a recent Triumph motobike launch with only a virtual bike.
Sense of scale
IntelliGO created the virtual scene using UE4, which gave the sense of scale necessary to create close to photo-realistic, believable worlds. The power of UE4 blueprints made it possible to implement the multi-user functionality, processing the StarTracker tracking input very quickly and in a user-friendly fashion.
StarTracker VR has also been applied in other areas, too. For military training and for immersive multiplayer experiences, such as Dark Realities' interactive, free-roaming experience, which is opening soon in Birmingham, UK, darkrealities.com.
StarTracker VFX
Another visual market that Mo-Sys uses the StarTracker technology in is VFX. This enables pre-visualisation in real time so directors and VFX supervisors can make snap decisions on-set. They can tell the actors where they need to be standing without having to re-shoot because someone is out of position.
"StarTracker VR delivers freedom of movement with the power to interact with moving objects."
Director's Viewfinder

A StarTracker is mounted to a small monitor that tracks every movement. The director can grab the monitor and use it as a window into the virtual world. It allows them to frame the scene, create and practise camera moves, without having to guess where the virtual objects are. With this, you can visualise the scene on-set, so that the director can make decisions quickly, as if they are filming for real. This reduces the amount of retakes required.