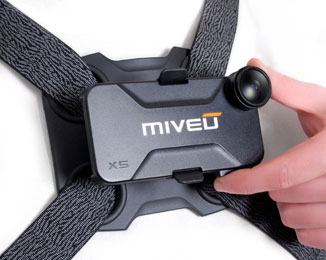 Miveu's iPhone 4 POV Rig Now In The UK
Posted on Mar 4, 2013 by Alex Fice
Miveu iPhone POV, now in the UK.
US manufacturer Miveu has introduced their Miveu-X to the UK, via distributor Gocam.tv.
Miveu-X is an inexpensive way to record POV video on an iPhone 4/4S, as well as record sound. The system consists of a chest mount and iPhone 4/4S case with built-in wide angle lens.
At the core of the Miveu – X is a custom designed optical glass lens. Miveu's optics increase the phone's narrow viewing angle to a wider angle. The case is ruggedised and wraps around the iPhone 4/4S whilst still allowing access to controls.
Anintegrated shutter buttonallows you to start and stop recording without removing the iPhone 4/4S from the clip. The chest mount includes an adjustable ball joint letting you aim the lens toward the action: up, down, left or right. You can also twist the iPhone 360º letting you go from landscape to portrait mode or any angle in between. It also allows a more natural yet dynamic perspective than mounting to a helmet or arm. The design produces the most stable imagery.
Miveu-X is around 1/3 the price of most popular POV cameras: £69.00 inc. vat.
A case for iPhone 5 is due for introduction in May 2013 and is already for sale in the US.
Another Apple product lens accessory is the Olliclip. Olliclip works with the iPhone and iPod touch devices (4 & 5) and has a 3-in-1 photo lens first designed for iPhone 4 which includes a Fisheye, Wide-Angle and Macro lenses. You slip on the adapter over the iPod touchcamera lens.
The olloclip Fisheye Lens captures approximately a 180° field-of-view.
The Wide-Angle Lens nearly doubles the iPod Touch's normal perspective.
 The Macro Lens applies roughly a 10X multiplier and is cleverly concealed within the olloclip by unscrewing the Wide-Angle lens