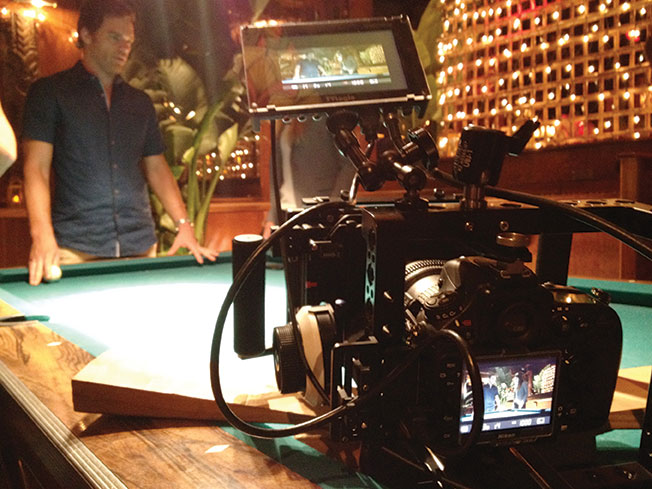 LockPort 800 Dual Protects Your Micro HDMI On Nikon's D800 Camcorder
Posted on Jun 19, 2014 by Alex Fice
Eric Fletcher, a camera operator on the long running US Episodic Dexter, had used the Nikon D800 camera in the last series but hadn't used an external recorder because the HDMI cables kept popping out. 'The problem is that because the HDMI connector isn't a locking one if the cable is jiggled in the slightest it would lose integrity and the recording is shot.'
The LockPort 800 DUAL is a new product developed to help avoid damaging your Nikon D800/800E  micro HDMI and micro USB 3.0 camera ports.  Highly requested from not just Eric but other photo/filmmaking professionals. It's now available for delivery.
The LockPort 800 DUAL protects the fragile HDMI/USB outputs on your camera from production abuse with a solid universal clamp locking to the camera, a smart micro to full-size HDMI and a micro to full-size USB 3.0 adapter.
The LockPort 800 plate is designed to fit every head, baseplate, sliding plate, support out there using the original camera screws already there.
The Nikon D800 on-set with Dexter
LockPort secures to the camera's HDMI/USB 3.0  90° REAR adapters, protecting the "expensive to repair" ports on your camera. The HDMI/USB 3.0 adapters have gold plated contacts and the full-size female outputs allows you to use stronger standard HDMI and USB 3.0 cables, that can be purchased everywhere.
Standard size HDMI/USB 3.0 plugs lock securely in the sockets – with no signal lose, and if somebody walks over your cable, the plug still can pop-out saving your camera from falling on the ground (never lock down a cable to a camera!)
The full-size HDMI/USB 3.0 adapters have REAR OUTPUTS to reach the best cable ergonomics solution on your rig/studio set-up.
LockPort DUAL is available also for Nikon D600/D610, Canon 5D MKII/III, 6D, Blackmagic Pocket camera!