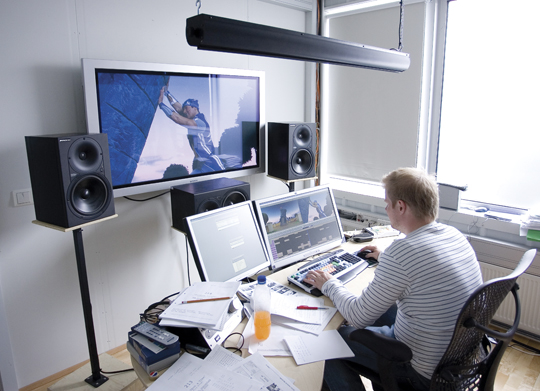 Lazy Town – Handling The Data Flood
Posted on Aug 1, 2008 by Alex Fice
Tómas Örn Tómasson with the three Astros and CineTal monitorEarly in the pre-production of third season of LazyTown it was apparent that a new approach in filming the series was needed.  The first and second season was shot 'single camera style' with a Zeiss DigiPrime lens kit, ranging from 5mm to 40mm and a Zeiss DigiZoom 6-24mm.  We had divided the studio in two halves and one Thomson Viper FilmStream camera was in both of them, so we could shoot in Studio A while lining up lighting and practising in studio B (and vice versa) without having to move the camera, and everything that involved with it, between studios. This worked perfectly because throughout the production we had all the talent in the studio.  We knew from the 'get go' of season three that this wasn't an option anymore, so we needed to come up with system that would enable us to shoot even faster than we had done before and shoot out each talent.
In a normal production it would be an obvious option to add one camera and shoot the show multi-camera style with three cameras, but in a technical environment like LazyTown, it would not be easy without some compromise. There is a reason why the LazyTown pipeline was designed for a single camera shooting style.  First of all the Viper pumps out enormous amounts of data each second it is shooting and it requires a big databank to store all the footages, apart from the fact that we would need one more recording device (DVS Clipster or SR recorder), three Vipers shooting at the same time would mean a 'Noah (Data) Flood'!
Because of that we needed to compress the files but do it in such a way that it would not give us problems while pulling key.  This needed to be tested through out the pipeline. We ended up with using Avid's DNxHD codec since the studio was already Avid based.  The DNxHD codec has a small artifact in the red channel but it is small enough to pull acceptable keys out off.  We were also able to match older material with this type of compression and were very happy with this compromise.  However it did mean that we would not use the Sony SR-W5000 or the DVS Clipster to record the data, we would just record straight to three Avid Symphonys that also enable us to group the three cameras into the same bin and edit the material as soon as we cut the cameras!
Sigvaldi J. Kárason, Lazytown's Director (left), and DP Tómas Örn Tómasson (right) with the three Thomson Vipers. Top picture from Lazytown Season Three Shooting with three cameras at the same time also requires more usage of telephoto lenses.  The longest lens in our lens kit was 40mm so we needed longer lenses.  We tested a lot of lenses and lined up for every planned set-up to see what range would be enough for us and the conclusion was that Zeiss DigiPrime T1.6 70mm CF and Zeiss DigiZoom T1.9 17-112mm were long enough for the production and matched the other lenses we had perfectly.  I think there are no lenses made for 2/3in chip that can compete with the Zeiss Digi-Lenses.  My biggest concerns however were the low depth of field on those telephoto lenses while shooting on green screen and green 'spill'.  It can be very difficult to pull a key from an image with short depth of field and normally when shooting on green screen one tends to close the green as much as one can, in order to eliminate the green spill bouncing from the huge green screen.  When shooting with three cameras it is not possible to close the green as much as when only using one camera!  All this was tested and the conclusion was that the 'base' needed to be raised one stop.  To minimize the spill, the compromise was to not use too wide lenses for the widest shot of the three cameras.
LazyTown was already using an AVID workflow so using DNxHD compression was the straightforward choice – pictured Sigvaldi J. Kárason, the director of Season ThreeWhen all this had been taken into consideration it was our opinion that it was possible to shoot the show with three cameras and to do so within our time and quality framework. The quality was however compromised heavily by using DNxHD over DPX.
Another big change from shooting with only one camera was the fact that I could not operate. I needed to see what was happening in each of the three cameras so good monitors for each camera were needed to control the exposure, lighting and consistency between the cameras.
The conclusion was to get one extra Astro WM-3004 Waveform monitor to the studio so that I could have three Astros lined up in a row. Above them I had one big CineTal monitor as a master monitor where I could switch between the cameras.  On the CineTal I could also switch from camera feed to playback or the output of the Ultimatte to see if the Alpha channel was good enough on the greenscreen shot or to see a 'reference composed image'.
Also, when we did really complex set-ups and we were under-staffed I could plug in the remote Weel-head from the Thoma Hot-Head and operate one camera myself.  This workstation is absolutely state of the art in my mind.