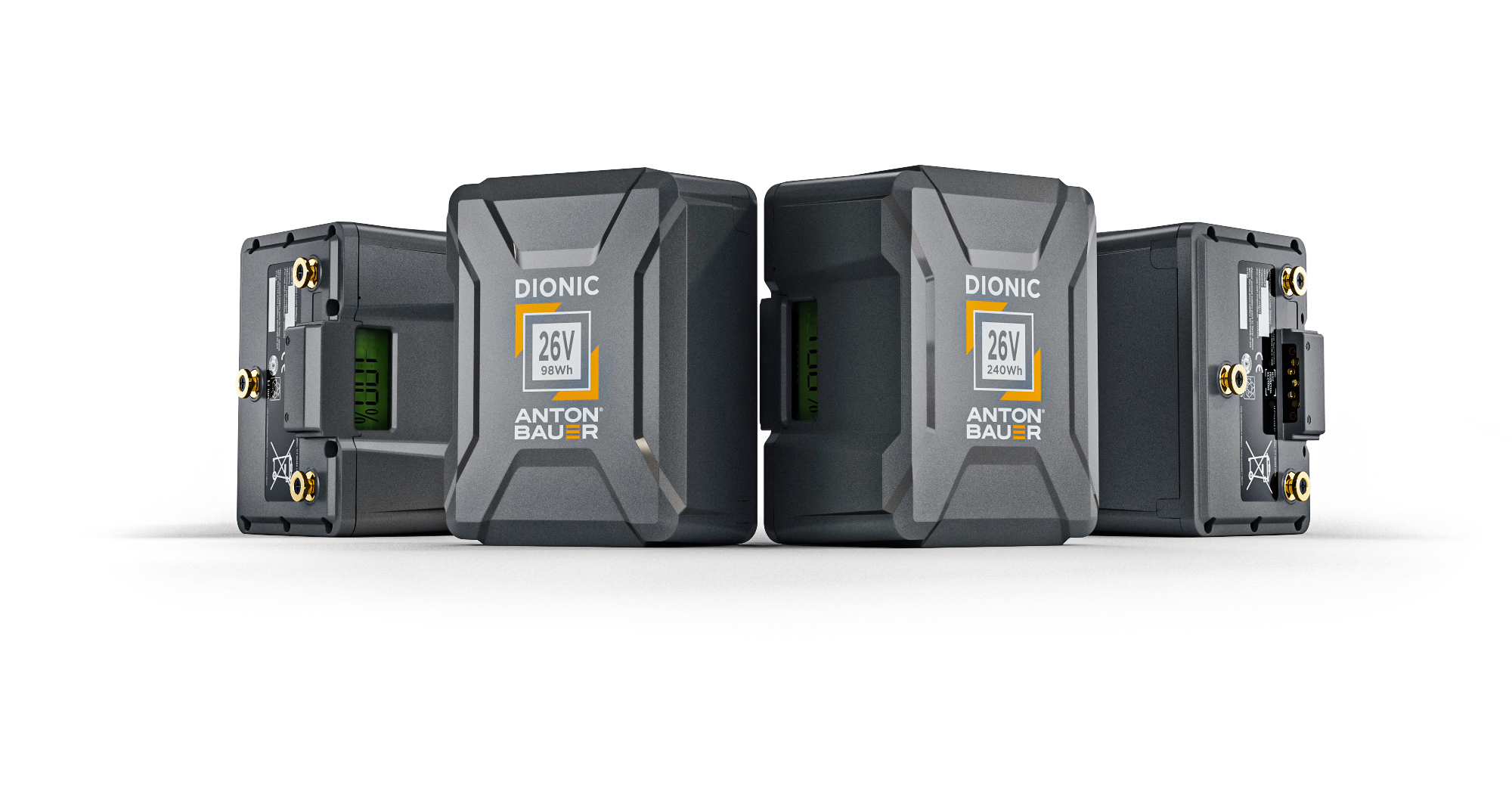 The Golden Joule – Get the Best Out of Your Batteries
Posted on Aug 26, 2021 by Alex Fice
No matter how efficient low-energy lights become, or how high-resolution a camera's picture, specs mean nothing when the batteries are flat. Here are the latest innovations to power your whole crew
Words Phil Rhodes / pictures various
Not long ago, a camera only consumed power when it was running, unless you wanted the illuminated frame lines switched on. Now, it takes 50 watts just to look through the lens.
As cameras have become more capable and power-hungry, we've leapt enthusiastically for battery-powered lighting – there are more exciting ways to make charged batteries into flat ones than ever before. The convenience is hard to overstate – lights are often walked into place with a battery on a stand – and there's some brand new ideas involving power supplies that would usually require a generator. Now, they might not.
If one company is best demonstrating the industry's evolution in supporting cameras of different shapes and sizes, it's stalwart Anton/Bauer. The product line is split approximately in two: the high-end, cinema-orientated Dionic range, and Titon batteries intended for broadcast work. The most capable are the 26V 240Wh blocks, which can cover all the biggest cinema cameras.
Anton/Bauer's batteries are subject to a lot of real-world testing around performance and longevity
Perhaps the most unexpected entry is the diminutive Titon Base, a book-shaped battery intended to sit underneath a DSLR-shaped camera. Anton/Bauer often shows it attached to the bottom of the Blackmagic Pocket Cinema Camera 6K. It's a tidy option, with a lot of different outputs, suiting people looking to keep the most portable cameras running for longer than their tiny internal batteries will allow, while running some accessories, too.
What the company prefers to discuss, though, is quality assurance. Cells, after all, are essentially Swiss rolls of chemicals in a tube, and standards vary. While Anton/Bauer's batteries aren't always crammed with esoteric features, its designs are subject to a lot of real-world testing around performance and longevity.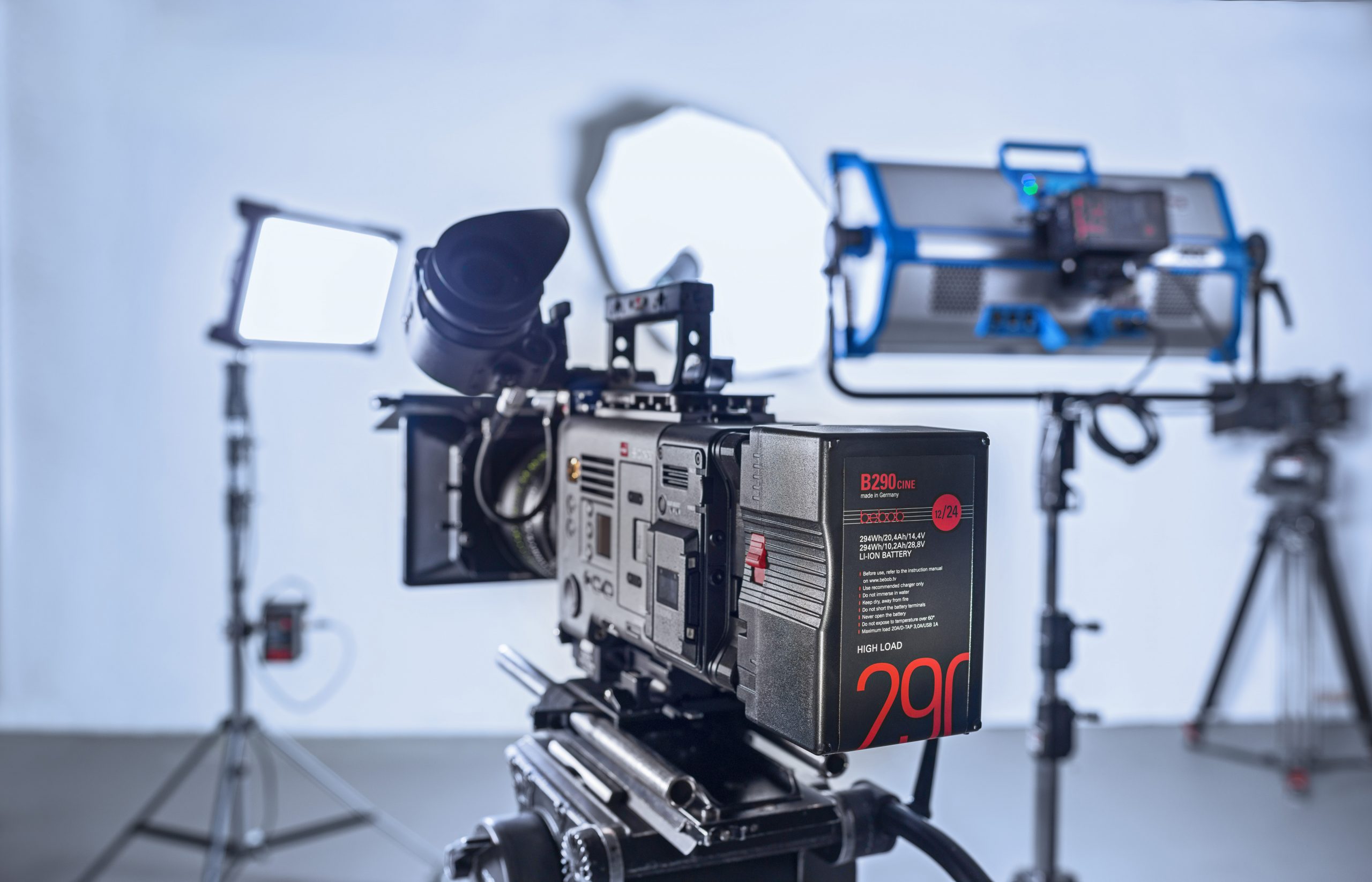 STACKABLES
With an eye for bright ideas, consider PAG's ingenious PAGlink system. Available as full-sized Gold or V-Mount packs, or as feature-laden mini-PAGlink batteries in Gold Mount only, it's intended for rigging little cameras on big jobs. The miniature option includes quarter-inch threads and USB outputs, and the reduction of bulk will make sense in situations where a large battery might make a DSLR rig feel tail-heavy.
PAGlink is a stacking system, with a female mount on one side and male on the other. Batteries can be stacked on the camera for more capacity and hot-swapping, or on the charger to avoid camera assistants having to set a 3am alarm to ensure full juice by morning. It makes you think everything should work like this.
The need to rig modern cameras significantly beyond their original designs has encouraged manufacturers to offer power breakout plates with various connector configurations. Hawk-Woods, in particular, specialises in both batteries and their attachments. The company's adapters can even upgrade smaller cameras using 7.2V NP-F or 14.4V BP-U camcorder batteries, compatible with full-sized V-Mount options. That demands custom, often per-camera engineering, with a range covering popular models like the FS5, FX6, Z Cam 6K and 8K – a V-Mount plate for the Komodo is a recent addition.
Hawk-Woods' battery range is enormous, including pocket-sized 30Wh 7.2V batteries compatible with the common Sony mount, through 14.4V BP-U-compatible options for the likes of the FX6, all the way up to 26V, and one-kilowatt floor batteries intended to run a big cinema rig all afternoon. There are Gripper batteries, which slide on to 15mm mattebox rods, and the velcro-attached Sticky series built for drones, delivering high currents with minimal weight. Hawk-Woods will even make you a custom cable.
Meanwhile, Hedbox already has some very capable V-Mount packs in the 200Wh range. Putting two of those on the company's RP-DC100 charger not only fills the battery, but behaves as a handy DC power supply. It will use mains power when available, but when that goes, the two batteries are discharged sequentially for hot-swapping – in effect acting as a UPS – which suits use alongside a floor battery.
Hedbox distinguishes itself with a wide range of batteries at various capacities, including options for full-size cameras in V-Mount.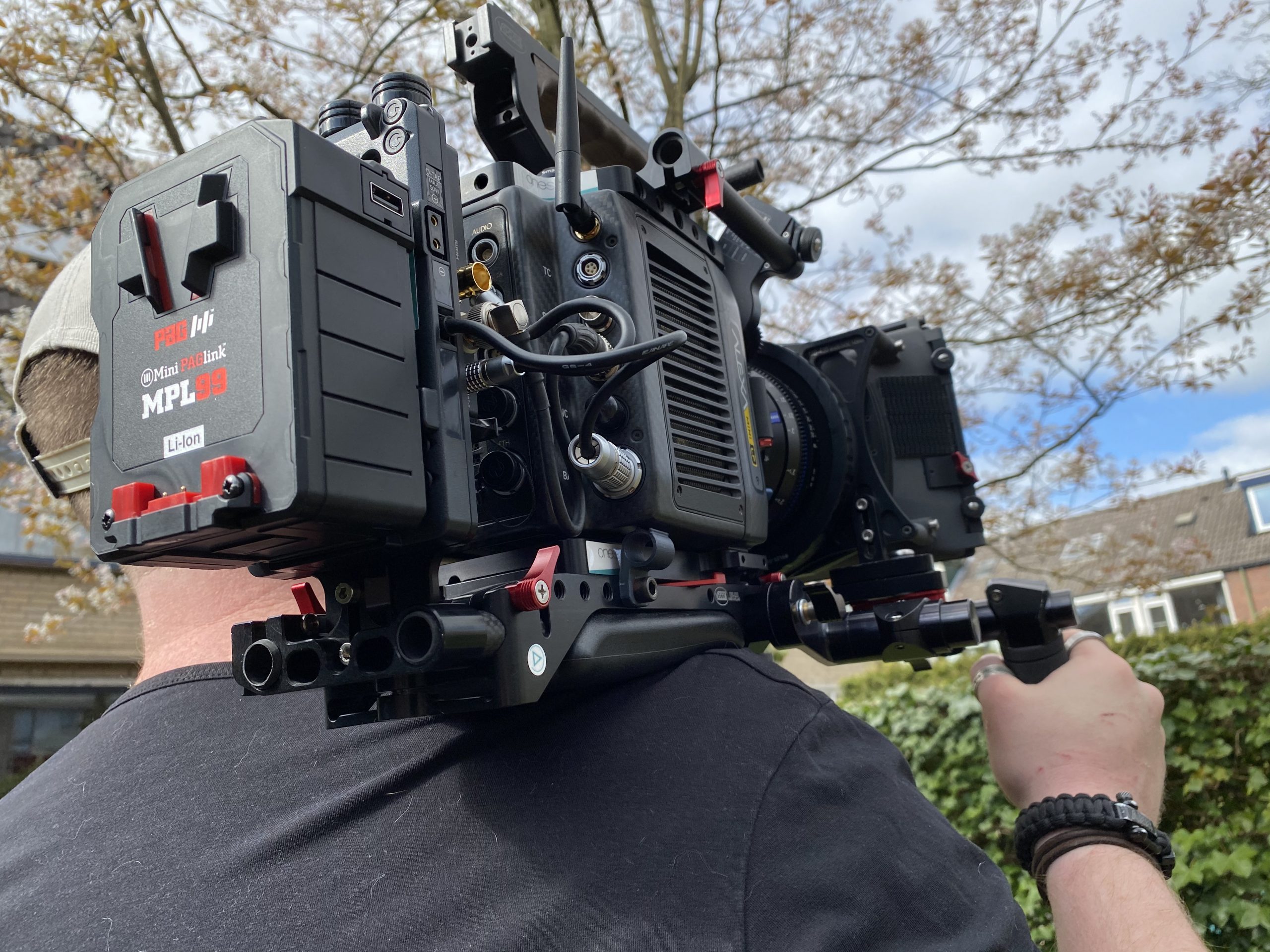 The Nero range starts at a trim 98Wh and goes all the way up to the 300Wh XL option. That will run multiple cameras all day, and even the biggest for a good couple of hours. The X-suffix Nero batteries incorporate all the electronics needed to talk to Red and Arri cameras in a language they'll understand. And there are more portable options for NP-F and BP-U mount power.
Bebob, meanwhile, offers a truly vast single-piece box battery – the Cube 1200 – with USB, unregulated 12V, 24V and 48V output. With a circa-1200Wh total capacity, maximum simultaneous power draw is 480 watts – according to the company, the 48V output is ideal for SkyPanels. On a more everyday level, there's a full range in Gold, V- and B-Mount for big cinema cameras. The largest camera-mounting options include some 200Wh choices, but these aren't quite as flyable.
Some of Bebob's options are compact: the 196Wh V200Micro design is only 75x101x81mm, without sacrificing significantly on features. One particularly tidy component is the reversible D-Tap connector, allowing the cable to exit left or right. Another is the built-in torch – hold down the test button until it illuminates, and use the battery to find your way in the dark. 
Finally, let's consider both economy and ecology: Bebob is one of vanishingly few manufacturers that recells its batteries, and pays extra attention to minimising the impact of packaging and shipping.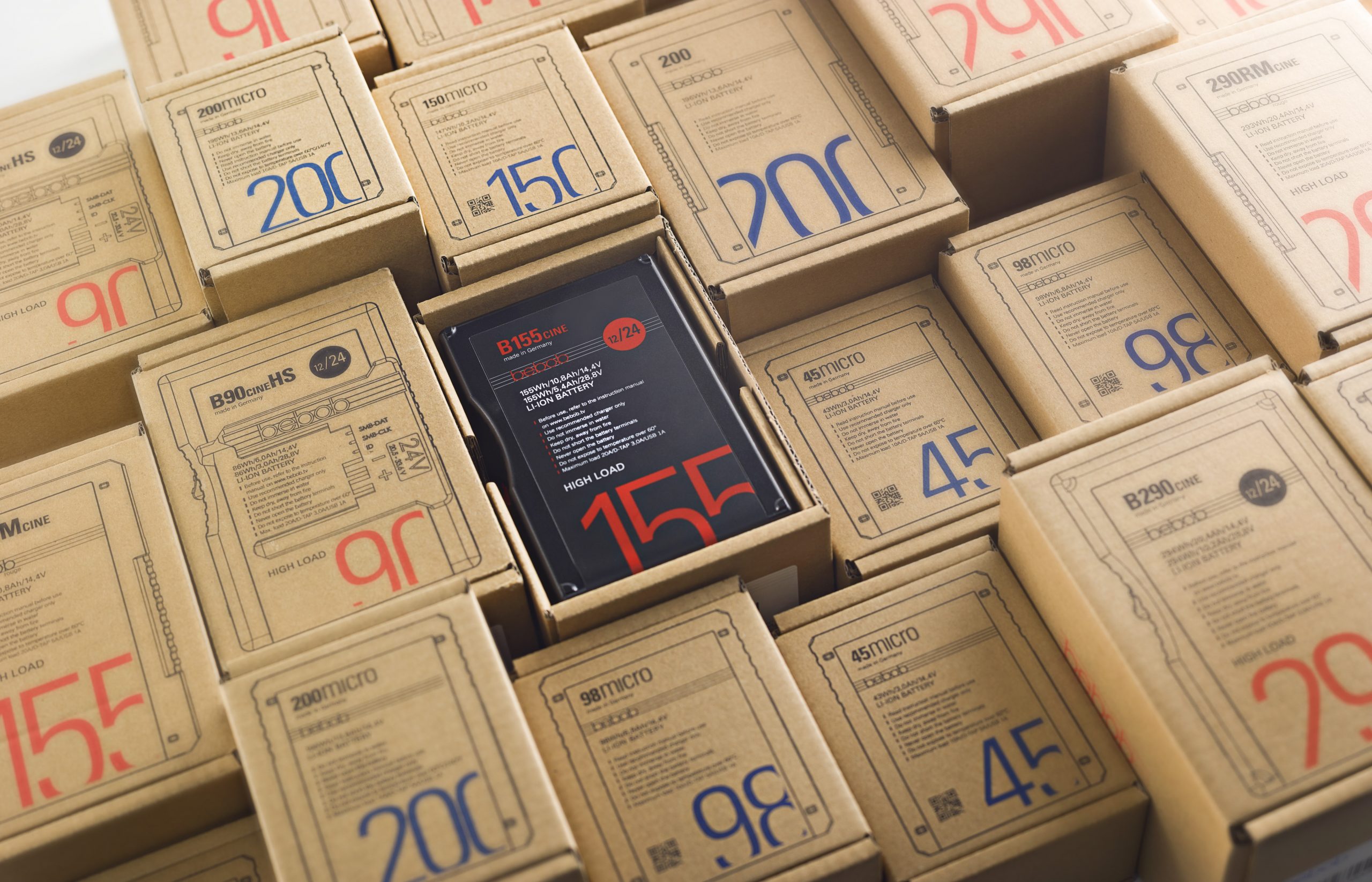 COME FLY WITH ME
If there's a notorious limitation to lithium-ion batteries, it's their air-transportability. Core SWX's novel approach is to split its largest batteries in two – the Hypercore Prime 190Wh option demounts into two pieces, each one with a small enough capacity for safe use on-board an aircraft. Meanwhile, the Helix packs provide 28V and 14V outputs concurrently. This makes life easier for those with upscale cinema cameras, or accessories for more conventional power systems.
To continue reading, head over to our August issue of Definition magazine.