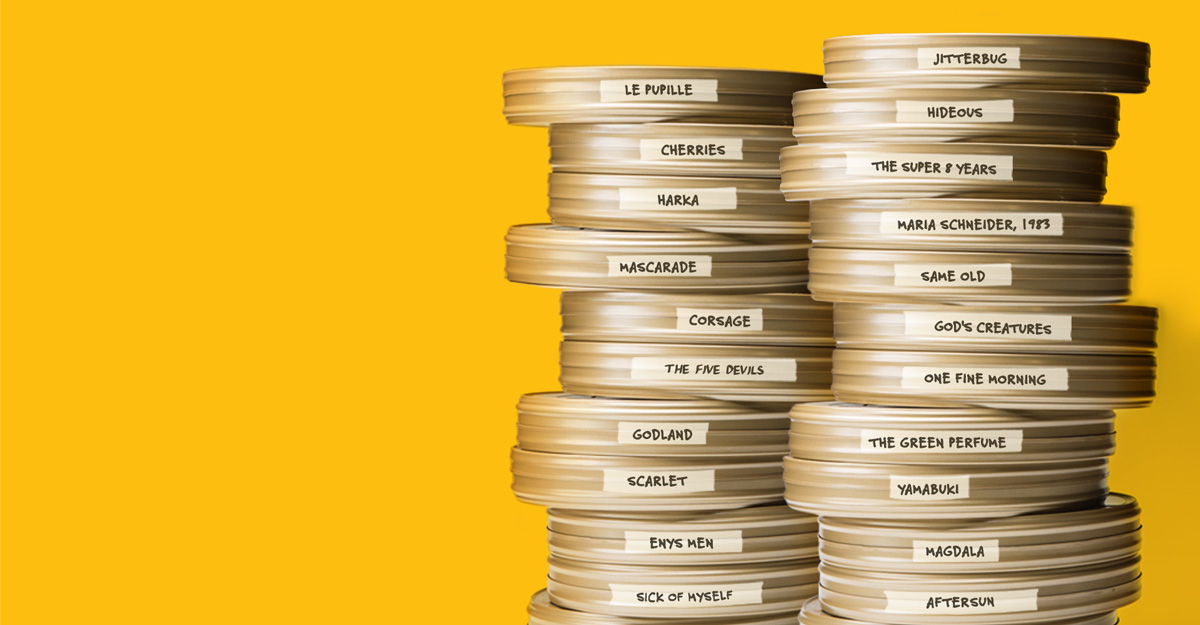 Kodak on-film in Cannes
Posted on May 20, 2022 by Samara Husbands
To mirror the cultural revolution of on-film capture, Kodak hosted 25 new productions shot on-film at Cannes Film Festival 2022.
The gala featured four on-film titles who competed in Un Certain Regard with eleven of the 25 titles selected for Director's Fortnight also captured on film.
"On behalf of the entire team at Kodak, congratulations to the motion picture artists whose exceptional work was selected to screen and compete at the 2022 Cannes Film Festival," said Steve Bellamy, president of Kodak Motion Picture and Entertainment. "Film capture continues to grow exponentially across the feature film, TV, music and commercial segments, as evidenced by the strong showing of on film titles across the Cannes festival this year. Kodak would like to extend a huge "thank you" to the artists who fight for the medium. There's simply nothing as magical as the photochemical image and we are honoured to help these auteurs realise their artistic visions on film." said Bellamy.
As a testimony to the next generation of filmmakers' and their commitment to analogue capture, four of the shot-on-film titles premiered were helmed by first-time feature directors.
It has been a strong year for productions shot on film. 2022 Oscar recognition of shot on KODAK film titles include Don't Look Up, Liquorice Pizza, West Wide Story, The Worst Person in the World, Spencer and No Time to Die.
An extra little nugget of info: Mia Hansen-Løve, Nicolas Bedos, Owen Kline, Serge Bozon, Charlotte Le Bon, Nicolas Pariser and Jesse Eisenberg all shoot on KODAK film stock.
The films shot using Kodak, and competed or were screened as part of the Official Selection at the Cannes Film Festival 2022, were:
Un Certain Regard
Corsage – Marie Kreutzer (35mm)
Godland – Hlynur Pálmason (35mm)
Sick Of Myself – Kristoffer Borgli (35mm)
Harka – Lotfy Nathan (35mm) 1st feature
Out of Competition
Mascarade – Nicolas Bedos (35mm)
Premieres
Don Juan – Serge Bozon (35mm)
Le pupille (The Pupils) – Alice Rohrwacher (16mm/35mm)
Cannes Court Métrage
Same Old – Lloyd Lee Choi (16mm)
Cherries – Vytautas Katkus (16mm Ektachrome)
 Directors' Fortnight – Feature Films
L'Envol (Scarlet) – Pietro Marcello (35mm)
Les Années Super 8 (The Super 8 Years) – Annie Ernaux & David Ernaux-Briot (S8) 1st feature
Les Cinq Diables (The Five Devils) – Léa Mysius (35mm)
Enys Men – Mark Jenkin (16mm)
Falcon Lake – Charlotte Le Bon (16mm) 1st feature
Funny Pages – Owen Kline (16mm) 1st feature
God's Creatures – Anna Rose Holmer & Saela Davis (35mm)
Un Beau Matin (One Fine Morning) – Mia Hansen-Løve (35mm)
Le Parfum Vert (The Green Perfume) – Nicolas Pariser (35mm)
Directors' Fortnight – Short Films
Maria Schneider, 1983 – Elisabeth Subrin (16mm)
Jitterbug – Ayo Akingbade (16mm)
Critics Week – Feature Films
Aftersun – Charlotte Wells (35mm)
When You Finish Saving the World – Jesse Eisenberg (16mm)
Critics Week – Short Films
Hideous – Yann Gonzalez (35mm)
 ACID – Feature Films
Yamabuki – Juichiro Yamasaki (16mm)
Magdala – Damien Manivel (16mm)
For more on Kodak see their website.