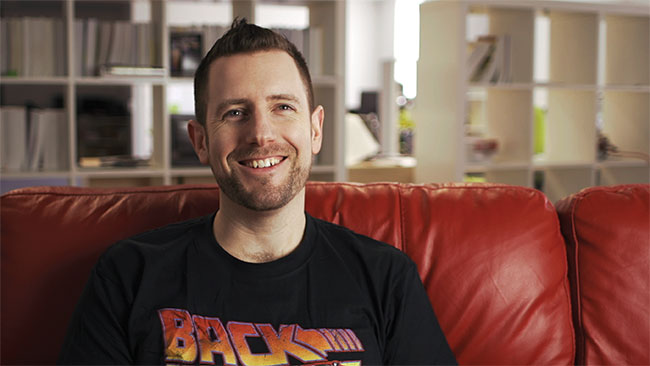 KickStarter Hatches HitFilm For Mac
Posted on Jul 18, 2013 by Alex Fice
Founder of the company Joshua Davies, "We're a small company with big ideas."
There is an undeniable truth about professional post production that certain software and hardware is used behind the scenes to achieve shots while the Hero suites work with the expensive platforms that warrant the hourly rates. FX Home's HitFilm could be one of those behind the scenes products and especially now they have had a very successful KickStarter campaign to create a Mac version. We talked with their founder Joshua Davies.
If you are in the pro world you may never have heard of HitFilm as it's primary market has been indie film and education. But some pro artists do use the software, an effect here on Hangover 2 and one there on Salt. But there's something happening on Internet sites like YouTube that may make you envious. Independent artists are hijacking the next film and television generation's attention and using low-cost but highly capable video gear, like HitFilm.
We asked Josh Davies, the founder of the company, what their secret was.
"I've been developing software from a very early age and was using Apples before they were Macs from when I was about five years old! I've always been a Mac person from OS7, 8, 9 and 10 all of those so yes heavily in to Mac and that kind of led me to developing creative software and then on from there in to video software which led on to developing for the PC as well. Now we're back to the Mac again.
"I developed video software mainly because of my family. Other members of the family were working on video and didn't have the budget to afford the software that they wanted or the software they used was not that well constructed for what they wanted. I had a go at it to see if I could make something better for what they wanted and then tried to sell that product to other people.
"From here I learned a lot about development and UI design that then led to the kind of software that we make now. It's been a very roundabout process really. I was mainly self-taught but used to develop on all kinds of systems when I was younger but I don't do any of the development anymore as I have developers here now. In fact I doubt whether there's a better software development team anywhere in the UK.
"I know companies like The Foundry are in the UK but our guys are really up at those kind of levels. So instead of having an idea for a piece of software and then doing a fairly bad job of programming it I can have an idea for something and tell people about it and then they have an even better idea and go ahead and program it.
"FXHome is the company name. When we first started out we had a product called Alam DV which was a very basic product, it took photographs and overlaid them over video using various compositing modes, muzzle flashes, explosions and things like that. That was a cheap product that sold only on the Internet. It wasn't particularly successful but did show there was an interest in visual effects even for the amateur indie market. That product was developed in to several versions. We then realised that we needed to step up our game and made a product called VisionLab and EffectsLab which FX Home have been known for the most part at the time. That was a more powerful product but still fairly on the budget end of things and that was really where I stopped developing the software. Since then we have been concentrating on photography and back in to video as well at much higher quality levels. We're in the second version of HitFilm now. It started as a two to three year project for the first version and we set some very high goals to what we wanted to achieve. We spent the best part of two years putting a team together to achieve those goals but the team went well passed that and then with HitFilm2 they really came back and tied up any of the loose ends that we had and added some amazing new features as well. So the development of HitFilm has been on the back of learning the industry, finding the right partners like Sony Creative Software and Imagineer.
HitFilm 2 Ultimate offers compositing, video editing, plenty of VFX and grading including camera tracking through Mocha HitFilm"HitFilm was also seen as a VFX product but with editing but the emphasis was on VFX. After all our previous software which was 2D compositor, very old school but very simple, we knew that we needed to be a 3D compositor, we needed lights and shadows and those kind of things inside the software. But it was still a traditional 2.5D compositor like After Effects rather than a full 3D compositor like some of the much higher end products. We're kind of making that transition at the moment, we're more like After Effects with a bunch of really good plug-ins now in a lot of ways. Our particles system is actually true 3D in a true 3D space which nothing in After Effects ever really is, it's always on a layer as it were.
"Our 3D is currently on a layer as well but in the next version of the software not only is the Particles system but the 3D actually exist in the same unified 3D space which is much more akin to your higher end stuff. Eyeon Fusion and stuff like that where they actually have a full 3D environment. But we're also trying to keep in for simplicity sake the more After Effect-y style, rendering 3D objects on to a plane which gives you a certain level of simplicity and you're compositing and grading, things like that.
"We are going higher end with what we allow the user to achieve but as with our interface and everything we try and do we try and inform the user and give them options so they have the creative control rather than the software dictating to them what they do.
"Our previous software which was quite basic as I said, didn't have any editing capabilities and for a lot of our users they found that quite confusing. So when we started this software we knew that we wanted to have some editing capabilities, it doesn't replace a professional editor so it's bundled with Vegas Pro on Windows and on the Mac who is going to try and compete with Final Cut Pro X in terms of it's consumer to prosumer market penetration, nothing will ever touch that. So we wanted some editing capabilities in there and we're probably going to enhance that more over time.
"If you look at After Effects it's an amazing tool box but maybe you have to buy the tools for it to a certain degree. You have these amazing developers all round the world making these fantastic plug-ins for After Effects and they do that within the confines of what Adobe dictates what plug-in makers are allowed to do. We kind of have the advantage that we control both the environment and the plug-ins so our 2D plug-ins, if we determine that they need to work with the 3D data from the 3D model, we can make that happen.
"Our place in the market is defined by where the people are who have grown up with our products. They are outside the traditional video market, if you look on YouTube at people like FreddieW (www.youtube.com/freddiew) who is absolutely massive on there. He is coming from the legacy of our software and our products and we work with him even now. There are a lot of people like that who are either working inside the industry or trying to build their own way forward where our products with their distinct feature sets that allow you to do more in one product that you otherwise wouldn't be able to do.
"They are really one of our target audiences. Schools and students are key to us as well, we have an affordability advantage and we have a complete package all in one which is something we're really keen to get out there and tell schools about.
"If you were to have the Adobe suite which is a brilliant deal on an educational discount but then if you wanted to do something with Particular, the standard of particle systems for After Effects or if you wanted to Element 3D and do some 3D work, these are all additional things you have to go out and buy for every single computer.
"We don't have those limitations, our Particles system is more powerful than Particular and our 3D system is different from Element 3D. Better in some ways not quite up to it in others, but it's all there in the box. We have to makesure that while we will look at opening up our software to plug-in makers, because it wouldn't be a stretch for us to do that, we always want to make sure that what you get with the product is a really complete set of tools and the tutorials that you can follow are good enough that you don't have to buy additional aids.
"So I do think we exist in a different space that's not to say that we're not looking at the pro space or even a space below where we are. The pro space is of interest to us and our software has been used there in the past but we've not really made it a workflow for professionals but we are definitely looking at that because we do have a lot of technology in the software that doesn't really have a direct comparison within After Effects or within Nuke or other software as well."
A successful KickStarter has sent HitFilm 2 for Mac in to number one in the pecking order for completion.Starting a KickStarter campaign was a risk for the HitFilm team but their £25,000 goal was more than doubled after setting stretched goals along the way.
The result brings their Mac version to market this year with more effects on-board. Josh Davies commented on the result:
"We've been absolutely blown away by the KickStarter. It's something that we talked about including how it could negatively affect the brand. You could put a KickStarter out there wanting £25,000 and only get say £1,000, how does someone perceive that?
"We figured that the Mac version of the software was going to be extremely popular and that we didn't want to delay doing it anymore. We wanted really push forward with it and put our main team behind it. It felt new and exciting and also felt very demographically correct, the Mac user is more likely to back something because they potentially would have the means to do so. Also the product is already on the PC, it's already been completed, you can see what it's going to be like when it's finished.
"The £25,000 would be a great help for us buying systems  and testing systems and getting software for our dev team. What we didn't expect was the amazing reception that we got from having it on KickStarter. There was a consistent level of people saying very nice things, places us directly against some very high end competition with what they thought of the software which was very flattering because money-wise we are the price of an After Effects plug-in!
"We also had people who are very closely associated with After Effects also saying nice things. But also just to massively surpass the goal we had set has really blown us away."