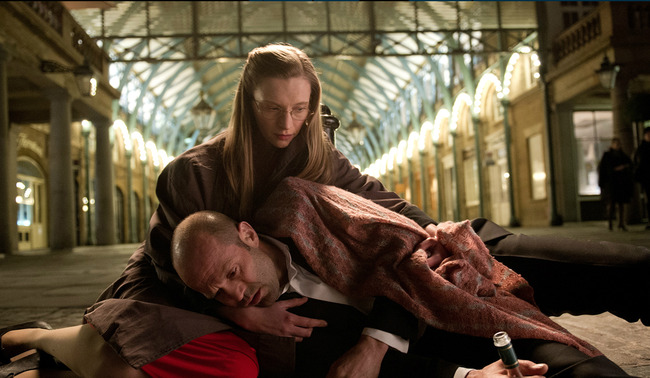 Codex Helps Redemption Probe the Chilly Shadows of London's Mean Streets
Posted on Jul 23, 2013 by Alex Fice
Chris Menges shot mostly in London at night with minimal extra lighting.
Redemption – known as Hummingbird in the UK and Crazy Joe in France – tells the story of a traumatised, homeless veteran straining to maintain his sanity and seeking a new life on the streets of London. Jason Statham stars as the ex-Royal Marine who breaks into an apartment and assumes the dweller's identity. He uses his military training to profit in the criminal underworld, giving his ill-gotten gains to the needy, but a thirst for vengeance may be his undoing – or lead to his redemption.
Cinematographer Chris Menges, ASC, BSC is a two-time Oscar winner (The Mission, The Killing Fields) whose CV also includes Michael Collins, The Reader (with Roger Deakins, ASC, BSC), Stop-Loss, Local Hero. His direct sensibility was honed early in his career on landmark British New Wave films like Kes, with Ken Loach, and If. . . with Lindsay Anderson. He also shot Dirty Pretty Things, which was written by Steven Knight, the director of Redemption, and directed several acclaimed films including A World Apart and CrissCross. Three years ago, he received the American Society of Cinematographers International Award in recognition of his unique and powerful body of work.
Menges' first foray into digital cinematography for a feature film was Extremely Loud and Incredibly Close, which he shot on the ARRI ALEXA using Codex recorders. He says he chose the Alexa as "a simple and sympathetic way to capture the performance" of Thomas Horne, a child who had never acted before. That film was one of the first, along with Rock of Ages (photographed by Bojan Bazelli, ASC) and Amour (Darius Khondji, ASC), to use the uncompressed ARRIRAW format via Codex.
Menges opted for ALEXA, Codex and ARRIRAW again for Redemption. "It's a very good system," he says. "I'm excited by the latitude, the colour rendition – everything seems to work so well."
Menges has again shot with the Arri Alexa / Codex combination.
Redemption was shot almost entirely on the streets of London at night, often with a handheld camera operated by Menges. "Basically, I wanted to go out and prove – to myself, I suppose – that we could shoot almost anywhere without any lights, and that's what we endeavoured to do," says Menges. "And if we needed lights, we would just enhance practical lighting. The idea was to not have lots of trucks and a generator and lighting stuff and all of that traipsing around. Because obviously, in a city like London, parking and accessibility on narrow streets and all those things are really difficult with big trucks. So we would go very light. We didn't even have a DIT. Going light and shooting in minimal light puts tension on other areas – obviously, on first AC Olly Tellet, for example – but it certainly was very liberating for us and for production, and we were real pleased."
The goal was to represent a side of London as it might actually appear to a person in the character's situation. "I made it my business in the scouting to help choose locations that could deliver an exposure, but also an aesthetic quality," Menges says. "That's what we were searching for, really. By and large, we managed to do it. When you're on the rooftops, trying to shoot action at night, and all the timed light switches start to go off, it creates some problems. You just have to go with it, and the ALEXA did really well."
The picture was made for a reported $15 million, on a tight six-week schedule. "We had to shoot a lot of screen time every night, and that puts a lot down on the camera crew," says Menges. "Without their flexibility and talent, we wouldn't have achieved what we did. To go on the streets of London and shoot largely without any additional light whatsoever was good for the film, but it was also good for the budget. And the reliability we had from the equipment helped deliver the film, absolutely."
Olly Tellet, who had worked with Robert Richardson, ASC on Hugo, another ALEXA shoot, served as Menges' first AC on Redemption. "Chris has really embraced the digital world," he says. "He finds it quite exciting. But he is used to shooting film, so we controlled and managed it ourselves, without a DIT, and we treated the Codex just as you treat film."
A large TVLogic monitor was set up near the set whenever possible, but Menges consulted it sparingly. "Chris didn't spend his time worrying too much because we shot all our tests and we knew where we were going go with all of it," says Tellet. "He knew how much latitude he had and in what places. We could just turn up and shoot, without the whole caboodle. We were free to go down alleyways, up stairwells."
Technical director James Eggleton of Digilab, which handled the front-end post, agrees. "Chris tested the camera, knew its sensitivity and he treated it like a film stock. We had defined the overall colour characteristics of this 'virtual film stock.' He used his meter, light and shoot. He didn't really need to see an immediate image because he knows the image is there to be manipulated later. If you're doing a run-and-gun shoot, you don't have time to sit and look at a monitor, necessarily. Different shoots have different priorities, I guess. And this one was all about keeping it small and mobile."
Digilab helped out with look development during prep, so material from the set could be graded to match the camera tests. They also went out and shot test footage on locations that had been penciled in, developing a library of different types of practical fixtures and colour temperatures that Menges would encounter during the shoot. Together, they worked up a look that could be applied to the dailies.
"We didn't just apply a standard LUT," says Eggleton. "We had a quite closely finessed film look, and there were essentially printer lights, as you would have with film dailies. Chris could specifically ask for something to be a bit warmer or cooler, and that would be applied to the dailies, all within the agreed-upon overall aesthetic. The DI was done at Technicolor using these developed looks as a reference."
There were eight weeks of night shoots – four completely at night and another four with split days. The lenses were Master Primes. The 27, 40 and 50mm focal lengths were on most often. The stop was usually between 1.3 and 2. The final aspect ratio is 2.35:1, extracted from the 16X9 sensor. The images were recorded on a Codex Onboard M recorder and offloaded to tape using a Codex Lab system.
Digilab was also involved in training the crew on safe ways of dealing with and communicating the data. "We didn't have a single problem for the whole job," says Tellet. "It was very basic and it worked. First ACs and second ACs, we're all making the changeover from film to Codex, and we're treating it more and more like film. It's becoming more and more second nature and natural to us."
According to Eggleton, one of the system's strengths is its adaptability – it can be tailored to the needs of any production, regardless of budget. "It's reliable, and easy enough to configure using the various recipes," he says. "It's something that camera crew can do themselves. There isn't a need for elaborate monitoring or applying many different LUTs on-set. You don't need additional technicians, and you can use that budget instead to shoot ARRIRAW. For Redemption, that was a beneficial trade-off."
Eggleton says that the 12-bit logarithmic uncompressed ARRIRAW file format is important to Menges in the DI suite. "You're capturing everything that the sensor sees, so if you need to push or pull the exposure, you've got the maximum information you can get from the ALEXA camera," he says. "In post, the more data you have, the better. For Extremely Loud and Incredibly Close, Chris did tests, and he saw the difference. It gives him more flexibility to manipulate the image in post. He's very much an ARRIRAW believer. For a project that's largely set at night, where there's a good chance you'll need to pull detail and add some shadows, it's a wise thing to do."
The transition to digital has been marked by a confusing thicket of file formats and technical specs, with a newly designed workflow seemingly required each time out of the gate. But according to Eggleton, Codex is helping to clarify matters. "There is no industry standard, but if you were looking to find one, it's pretty much what Codex has done," he says. "There's a table of contents on every tape that describes which shots, for example, with editorial takes and time code maps to the files. So, even if someone's never had a tape before, if they've got a savvy IT department, it's not a huge leap to understand how it's laid out. It's well designed and it does what it needs to do. We do large shows up to the scale of World War Z, as well as smaller shows. Redemption is a probably a mid-sized show. But they all benefit."
Looking back, Menges says he was very pleased with the decision to work with Codex, ALEXA and ARRIRAW on Redemption. "We didn't have any technical hang-ups," he says. "Even in very low light levels, we managed to record everything. Our rushes were beautiful. In the DI, we were able to help certain areas where we were short of light. It absolutely worked brilliantly."
Redemption was released in theaters on June 28, 2013. Variety's senior film critic Peter Debruge called it "a film that wraps itself in the chilly black shadows of the big city, evocatively captured by DP Chris Menges," adding that "overall high production values" were "boosted by Menges' visual instincts."