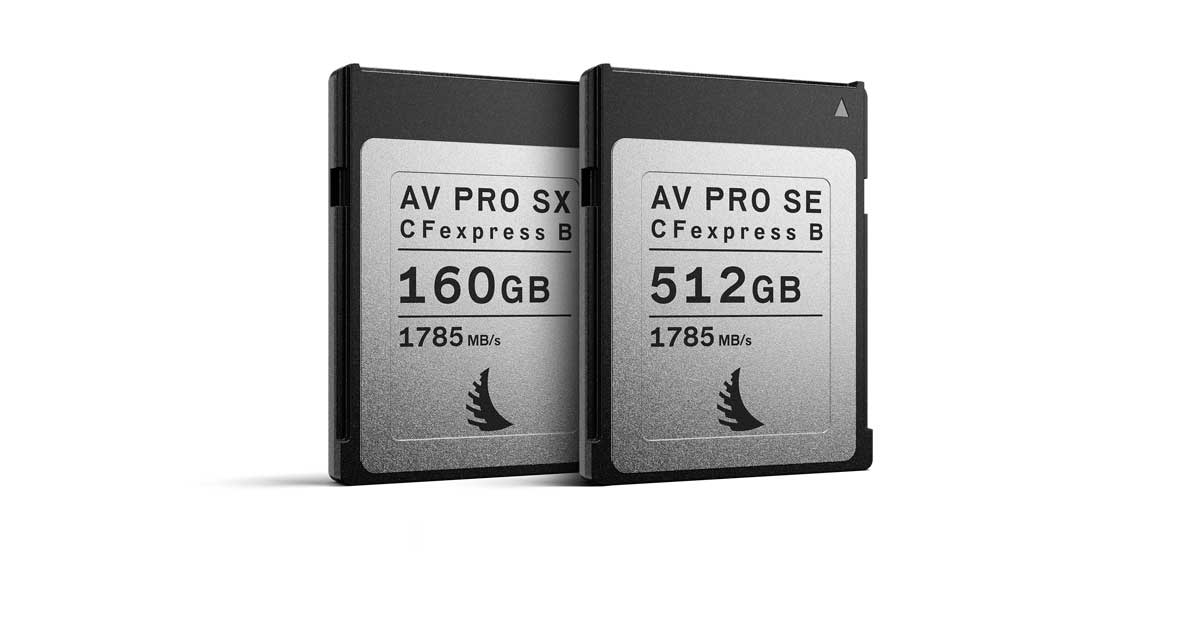 Industry Briefings: January '22
Posted on Jan 26, 2022 by Alex Fice
The latest news, views and hot tips from the world of video production
Angelbird gets even more express
Angelbird introduces two new CFexpress media cards, positioned to grant filmmakers access to industry-leading technology, capable of supporting 8K+ Raw video and photo production.  
The 512GB AV Pro CFexpress SE Type B card guarantees sustained write speeds of 800MB/s, combined with Stable Stream technology to ensure no dropped frame rates and smooth footage. Its advanced Y2 processor supports some demanding recording settings, and pushes maximum read speeds of 1785MB/s for quick data transfers between shooting sessions. 
Stable Stream technology backs these powerful, sustained write speeds, maintaining a reliable range throughout the duration of a shoot. It's essential for 8K+ Raw recording, as capturing detailed, high-definition frames requires write speeds that don't throttle, or drop off in performance as card capacity fills. 
The 160GB AV Pro CFexpress SX has the capacity for creatives looking to tap into pro-consumer video cameras. All while supporting the capture of detailed stills, and non-continuous, high-speed shooting of broadcast sports and news reporting – and it's capable of handling 8K+ Raw. 
Both cards feature Adaptive Thermal Management technology that signals a safe shutdown in the event of overheating –  protecting the card and content from potential damage or loss of frames. Power Loss Protection does the same in the event of sudden power loss. The cards are shielded from moisture, X-ray, shock, dust and extreme temperatures, including low power draw and bus-powered components, for minimal drain on battery life and improved runtime. 
Each card can be restored to a factory-fresh state – and have its lifespan extended with the Secure Erase feature. As with most Angelbird products, there is warranty coverage for three years.
A light for all seasons
Creamsource has launched the all-new Vortex4 1×1 325W high-powered LED, for film and TV production. An extension on the proprietary Vortex lighting platform, this light embodies an artist-first approach to UI/UX, for maximum creative output. It affords customers seamless integration with the Vortex8 for easily expanded lighting configurations. 
Despite being its baby brother, the Vortex4 has all the same functionality as the Vortex8, including a narrow native beam angle of 20° and CCT range from 2200K to 15,000K – enabling plenty of flexibility. It can be used as a hard punch light, to bounce or push through diffusion – or as a creamy soft light with the Creamsource diffuser or dome. This allows users to bring the fixture closer to the subject without loss of space.
Built with durability and elegance in mind, it melds many production methods – from precision-machined extrusions and high-strength die casting, to leading-edge technopolymer components and aerospace-grade sealing. The result is an IP65-rated water-resistant fixture that handles the elements, from messy effects machines to extreme dust, while integrated internal power supplies simplify rigging and cabling. 
For further versatility, Vortex4 adopts Vortex Connect, a suite including LumenRadio TimoTwo built-in, Ethernet with sACN, Bluetooth, 5pin DMX, Wi-Fi, USB-A and Creamsource Accessory port. This makes interaction possible between Vortex4 and third-party instruments and protocols.