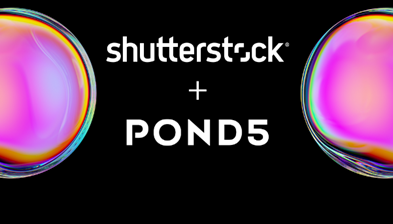 Shutter-shock waves caused by Pond5 acquisition
Posted on May 12, 2022 by Samara Husbands
Shuttershock has acquired the world's largest video-first, royalty-free marketplace in huge $210 million-cash deal
As a staggering $210 million cash exchanged hands, Shuttershock consolidated its position as the leading destination for premium editorial, video and music content for creative professionals, production and enterprises. Pond5, who are the content masterminds behind some of the biggest recent releases (see: Succession and The Queen's Gambit), combines its vast collection with best-in-class search experience – making searching seamless, even when looking for the most niche of shows. Since its inception in 2006, Pond5 has built an expanding contributor network of over 115k active members in 180 countries.
Fully integrated with Shuttershock's workflow applications, this expansive content library enables customers to create with confidence. Pond5's 30 million licensable clips, 1.6million music trackers and 1.7 sound effects assets will integrate effortlessly into Shuttershock's ecosystem. The merger will provide access up-to-the minute and archival news footage facilitated by premium editorial content partners, Reuters, PA Media and British Movetone. Tom Crary, CEO at Pond5 enthuses the combined editorial offerings "will be a competitive force in the market."
Jamie Elden of Shuttershock cites "constant reinvention" as the rationale behind the move, as it sees dramatic scaling of video and editorial with unique and high-quality exclusive content. Customer bases are complementary and combine relationships with the world's largest media outlets, social media platforms, and OTT streaming companies, so the move makes a lot of sense. Shuttershock are now forecast as the leading destination for premium editorial, video and music content.
For more on Shuttershock and the acquisition, head to thier website.