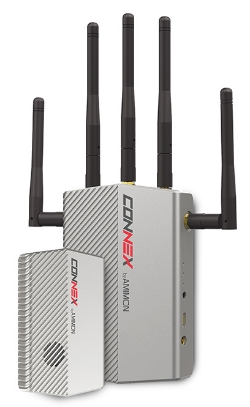 HD Wireless Video Link in High Demand for Aerial Production
Posted on Jun 6, 2015 by Julian Mitchell
Amimon's CONNEX Delivers Zero-Latency HD Wireless Video Up to 3,300 feet for $1599.
At Cine Gear Expo 2015 Amimon are showing their wireless HD technology that claims full HD with zero latency  over 3,300 feet which is well over half a mile. You can see how this would interest productions of all sorts especially drone operators.
The CONNEX Air unit is capable of displaying telemetry information using its built-in OSD, as well as sending control commands via Futaba S-Bus protocol to the gimbal on the drone. It uses a 5GHz transmission frequency with 2×5 MIMO and automatic channel selection (AFS) to ensure resilient connectivity at all times. Using the 5GHz band, the CONNEX is free from UAV control interference and other 2.4GHz radio links. CONNEX supports multicasting to up to four screens simultaneously, while maintaining the video strength.
A CONNEX product package includes all antennas, cables and connectors required for air and ground unit setup, allowing for quick plug-and-fly experience. All for $1599.