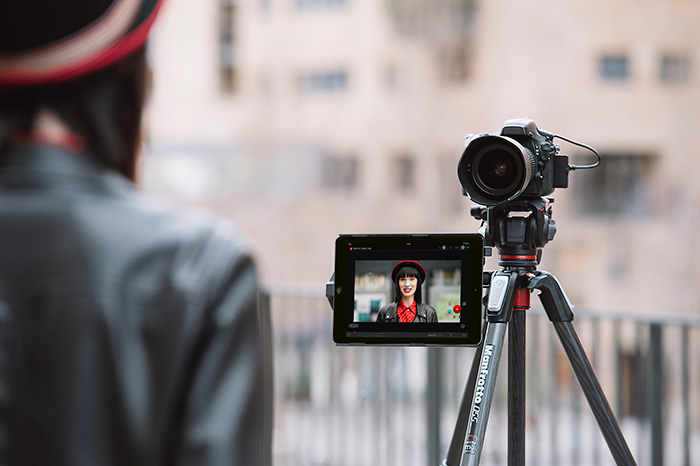 Manfrotto launch complete iPad remote control for Nikon and Canon DSLRs
Posted on Jun 5, 2015 by Julian Mitchell
Digital Director promises total remote control of your Nikon and Canon DSLRs.
Since parent company Vitec's multi-bank refinancing a couple of years ago Manfrotto, previously well known for just camera support, has spread its wings to other accessory markets. A follow focus was launched a couple of weeks ago and now a fully remote DSLR control for the iPad.
Of course Canon and Nikon (the only DSLR names mentioned in the press release) have their own remote control ability but Manfrotto has taken control to another level. They claim their Digital Director is the 'only Apple Certified interface' to help users manage their photo and video workflow from the setting of the camera to the sharing of the pictures via a tethered iPad application.
The product is a  mixture of hardware, an iPad cradle with embedded CPU, and software, an App. The dedicated CPU embedded into the Digital Director provides an interface between the two devices allowing the camera protocols to be fully understood and controlled by the iPad Air, and the use of Digital Director enables the user to place the camera in the most awkward or difficult to reach positions by controlling it remotely.
But awkward places aside there are other roles for the Digital Director. You now have a high resolution monitor .
The App enables all the key parameters of Canon and Nikon DSLRs to be monitored and modified in real time (Exposure, ISO, Shutter Speed, Aperture, Manual Focus, WB, Image Quality, Focus Camera/Drive Modes, Battery status). Shooting remotely via the iPad Retina Display, the App enables real time "Live View" monitoring and adjustments. The dynamic histogram and audio level display allows greater control, whilst the Focus control can be used to select the focus point anywhere on the screen. The digital zoom magnifies the selected focus point.
Part of Digital Director is the iPad Air cradle with embedded CPU.
Digital Director also allows you to download the images to the iPad and check the files. Within the App, it is possible to work on the image, cropping and rotating it, modifying exposure, contrast and brightness, checking histogram and Exif information, rating and saving the image. Users will also have total control of their files, from image ratings to file organisation (albums, shoot profiles and connection profiles). You can of course also share images direct from the App.
A clever product with loads of potential uses. Presumably wireless control is next.
Digital Director is available to pre order now for £399.95, and will be available from the 15th June.