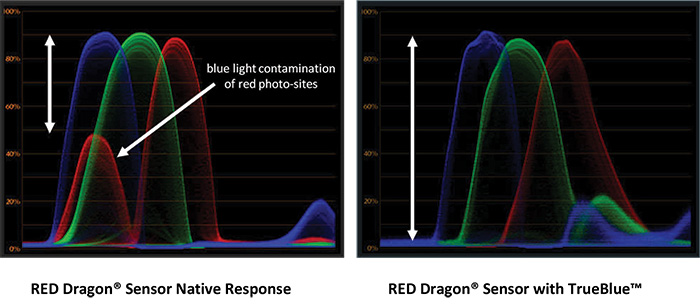 Mojo Media Solutions Announces Launch of Achtel's TrueBlue Filter For RED Dragon and RED Epic Cameras
Posted on Jun 6, 2015 by Julian Mitchell
Mojo Media Solutions and Achtel have together launched TrueBlue, an optical filter that they claim significantly improves separation of blue colours from unintended red contamination for the RED Dragon and Epic cameras.
Pawel Achtel MSc, an Australian Scientist and multiple ACS Award Winning Cinematographer, has combined his skills in mathematics and optical science to create a custom designed optical filter that reduces the magenta looking blue colours seen in imagery shot using the RED digital cinema cameras. (Achtel Pty Ltd and Mojo Media Solutions Pty Ltd have no affiliation to and are not sponsored or endorsed by Red.com Inc).
In an un-modified camera, the problem is easy to see on bluescreen material, skies, under water and anywhere where cool colours need to be preserved. The reason is that the red photo-sites on the camera sensor are also sensitive to blue light, as can been seen in the quantum efficiency graphs measured under controlled conditions at Achtel's laboratory. This contamination gives rise to magenta looking blues and cool colours that cannot be removed, even in post-processing. "By adding Achtel's TrueBlue filter in the RED camera itself, the problem is virtually gone. Leaving the Cinematographer, Director and Colourist free to create beautiful looking images without constantly fighting to remove unwanted magenta."
The TrueBlue filter is supplied as a complete kit including an OLPF caddy, and is available for RED Epic and RED Dragon digital cinema cameras. It is simple to install or remove as required.
Mojo Media Solutions will be showcasing TrueBlue during the SMPTE15 exhibition in Sydney, Australia from 14th ~ 17th July, where customers will be able to review sample footage shot with and without the TrueBlue filter.