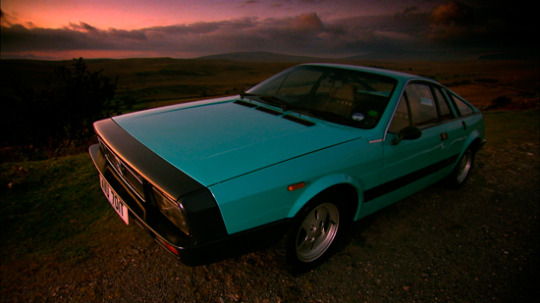 Grading Gear
Posted on Apr 20, 2010 by Alex Fice
Top Gear has rapidly become one of the most iconic programmes on British television and is particularly renowned for the quality of the grade used in its film sequences. Andy Stout talks to Evolutions' Senior Colourist, Nick Adams, about giving Landrovers, Lancias, Lamborghinis and more 'the look'
When the BBC relaunched the car show Top Gear in 2002 in a 60 minute magazine format, it can little have imagined what a hit it would have on its hands. 14 series later, the show is a veritable leviathan of the Sunday night schedules capable of pulling in over 7m viewers, and has made stars of its presenters, part of which is down to the fact that even its detractors will admit it looks fantastic. Times columnist AA Gill has even gone so far as to argue that it should be looked upon as art. "It is a triumph of the craft of programme-making, of the minute, obsessive, musical masonry of editing, the french polishing of colourwashing and grading," he said.
The show has been posted at top London post house Evolutions since series 6, when Joe Orr established much of its current look on Symphony. It moved over to Baselight from series 11 onwards, with Nick Adams and Tim O'Brien assisting Orr, before Adams then took over the reins completely for series 13.
Only the VT inserts of the show, typically three per episode totalling roughly 30 minutes, are graded. Despite being shot on a variety of formats (the show has been HD since the last series) material is typically conformed and ingested into Baselight from HDCAM SR. From there Adams usually takes around 15 hours to grade the three films, working first on the master shots in each section to help tie them together and aid continuity, and switching between the films every couple of hours to keep the work fresh.
All directors get involved in the grading. Series Director, Phil Churchward, for example, provides notes that will often suggest the tonality he would like for a sequence. "Sometimes they'll simply consist of 'cold' or 'warm' or 'bluey/green – emphasise fluorescent tubes' or 'pull back reds here' or 'de-saturated and grim'," says Adams. "The music used sometimes inspires the direction he would like to go in too. The series 14 film of Jeremy Clarkson driving through the sewers of Belfast opened with the score of 'The Long Good Friday', so Phil was after a 70s look for the start of the film and got me to watch the trailer for the movie to get an idea what to go for."
The attention to detail is impressive. "A recent Lancia film featured a variety of models from different eras and a car also built in the 70s, so I used a Baselight tool to try to emulate the predominantly magenta look of prints from then when the dyes are fading at different rates," he says. "My version was based on a two-strip Technicolor look and was thus totally inaccurate, but we liked it."
Adams finds the only tricky part of grading the programme is down to balancing the material from the multiformat, multi-camera shoots, especially on the track tests where the films feature multiple rapid cuts. Given the stunning scenery of some of the locations the show records in, he also has to practise a degree of restraint. "If there's any detail in a sky it's possible to pull a key off it, and using vignettes and free-hand drawn shapes it's possible to produce striking images, but you mustn't forget that it's the cars we're meant to be featuring and not making a holiday advert," he says.
There is no one formula for the grading, Adams stating simply that in general he is led by the pictures themselves. He is also admirably resistant to taking too much credit for the way it looks. "Really all I'm doing is embellishing the ingenuity of the cameramen, directors and editors who make Top Gear such a successful show," he says, harking back to Gill's flamboyant comment about french polishing.
If anything though, Top Gear highlights that even in the current unsteady economic climate and culture of swingeing budget cuts in television production, money spent on producing good quality television is never really money wasted. It's worth quoting AA Gill again. "The real lesson to be gleaned from Top Gear is that every pound spent behind the lens is worth two up front," he says. And seeing the impressive results onscreen on a Sunday evening as an Aston Martin swoops around the bends in spectacular North Wales scenery to a haunting Brian Eno soundtrack, it's difficult to argue with that.