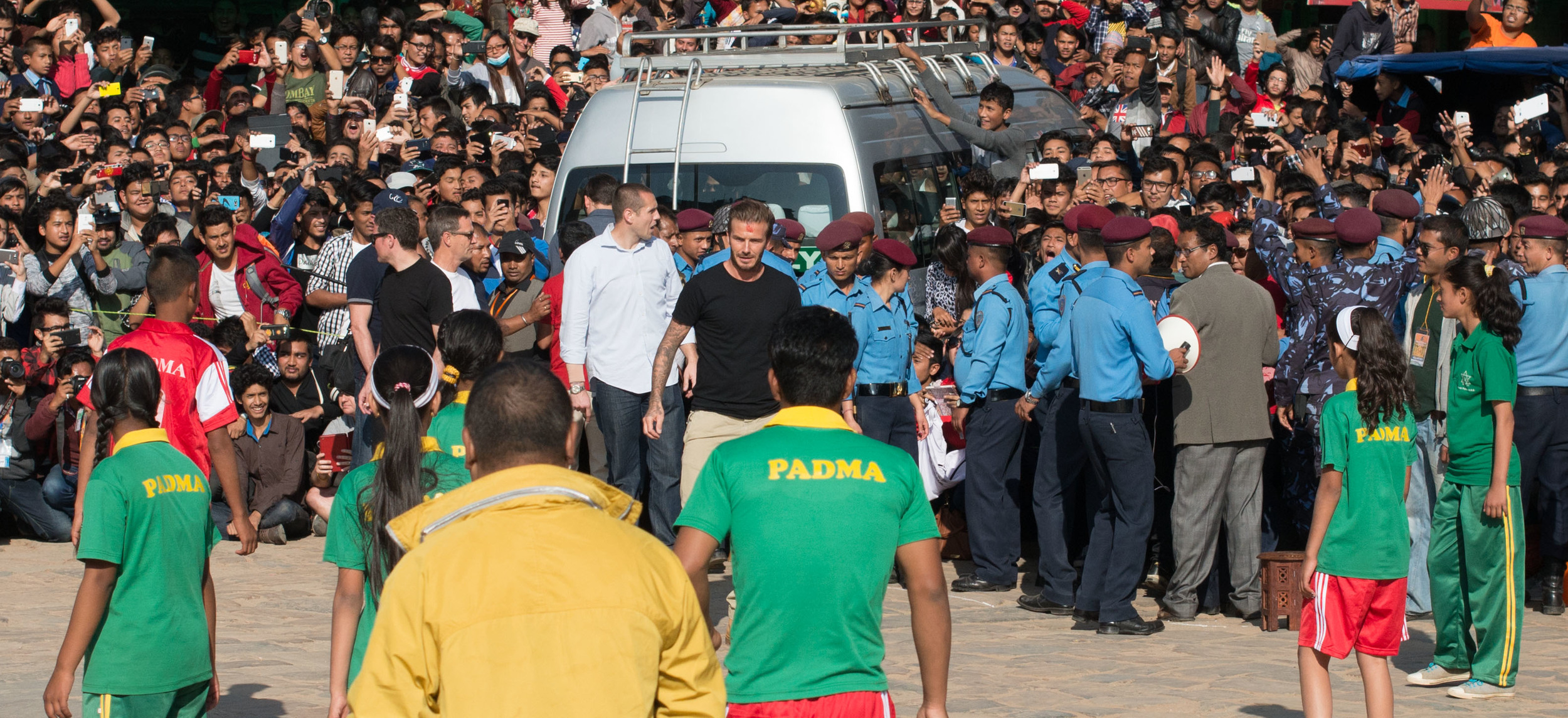 'For The Love Of The Game'
Posted on Dec 29, 2015 by Julian Mitchell
David Beckham in Nepal. 5,000 fans turned up.
Tonight at 9pm on the BBC is a documentary with football icon David Beckham called For The Love Of The Game. It follows Beckham across seven continents to play seven games of football and it was hoped to complete it in a neat seven days but was extended to nine to fit in the Antarctic. What won't be clear is the two days cinematographers Johann Perry and Neil Harvey had to prep for the job.
Given the brief they were both fully committed to producing something that could define their skill and their kit. Neil and Johann both own Arri Amiras but needed in a two day prep period, to equip themselves with a gear list that would suffice for seven continents in such a short time and produce a programme that would fit the brief of a cinematic feel to the shoot. In fact they prepped even when it wasn't certain that anything was going to happen.
They prepped at Arri's hire centre and with Arri's generous help were able to source extra Mini and Amira cameras with cards from the locations they were headed to. Each cameraman had their assistant and a soundman, other than Directors and Producers that was the crew.
But what were the basic plans before the shoot? Johann, "In such a short amount of time you've got to rely on the gear working as soon as you land. It was decided that Neil would be David's shadow throughout so would ride in the private jet to all the locations –(there was no room for ACs or sound men here). I would be arriving before time and setting up the shoots and get generally shots beforehand."
This tag team type of capture was perfect for this wholly unique shoot, Neil: "My job was to stick to David like glue and let Johann recce the locations and seek out the stories and the characters. We've worked a lot together and know each other really well which was vital. We always had a plan and that plan regularly went pear shaped but having the two cameras allowed us to pretty much shoot it as a live experience."
For The Love Of The Game is on BBC1 at 9pm.
More in Definition's next edition.