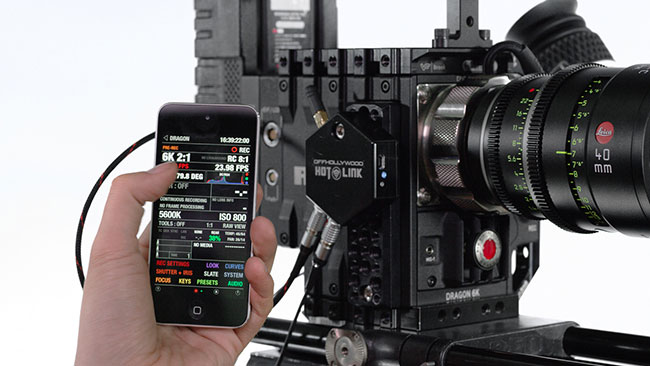 Fool control – RED camera control on iPhone and OS X
Posted on Apr 17, 2015 by Alex Fice
The iPhone APP for Foolcontrol.
The digital cinema camera never stop evolving with new options and interesting features, often making their user interface and menu system deeper to navigate through. On set, it leads to many existing in-camera features not being used to their full potential. During NAB 2014, RED announced the REDLink bridge, a new WIFI module along with the SDK (software development kit) that allowed external control of their cameras. At the same time, the first 3rd party software using that technology was demoed in their booth.
Developed in France by Mikaêl Lubtchansky, Foolcontrol lets you adjust most of the settings of an EPIC, DRAGON or SCARLET from a Mac. Easy to use, thanks to a user interface handcrafted by a camera operator and RED early adopter, Foolcontrol quickly became the go to answer for several shooting projects using those Ultra-High-Definition cameras.
Director of Photography Martin Ahlgren was among the first to use it on House of Cards Season 3, to be able to set looks directly in camera through WIFI. This 'Pre-grading' work allowed him to display across all the on-set monitors and images as close as possible to what he wanted it to be. While simplifying a bit of the process required for colour corrected dailies creation at the end of the day the system also ensures that those metadata are kept directly inside the RAW files and as such will always be available as a reference throughout post production.
Footcolor iOS screen shot – settings.  iOS screenshot – curves.
Since everything can be done wirelessly in front of a calibrated display it is very easy for the DOP to create, modify, store and send to the camera a whole collection of 'looks' while optimising settings for each scene.
In France, RVZ camera, an authorised RED rental house, offered the system on features or commercial shoots. As soon as the camera is difficult to access (Helicopter, Drone, Crane, Russian Arm, in or outside a moving car…) Patrick Duroux now relies on Foolcontrol to easily adjust colour balance, frame-rate or shutter speed.
For underwater shooting, where the camera is sitting in a housing, the remote control software is often useful (this time connected through an Ethernet cable going back to the surface along with video feed). The director can quickly switch the camera into playback mode to check previous takes, if it was shot for slow motion for example or changed any camera setting without pulling the camera out of the water. A lot more time can be put toward actual shooting when using Foolcontrol on such projects. Used in swimming pools it is now being tested with longer cables for ocean and wildlife still or motion shooting.
With their compact size, RED cameras are often used on 3-axis gimbals like the Movi or the Ronin.
Foolcontrol lets operators work without losing time re-plugging a touch screen or another accessory for playback, to change a setting or simply to start/stop the camera wirelessly.
It can control motors directly inside electronic lenses using RED, Canon or Nikon mount. Adjusting iris or focus distance on those photo lenses allows for even lighter camera setups as no extra motor or cable is needed. Numerous camera owners who may not have the budget to always shoot with PL glass like this a lot.
Even though it will not replace traditional follow focus system and PL lenses anytime soon, Foolcontrol allows fine focus on those photo lenses by de-multiplying the motor rotation, a quick distance marker system, automated smooth rack focus and user created follow focus marking discs for each lens.
Mac screenshot – camera control.
Released during IBC in Amsterdam, the iPhone version (compatible with iPad and iPod touch) offered a similar feature set with the advantage of being mobile and leveraging the tactile user interface for even more precise focus or colour control.
Foolcontrol has been used in diverse situations like a twelve cameras shoot to capture Lady Gaga and Tony Bennett singing along in New York; to take control from California of a camera filming SpaceX launches at Cape Canaveral in Florida… and several other films in preparation like Independence Day 2 are looking into those new possibilities, including simple updating of scene and take metadata without touching the camera.
Set-up for shooting underwater.
Today wireless connection requires an external box (REDLink bridge or OFFHOLLYWOOD HOTLink). RED's upcoming cameras will include WIFI antennas and will work with Foolcontrol straight out of the box.
www.foolcolor.net
FOOLCOLOR-NAB-2015 from RED Digital Cinema on Vimeo.