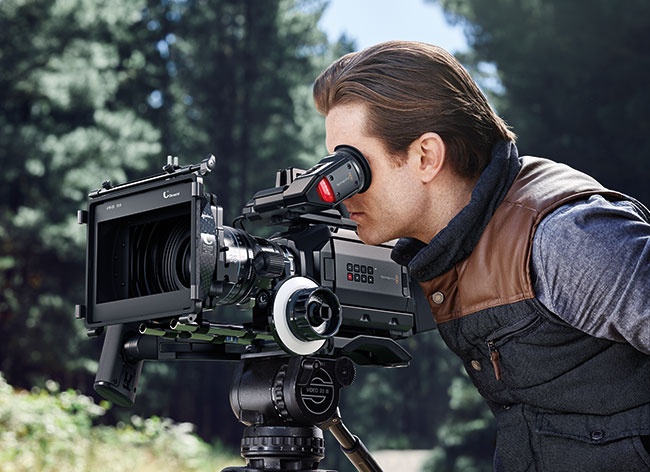 New 4.6k Sensor The Key To Re-Launch URSA
Posted on Apr 17, 2015 by Alex Fice
URSA Mini is like a slimmed down, more streamlined, better version of itself. Perhaps URSA should have started this way
When our Editor Adam Garstone reviewed the full sized URSA (or URSA Major) he concluded as it turns out with some foresight; "It's (URSA) crying out for a better sensor to suit that 12 bit, RAW CODEC, and some more software development, but the user upgradability means I wouldn't let that delay purchasing one."
Well he is glad he waited as now you can pre-order the URSA Mini and Major with a new 4.6K sensor. The rumour is that it has been customised as in not 'off-the-shelf'. Facts are this new Super 35 image sensor features high resolution of 4608 x 2592 at 120 frames per second with a claimed 15 stops of dynamic range..
This new sensor will be available in two new models of the Blackmagic URSA camera. The Blackmagic URSA 4.6K EF model will be available for $6,995 and the Blackmagic URSA 4.6K PL will be available for $7,495. Both 4.6K models will start initial limited availability shipments in June and ramp up into full volume late July and into August.
Existing Blackmagic URSA customers can upgrade to the new 4.6K sensor for $1,995 for the EF lens mount and $2,495 for the PL lens mount. This "turret upgrade" will be available for customers to purchase and they can replace the turret on their URSA cameras to upgrade to this new higher performance image sensor.
In addition, the current shipping 4K models of Blackmagic URSA EF and PL cameras will be reduced by $1,000 allowing customers to get into Blackmagic URSA at an even more affordable price. This also means that the difference in price between the 4K and the 4.6K Blackmagic URSA cameras is the same price as the 4.6K sensor upgrade. This lets customers purchase a lower cost 4K camera initially and then upgrade later to the 4.6K image sensor without a price penalty. The new prices for the Blackmagic URSA 4K EF model will now be $4,995 and the Blackmagic URSA 4K PL will be $5,495.
"When we introduced URSA in 2014, our goal was to build a camera that had everything customers needed built right into the camera itself, but also future proofed their investment by giving them the ability to upgrade to higher resolution and higher frame rate sensors in the future," said Grant Petty, CEO, Blackmagic Design. "We're excited to deliver on the promise of URSA's revolutionary design and can't wait to see what customers shoot with this incredible new sensor. It's like getting a whole new Super 35 digital film camera just by upgrading the sensor!"
Blackmagic URSA 4.6K Key Features
• Large high resolution 4.6K Super 35 mm sized sensor.
• Global shutter for smooth pans and image motion.
• Compatible with PL or EF mount lenses.
• User upgradable design allows customers to upgrade and change the sensor and lens mount.
• Built in dual CFast 2.0 card recorders.
• Open file formats – Apple ProRes, compressed CinemaDNG 12 bit RAW.
• Support for ProRes 4444 XQ, ProRes 4444, ProRes 422 HQ, ProRes 422, ProRes 422 LT, ProRes 422 Proxy recording at resolutions up to Ultra HD.
• Supports Ultra HD and 1080 HD resolution capture in 23.98, 24, 25, 29.97, 30 up to 60 fps. Supports 4.6K capture up to 120 fps.