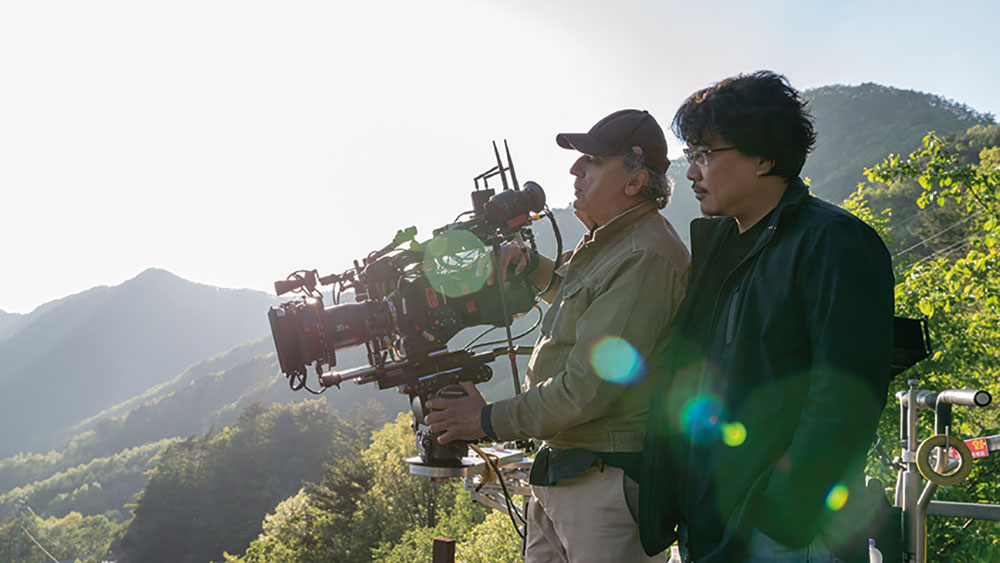 Fear Of Farming
Posted on Oct 4, 2017 by Julian Mitchell
'Okja' DIT Dan Skinner explains the Raw pipeline of this infamous Veggie Netflix movie
In 2013, South Korean director Bong Joon-ho wowed international audiences with Snowpiercer, his English-language debut. His follow-up, Okja, blends English and Korean dialogue and concerns a young girl who has raises a gentle giant and must now defend the creature from corporate greed, among other dangers.
Bong enlisted Darius Khondji AFC, ASC to handle lighting and camera. The master cinematographer has worked with a roster ofauteurs but reportedly was reticent of Netflix's insistence on 4K digital. But with the collaboration of Panavision, Codex and DIT Dan Skinner – not to mention support provided by ARRI Rental for the ALEXA 65 cameras – Khondji made peace with the new medium without compromising.
Skinner says that the ALEXA 65's 6.5K oversample really shows, "Everyone really saw it. We used a 4K 50-inch monitor on the set, or in a vehicle near the set, and that's where we were able to see the full quality. There's really no comparison. So clean, and so sharp."
Panavision made adjustments to coatings and other attributes of their Primo 70 lenses to subtly mitigate the sharpness, and for certain shots this was augmented with slight diffusion. Skinner also adapted his workflow in subtle ways to give Khondji and Bong creative flexibility and control, even at remote locales.
"The Panavision Primo 70 lenses don't cover the full ALEXA 65 sensor, so I came up with a 7% reduction," Skinner says. "We used just a bit more of the sensor and a bit more of the available shallow depth of field. To compensate for slight vignetting, we brightened the corners a tiny bit in post where needed. We still shot the full Open Gate 6.5K RAW."
South Korea
Actors Tilda Swinton and An Seo Hyun in 'OKJA'.
An Seo Hyun with director Bong Joon-ho on location in South Korea..
The 79-day shoot was mounted in South Korea, New York, and Vancouver. In spite of the significant visual effects component, the schedule generally stayed on practical locations. Skinner says that the days were planned meticulously and consisted mostly of faithfully shooting the storyboards. Coverage was minimal. The crew never shot more than 4TB in a day, and the total was roughly 276 TB. "When you shoot with three cameras and just keep them running all day, you're talking 10TB plus a day," says Skinner.
In Korea, Skinner acquired a van and spent a week outfitting it with more than 3500lbs of gear shipped from the States. The result was a version of the Sprinter vans he owns and uses in the US. "It worked pretty well because I never once had to worry about resources or space," he says. "We were set for every scenario. We had a smaller cart with a monitor and wireless, and I could be ready to go moments after arriving at a location. We never really had a problem with the Codex Vault 65 or the cameras."
Skinner tends to avoid the larger 2TB Codex Capture Drives, sticking with the 512 XR Capture Drives. "I like to keep it to a traditional, film-like length, which forces a quick reload every ten minutes or so," he says. "I also feel that it's important to have a DIT on the set, not just blindly downloading, but also checking and viewing files throughout the day, and keeping caught up. It quarantines all possible issues – a row of dead pixels, for example – to ten minutes."
Using smaller capture drives also saves the production money. The crew went with roughly 20 Codex 512 XR and eight 2TB Capture Drives. The files would be ingested in the Vault 65 and generated into .ari files.
Raw pipeline
DIT Dan Skinner adjusted his workflow to give Bong Joon-ho and DOP Darius Khondji (pictured above) the required creative flexibility and control.
Once generated, ARRIRAW files are offloaded to a separate 40TB solid state drive that Skinner keeps in his vehicle, which functions as an auxiliary backup. The data is then copied to another medium via a 16GB fibre channel Skinner added to the Vault 65, then the footage could be played back in real-time. The tweak allowed speeds of 1600 megabits per second, about three times normal, accelerating the move into DaVinci Resolve. There, Skinner could apply LUTs and perform some functions that are not normally considered part of dailies – compensating for the vignetting, for instance.
"As a compromise with SHED, the Santa Monica-based boutique post house, I gave them my DaVinci project each day," says Skinner. "Once the files were on that transfer drive inside the Vault, I would immediately hand that data off to a runner. But I would still have another hour of my own time to finalise the look of that day. Separating the colour correction information from the data worked out really well, and it meant I didn't have a gun to my head at wrap. The colour data is a small file which was uploaded a bit later to a secure FTP. I respect the colour correction side of the process. I know the psychology of it. Being all frazzled on-set yields a different look compared to when I have a calm, assertive moment, just me in my vehicle with no pressure, no one asking me, 'how long'. Obviously, that's where the best work comes out. It's probably a little bit more difficult for the people downstream, but it gives me the ability to be less cornered into one look."
Skinner adds: "Codex is presented as an all-in-one system, but I think where it shines is its ability to work with the traditional systems that we are comfortable with and accustomed to. DITs are becoming more open to the system, and it's becoming a more open platform, which allows the DIT to bring something more to the table, and not just get by with the simplest workflow."
Final colour, crucial to the organic blend of effects and practical photography, was handled by Yvan Lucas, SHED colourist, under Khondji's supervision.