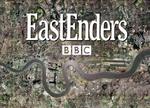 Eastenders Goes HD This Autumn
Posted on May 28, 2010 by Alex Fice
Click for larger imageBBC Studios and Post Production (BBC S&PP), the BBC's commercial facilities arm, is taking EastEnders HD this autumn. The award winning BBC One drama, which scooped a record breaking 10 awards at the British Soap Awards earlier this month, currently broadcasts on BBC One four times a week, with repeats on BBC Three and an Omnibus on Sundays. 
BBC S&PP is introducing new HD and tapeless workflows and working with Dega Broadcast Systems to carry out a major technology refresh of the galleries and studio areas at its Elstree studios to support the move. New equipment includes Sony HD cameras and monitors, Ikegami CRT HD monitors, Avid HD edit suites and Unity storage, Protools sound desks and a significant investment in low energy lighting. It is also deploying the new multi-camera ingest technology INGEX, which removes the need to digitise and enables material to be logged simultaneously at the point of capture.
Sony HSC-300s studio system cameras were selected because they met the production's key requirements. They are digital triax based, so can be used to shoot both on the lot and in the studio without having the additional expense of upgrading the existing infrastructure to fibre. The location camcorders are being upgraded to Sony's tapeless PDW-700 XDCAM HD422 camcorders. Both the systems camera and the camcorders are fitted with common CCD sensors, vital to minimising the time it takes to grade and finish programmes.
BBC S&PP (formerly BBC Resources) has been the preferred partner for EastEnders production since its inception in 1985, providing the studios, crew, technical equipment and all the post production facilities and staff. During the 25 years it has worked with EastEnders, BBC S&PP has helped the programme move to widescreen and stereo sound. In February BBC S&PP staffed and engineered the delivery of the award winning live episode, to mark the 25th anniversary of the show. BBC S&PP also supports the online spin-off drama series E20, which sees life in Albert Square through the eyes of four teenagers.
The new HD tapeless technology is due to be in place in the summer. EastEnders is expected to start shooting in HD in the autumn and to broadcast on BBC One HD towards the end of the year.