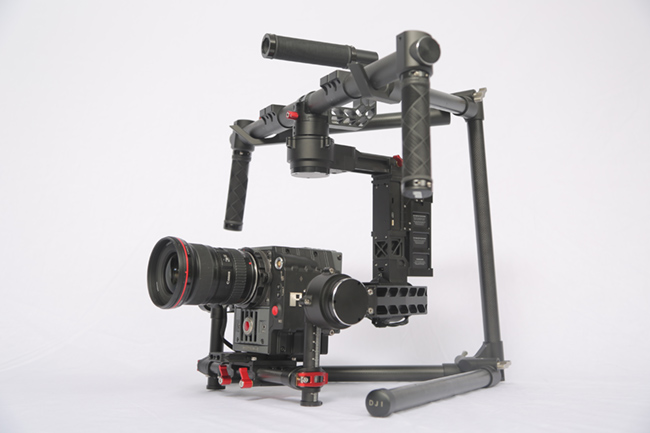 DJI Ronin – More Than A MoVI Copy?
Posted on Apr 29, 2014 by Alex Fice
DJI Ronin, their first attempt at a stabilised camera rig on the ground.
DJI, known mostly for aerial photography and cinematographer's platforms, have announced the release of its first handheld camera stabiliser – the DJI Ronin.
The DJI Ronin is designed to create smooth video while retaining control over camera movements for any camera and lens combination – ranging from the Red Epic to Micro Four Thirds Cameras.
Using their 'SmoothTrack' technology, single camera operators can translate movements into smooth gimbal movements. Filmmakers requiring more precise camera movements can use a second operator to wirelessly control pan, tilt, and other gimbal functions or attach an optional joystick to set camera angles using one operator.
Based on the ZenMuse stabilisation technology that DJI developed for its aerial camera platforms, the DJI Ronin is claimed to be easy to set up – requiring only a few minutes of calibration when changing lenses or other camera configurations.
After balancing the camera, simply tapping the auto calibration button on the DJI Ronin smartphone app and the gimbal will automatically tune all stabilising motors, ensuring filmmakers get the smoothest possible footage.
"With the DJI Ronin we set out to remake the stabilised handheld gimbal experience to ensure production teams can focus on unleashing their creativity and getting shots that were previously impossible, rather than spend hours balancing and tuning their gimbal," said Paul Pan, the product manager responsible for the DJI Ronin's design.
Monitors or other accessories can be easily installed on the top bar using the accessory mount. With the DJI LightBridge installed, production teams can monitor the Ronin's footage in full HD (1920 x 1080p at 30 frames-per-second) from up to 1.05 miles (1.7 kilometers) away with a less than 80 millisecond delay.
DJI plans to begin shipping the DJI Ronin in Q2 2014. Pre-orders and pricing details will be available soon. For more information you can visit – www.DJI.com/products/Ronin