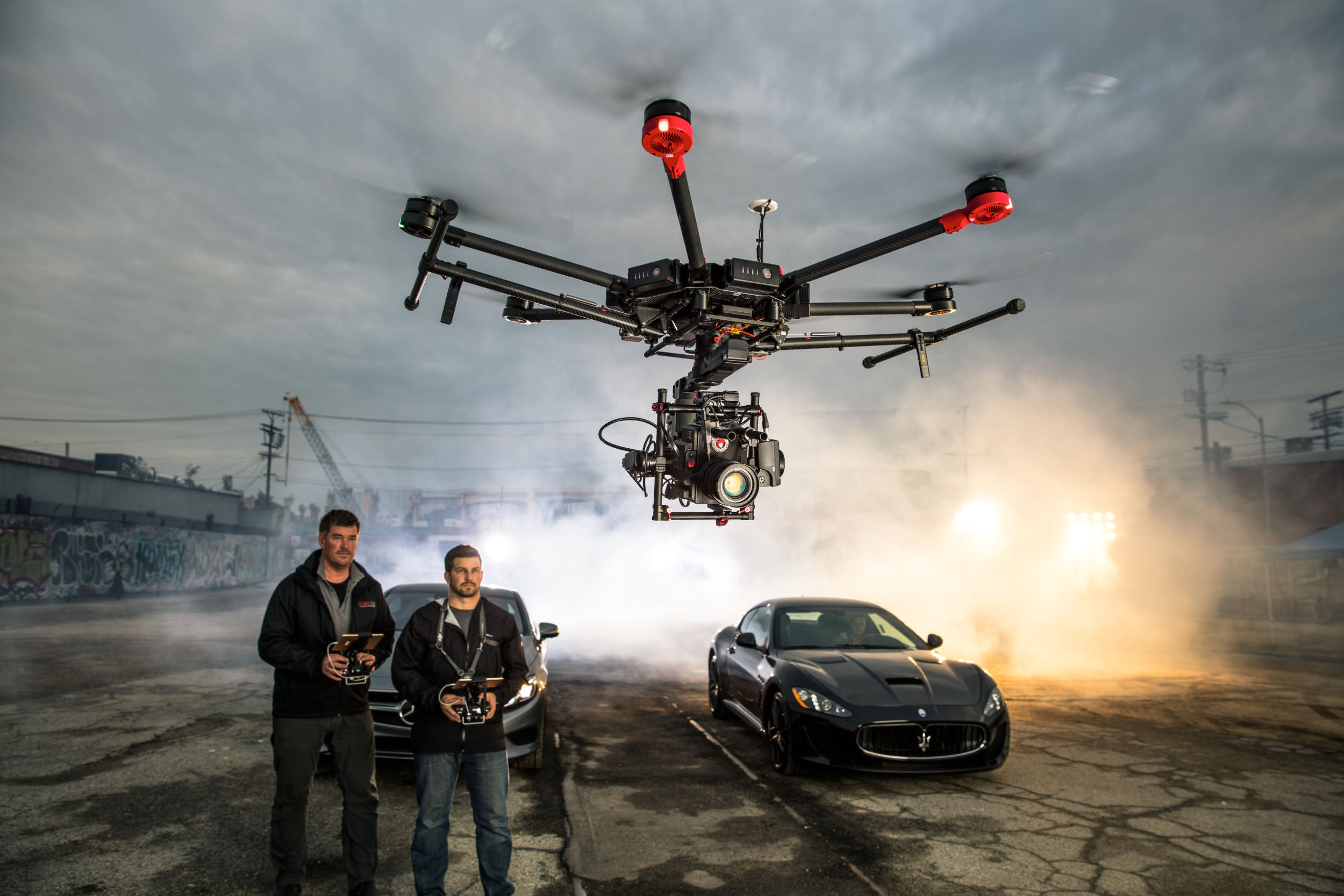 DJI Introduce Their Bigger Payload Aerial Platform
Posted on Apr 18, 2016 by Alex Fice
DJI has introduced their Matrice 600, its next-generation aerial platform. The M600 integrates DJI's brand-new A3 flight controller onboard and features advanced Lightbridge 2 video-transmission technology that offers high frame rates and HD live-streaming capability at distances up to five kilometres.
The M600 is a six-rotor system with a maximum payload of 6.0 kilograms, designed for the full range of DJI's Zenmuse gimbals, including the Z15 series and the Zenmuse X series cameras. The M600's carrying weight also allows it to fly the Ronin MX, DJI's newest handheld and aerial three-axis gimbal. The M600 has actively cooled motors for more-reliable flight, and its landing gear is retractable for full 360-degree, unobstructed imaging.
The M600 is powered by six DJI Intelligent Batteries allowing up to 36 minutes with a Zenmuse X5 camera attached and up to 16 minutes with a larger camera, such as a RED EPIC.
Integrated A3 Flight Controller
The M600's integrated A3 flight controller uses sine-wave-driven, intelligent electronic speed controllers to ensure the M600 performs accurately, safely and efficiently. Meanwhile, self-adaptive flight systems adjust parameters automatically, based on different payloads.
It's upgradable to the A3 PRO system, which features advanced diagnostic algorithms that compare sensor data from three Global Navigation Satellite System (GNSS) units and three inertial measurement units.
The A3's GNSS system can also be optionally upgraded to DJI Real-Time Kinematic technology, offering centimeter-accurate positioning to allow for complex maneouvers in an industrial setting and so that cinematic shots can be precisely replicated.
The M600 supports the DJI GO app, which includes a live video feed, battery and redundancy status, transmission strength and other data to keep the user informed of flight status at all times. The app also provides access to aperture, shutter speed, photo and video capture on any Zenmuse X-series camera, plus remote focus on the Zenmuse X5 and X5R cameras.
The M600's retail price, including the integrated A3 flight controller with Lightbridge 2 and a full set of batteries, is €5,299 Euro.
Working with the new Ronin-MX
The new Ronin-MX has been designed to work with the M600, it's the first universal aerial gimbal DJI has made that communicates with the onboard DJI flight controller. It has multiple operation modes, including underslung, upright and briefcase. Apart from the M600, it's also compatible with video cranes.
The Ronin-MX has a built-in, independent IMU module, a Bluetooth module and a 2.4GHz receiver. It operates through the DJI GO app and has settings for SmoothTrack and gimbal-tuning for various cameras, including some of the RED series, DSLRs and other professional camera. It also operates in multiple modes, including aerial and car mount.
Mounted on the M600, the Ronin-MX's CANBUS port allows all flight controller data to pass through to the Ronin-MX, meaning the gimbal is positionally aware and able to keep the horizon level. The Ronin-MX can pan 360 degrees, tilt +45 to -135 degrees and has redundant slip rings, offering enhanced reliability for operators. With an optional accessory, the Ronin-MX can transmit video real-time from a mounted camera, making full use of the M600's Lightbridge 2 capabilities.
The Ronin MX is compatible with a wide range of cameras from Arri, Black Magic, Canon, Panasonic, RED, Sony and Nikon. Its maximum load weight is around 4.5 kilograms.
The Ronin MX retails for €1,799 Euro. Bundled with the M600 and integrated A3 flight controller and Lightbridge 2, it will sell for €6,799 Euro.
DJI – Introducing the Ronin-MX from DJI on Vimeo.