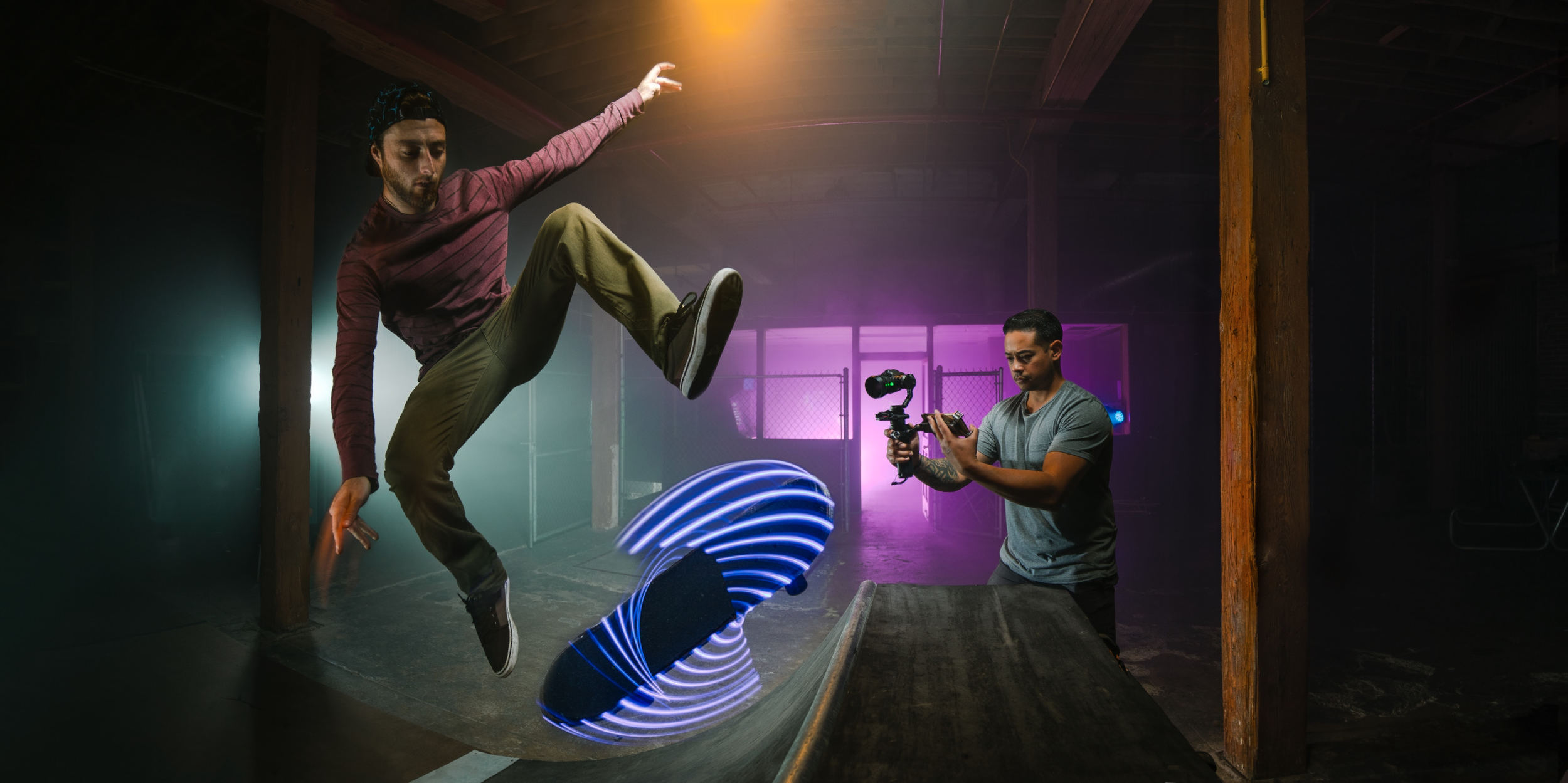 DJI Make All Their Cameras Available on OSMO
Posted on Apr 18, 2016 by Julian Mitchell
DJI has introduced Oslo RAW their handheld stabilisation product that now offers the Inspire 1 drone's X5R camera. The X5R is a 4K camera optimised for aerial imaging that records Cinema DNG raw files. It has a claimed 12.8 stops of dynamic range, an ISO range from 100 to 25,600, and a still-image resolution of 16 megapixels. The X5R features interchangeable lens options, with video bitrates averaging 1.7Gbps, with a maximum of 2.4Gbps. The CinemaDNG files also offer a new D-LOG mode with a broader array of colour correction options in post production.
The X5R will attach to the Osmo handle via an adaptor and store video on a removable 512GB solid-state drive. Gimbal motors offer stability on three axes, with pan and tilt functions accessible either by using the Osmo's thumb stick or through the DJI GO app. Users can also control the X5R's focus and aperture inside the iOS or Android app or using an optional DJI Focus unit (pictured above).
Also available for the Osmo system is the Micro Four-Thirds X5 camera and gimbal, called the Osmo Pro. It uses the same adaptor as the X5R.
No prices as yet for the Osmo Pro and Osmo RAW.
OSMO X3 user
Osmo users with the older Zenmuse X3 camera also will soon have improved stabilisation capability with the launch of the Z-Axis. The $129 attachment, which mounts between the X3 camera and the Osmo handle provides full stabilisation along the fourth (vertical) axis, giving it the same capabilities as much more expensive Steadicam rigs. The Z-Axis features a shock absorber, a tilt angle adjust button and a knob to control the spring tension needed on the fourth axis.
New OSMO batteries
DJI is also introducing two new power-management solutions for power users of the Osmo, including a higher-capacity battery that offers up to 96 minutes of shooting time at 4K resolution, an increase from up to 66 minutes using the standard Osmo battery. With the Osmo Pro, shooting time with the higher-capacity battery is up to 78 minutes, compared with up to 60 minutes with the original Osmo battery. Shooting time on the Osmo RAW is up to 37 minutes with the new, higher-capacity battery and up to 26 minutes with the original Osmo battery.
New batteries are also being introduced for all OSMO users.