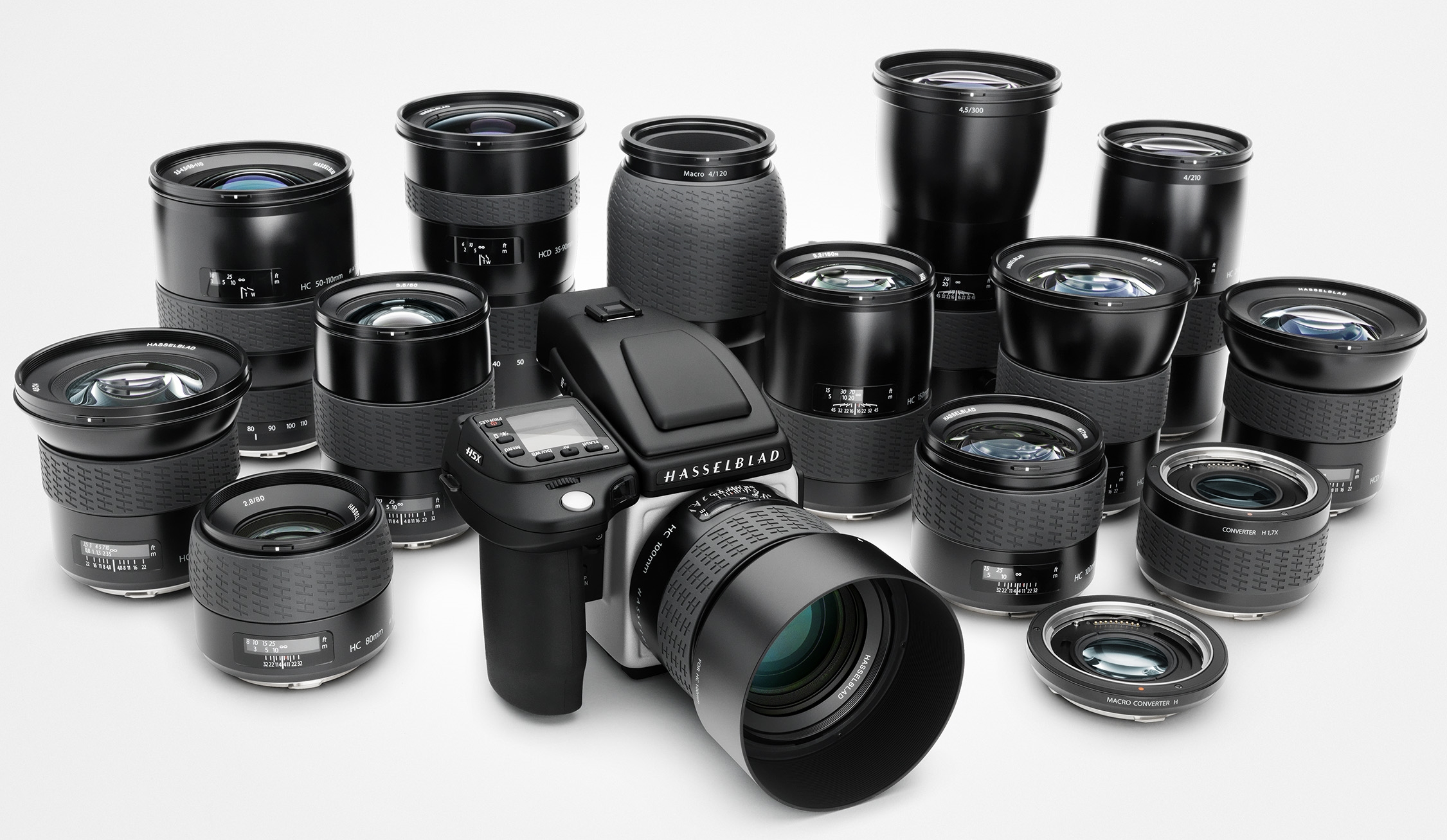 DJI Buys Into Hasselblad
Posted on Nov 5, 2015 by Julian Mitchell
Part of the Hasselblad camera and lens family.
DJI, the Chinese company who have been one of the driving forces in bringing Drone cinematography in to the market has bought a minority stake in Swedish camera and lens manufacturer Hasselblad. A minor stake but enough for DJI to join Hasselblad's Board of Directors.
Saying Hasselblad has a history of aerial photography with it's use on several NASA missions is stretching it a bit but it is true that they were there on the first moon landing and several of the subsequent Apollo missions. Over the course of the company's 75-year long history, the majority of Hasselblad's business has focused on traditional medium-format cameras and photography equipment. In recent years though with the A5D and H5D cameras and lenses, the company has made meaningful investments and announced significant product launches within the aerial arena, making a partnership with DJI a 'natural progression' of the business.
The Hasselblad A5D Aerial Camera specialises in mapping from the air.
On the face of it this agreement seems to be a good fit. DJI has a proven track record of  bringing product to market and has shown a willingness to invest in bigger sensor cameras with their recent X5 and X5R on-drone products. We know that all their marketing photography uses Hasselblad cameras although we're not saying it was a 'I loved the product so much I bought stake in the company' Victor Kiam moment.
Photography fans may well be licking their lips with this news and encouraging both companies to vye for the digital cinematography main ground with more of a mass market camera product.
About Hasselblad
Founded in 1941, Hasselblad is the leading manufacturer of medium format cameras and lenses. Handmade in Sweden, Hasselblad cameras are renowned for their iconic ergonomic design, uncompromising image quality, Swedish craftsmanship and high performance. For over half a century Hasselblad cameras have captured some of the world's most iconic images – including the first landing on the moon – and helped shape the way we look at the world through genuine photographic artistry. Trusted by NASA and used by the greatest photographers in the world, Hasselblad continues to create products with uncompromising image quality that inspire.
The Hasselblad H Camera System with its professional lens family and unique advancements is widely acknowledged as the most comprehensive digital camera system of its kind available today. Recently Hasselblad was the first to launch the fully integrated medium format camera system incorporating the latest in CMOS sensor technology: the H5D-50c. The latest CMOS-based product launches also include the CFV-50c digital back for V System photographers and a 200 Mpix Multi-Shot camera H5D-200c MS.
Headquartered in Gothenburg, Sweden, where the cameras are handmade, Hasselblad is a global brand with offices in New York, London, Tokyo, Paris, Copenhagen and Hamburg with distributors throughout the world.